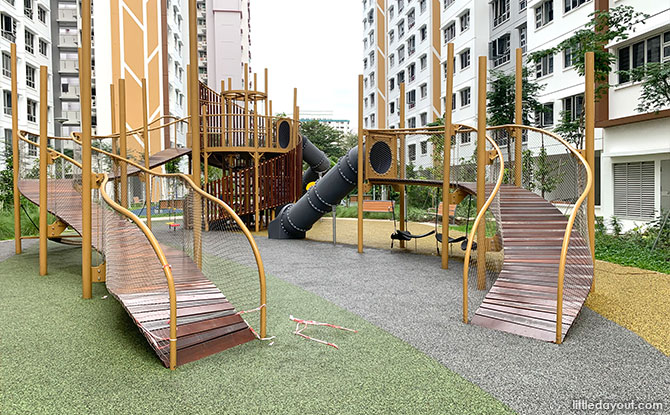 The Woodlands Glade playground stands out from other playground as it features a rather unique rolling wave tower that kids can climb up and a ribbon walkway.
---
Rolling Wave Tower Playground at Woodlands Glade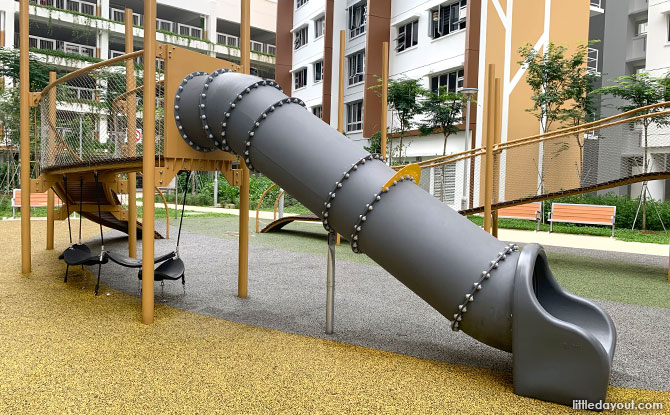 Located at the housing estate at the junction of Woodland Avenue 9 and Gambas Avenue, the Woodlands Glade playground is a set of two tan and brown structures. It can be found between Blocks 781C and 781E.
Known as the Rolling Wave Tower, the playground is actually made up of two parts. The most prominent is the play tower that gives the playground its name.
---
-- Story continues below --
This tower is clad in wooden planks and a spiralling ramp leads upwards to the top.
As the ramp is rather steep, there are footholds to help kids get a grip. However, it is still advisable for them to take it slow make sure that they get a firm footing as they clim up the tower.
Also within the tower are climbing hammocks.
Another feature of the Rolling Wave Tower is that is connected to a "ribbon walkway". This wooden walkway provides another means of accessing the play tower.
This is an elevated walkway winds up and down as it connects to the Rolling Wave Tower.
There is also a separate ribbon walkway at the playground. This one leads to a grey, closed tube slide.
---
Supervise Kids
Do supervise kids when they are at the Rolling Wave Tower playground. We found that the ribbon walkways can be slippery when wet.
It is best that kids don't run on the walkway and that they hold on to the rails so that they don't slip accidentally.
---
Other Woodlands Glade Playgrounds
Besides the Rolling Wave Tower playground, there are several other Woodlands Glade Playgrounds.
Just beside the Rolling Wave Tower, there is a little green toddler playground.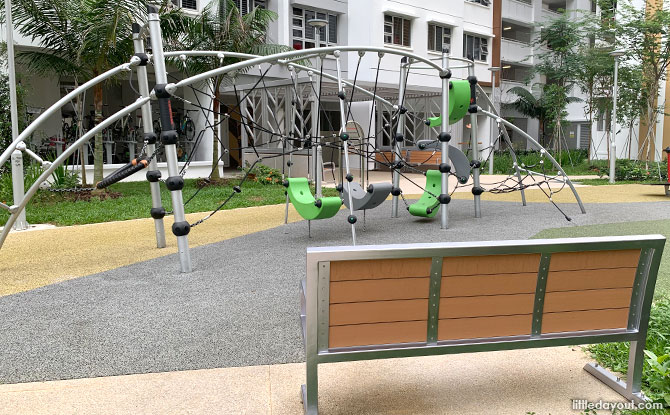 Also nearby is a rope playground, strung out over a metal frame.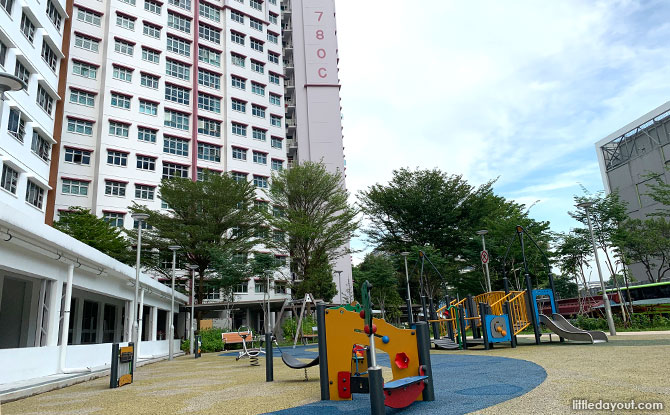 Closest to Woodlands Avenue 9, in front of Block 780C, is yet another toddler playground with low play structures, a see-saw and low swings.
If you enjoyed reading about this playground, you may also be interested to read about this penguin playground.