Fans of White Rabbit are in for a treat. From 26 August to 11 September 2022, the milk candy brand is having an exclusive pop-up at Chin Mee Chin Confectionery to release the White Rabbit ice cream in cup form. There will be official White Rabbit merchandise available in-store too.
---
White Rabbit Ice Cream for the Sweet Tooth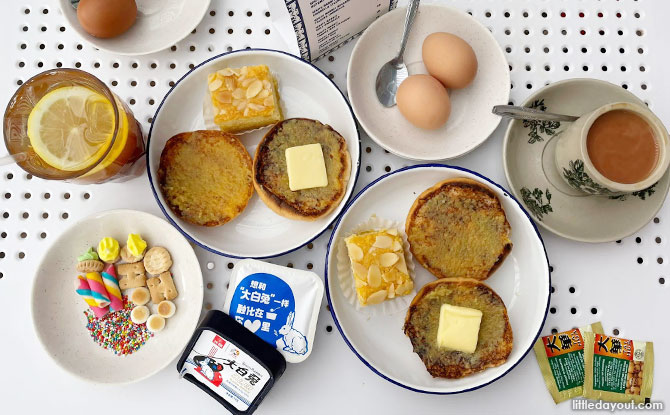 The White Rabbit ice cream first made its appearance last year in popsicle form. Its new cup form offers a creamy spin on the recipe which lands with a soft and sweet aftertaste.
As part of a time-limited set meal ($9.50), the White Rabbit ice cream cup is served alongside the café's well-loved traditional kaya toast, eggs and a drink of choice.
---
-- Story continues below --
Diners at Chin Mee Chin can also pile on the sweetness and fun by customising their White Rabbit ice creams with a wide spread of toppings that include old school snacks like iced gem biscuits and ball cake cookies.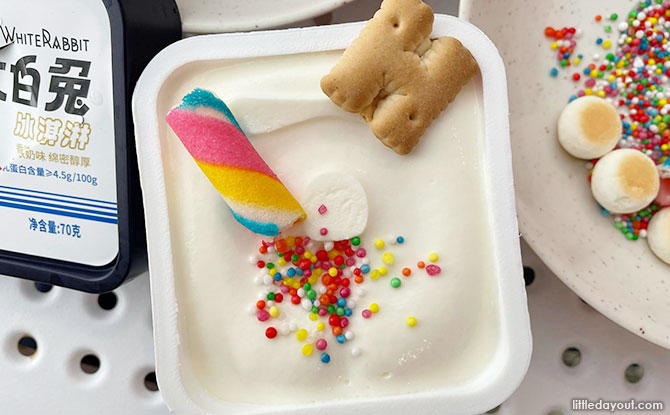 We were initially hesitant to throw in the toppings, but the savoury kaya toast complemented the ice cream well and balanced its sweetness. A sip of the nice warm old-school teh gives just the right aromatic finish to the meal.
Each ice cream cup comes with its own playful message that just reminds you that you are never too old to hop into a rabbit hole of fun with sweet treats in hand.
---
White Rabbit Merchandise
White Rabbit merchandise such as umbrellas, mugs and canvas bag will be available for purchase. The merchandise features the signature White Rabbit candy wrapping that hits you with a wave of nostalgia.
---
'Chase the White Rabbit' Contest
Fans can join the social media contest organised by Hao Food Sg, the White Rabbit's official distributor in Singapore, by uploading a selfie of their trip to the pop-up and selfies with the rabbits hidden across Singapore. The first three participants to complete the contest will stand to win attractive prizes.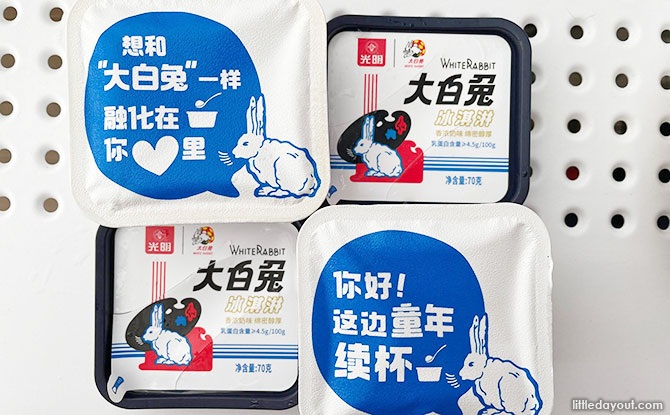 The White Rabbit ice cream cups will hit the shelves for $5.50 per cup at select Fairprice and Fairprice Xpress supermarkets as well as Fairprice Online.
For more information on the White Rabbit x Chin Mee Chin pop up and the contest, visit the link here.
If you like old-school cafes and bakeries like Chin Mee Chin, you may be interested in our like of traditional bakeries around Singapore.