You better watch out, you better not cry, you better not pout, because it is time to see Santa in Singapore 2019. Whether you are have been naughty or nice, you can still have an audience with Mr Claus at various spots around our little island. We round up some of the places all over the island where you and the kids can meet with Santa in Singapore this year.
---
South / Central – Santa in Singapore 2019
Christmas Wonderland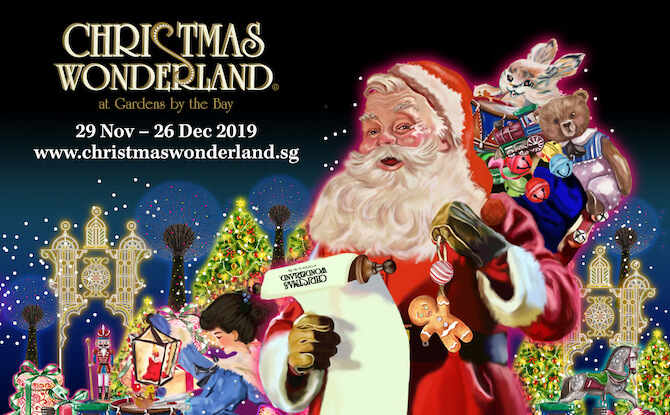 Pay a visit to Santa's Workshop at Christmas Wonderland 2019. Walk through the forest and a giant snow globe, and take a picture with Santa. The big man himself will be at the Workshop from Monday to Sunday at various times.
When: 29 Nov to 26 Dec, Mon to Thu – 5.30 pm to 10.30 pm; Fri to Sat – 4.30 pm
Marina Bay Sands
Keep a look out for Santa in Singapore wandering about the Shoppes at Marina Bay Sands. Together with other such as a Gingerbread Man and a walking Christmas Tree will out to entertain visitors from 16 Nov to 25 Dec 2019. Spot them if you can.
When: 16 Nov to 25 Dec, Mon to Fri – 5 pm to 8 pm; Sat to Sun – 2 pm to 8 pm
The Super Santa Show
For the ultimate Christmas experience, go to The Super Santa Christmas Show! He needs the help of the audience and The Superdudes to save Christmas. Watch as Santa entertains the audience on stage and get to meet him and the cast after the show at the foyer!
When: 6 to 8 Dec, SOTA Drama Theatre
Aperia Mall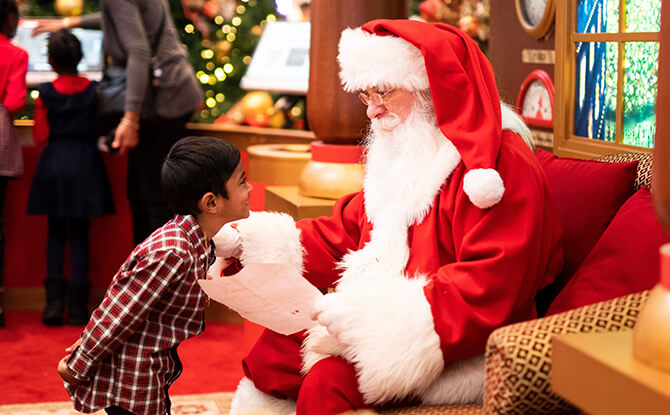 Meet the jolly old man at Aperia Mall's Christmas Village and you'll be the one going 'Ho Ho Ho' when you receive a $1 Jollibean voucher, while stocks last. You may want to get the drink after the kids have had a chance to bounce on the big inflatable or have a go at the ice skating rink or human claw machine!
When: 6, 7, 8, 13, 14, 15, 20, 21, 22 Dec 2019; 12.30 pm, 3.30 pm, 6.30 pm.
---
East
Bedok Point
Have a meet-and-greet with Santa on the weekends between 7 and 22 December at Bedok Point. Besides a photo opportunity, Santa will also be giving away Digital Gift Cards, Each A Cup Bubble Tea, kCut haircuts, Starbucks drinks, GYMMBOXX entry passes, Saizeriya vouchers and more if you are a Bedok Point Facebook / Instagram follower! Limited to the first 150 per day. It is going to be a present-filled Christmas at Bedok Point.
When: Weekends between 7 to 22 Dec, 7 pm to 8 pm
Tayo Station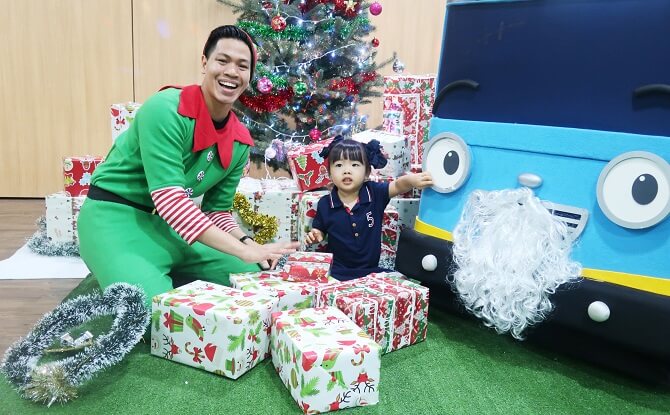 Instead of meeting Santa Claus, how about Santa Tayo? It is the season of giving at Tayo Station at Downtown East and Santa Tayo will be having a meet-and greet with kids. He will even be giving out free presents on selected days. Limited to 100 kids per session.
When: 7, 8, 14, 15, 21, 22, 24 & 25 Dec. Get detailed timings here.
Jewel Changi Airport
Jewel Changi Airport's Santa meet-and-greet takes place within Canopy Park – which means you have to pay to enter and see him. Catch him at the snow dome to snap a picture.
When: 6, 7, 8, 13, 14, 15, 20, 21, 22, 23, 24 & 25, 1 pm to 2 pm, 3 pm to 4 pm, 5 pm to 6 pm, 7 pm to 8 pm
---
North
Sembawang Shopping Centre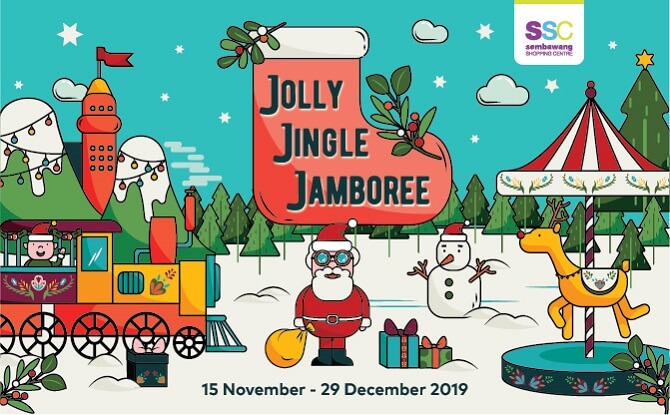 Santa comes to Sembawang Shopping Centre this December holidays. Have a ho-ho-ho time and snap a picture with Santa on selected dates at Level 1 Atrium.
When: 14, 15, 21 and 22 Dec, 3 pm to 4 pm; 6 pm to 7 pm
---
West
YewTee Point
Want to find Santa in Singapore 2019? Head over to YewTee Point this December holidays and you can meet with Santa AND Snowman.
When: 7 & 21 Dec, 2 pm and 3 pm