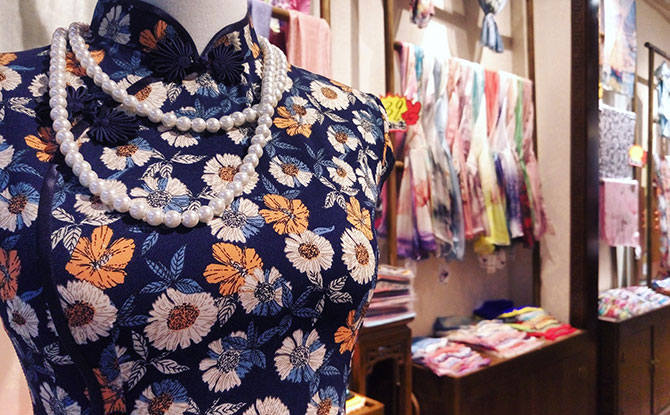 Growing up, getting a new outfit for Chinese New Year was always a highlight for me, and naturally, I'd like to keep this little tradition going for my daughter. Nothing says Lunar New Year like donning a new dress or wearing a cheongsam in Singapore, right?!
In this day and age, Chinese New Year outfits are far from old-fashioned and garish. There are so many chic options for young and old, boys and girls, available in-store and online!
Here are 8 auspicious places for if you're looking for a cheongsam in Singapore for yourself or your little girl, and a Mandarin-collared shirt for the boys and men in your life!
Mandarin-Collared Shirts and Cheongsams in Singapore
---
Le Petit Society
Homegrown brand, Le Petit Society, is all about celebrating the family and the warmth of togetherness in their Chinese New Year 2019 collection that has pieces for Mum, Dad, baby, and toddler!
Le Petit Society captures the essence of the Lunar New Year with their use of fun and bold colours of bright blue and fresh pink, and traditionally auspicious elements including the Crane, the Dragon, and of course, Mandarin Orange.
Pop into their flagship store at Paragon Mall and snap up a beautifully modern cheongsam for your daughter, and a matching Mandarin-collared shirt for your husband!
Find out more about Le Petit Society's Chinese New Year collection here.
Le Petit Society, 290 Orchard Rd, #05-35 Paragon Mall, Singapore 238859
---
Sea Apple
Sea Apple's This Once Was An Orchard collection is inspired by Singapore's favourite shopping district, Orchard Road.
The stories behind the threads in their Chinese New Year collection will take you back to the yesteryears of Orchard Road when plantations were the: from their Banana Tree Tunic Cheongsam, to the Plantation Mandarin Shirt, your little ones will be wearing history to say the least.
Made using fabric such as cotton milled in Spain, we're hoping Sea Apple will start producing equally delightful pieces for us parents! Until then, we'll make do with a Chinese New Year wardrobe filled with their pretty cheongsams and Mandarin-collared shirts for the little ones.
To find out where Sea Apple is stocked, or to make your purchases, go here.
---
Leia+Lauren
What began as a way of celebrating the lives of Leia and Lauren, a pair of MOMO twins to father, Peter, and mother, Amber, has since evolved into a line of clothing that reflects the unique personalities and characters of the two girls.
Inspired by the twins and the family's travels around the world, Leia+Lauren are all about clothes for the adventurous, quirky, and spirited child, with no compromise on quality and versatility.
Their Chinese New Year collection certainly reflects these traits and more. Bursting with colour and lucky elements of the Pig and the Kumquat, your daughter will be a sight to behold in Leia+Lauren's Pink Spring Cheongsam Dress, and your son a picture of charm in his CNY Mandarin Shirt.
Get your hands on Leia+Lauren's Chinese New Year collection here.
---
Chubby Chubby
The brainchild of local graphic designer Nix Deng, Chubby Chubby is brimming with fun and artistic pieces, all lovingly designed and made in Singapore.
Visit The Chubby Haus located in Loewen Hill today and snap up pieces from Chubby Chubby's Spring Blessings '19 collection. I have my eye on a red Halter Baby Doll Cheongsam dress, with a lovely Prosperity Bird print, and a Boy's Knot Shirt featuring lucky pineapples all over.
If you love twinning, there are matching Mandarin-collared shirts for dads and cheongsams for mums, but fastest fingers first! Visit their online store here.
The Chubby Haus, Loewen Hill by Dempsey, 75A Loewen Road Singapore 248851 
---
The Elly Store
Toys, art and baby gifts aren't the only things The Elly Store has in stock. Its hugely popular Chinese New Year collection, Growing Up With Elly,  is now available in-store and online, so shop away!
There are pieces for children ages 0 to 14, and for mummies and daddies too. From cheongsams lined with lace, to Mandarin-collared shirts and rompers for the boys – and men – in your life, The Elly Store is the one-stop shop for your family's Chinese New Year outfits.
Our favourites are the Green Drop-Waist Cheongsam with Cranes, the Mia Onesie with Pink Ducks on Bamboo, and the Turquoise Lanterns Mandarin-Collared Shirt.
Pop into The Elly Store located at Cluny Court today or go here for more on their latest Chinese New Year 2019 releases.
The Elly Store, 501 Bukit Timah Rd, #02-31/33 Cluny Court, Singapore 259760
---
Maison Q
Reversible cheongsams in Singapore and Mandarin-collared shirts? Two outfits in one piece of clothing? Sign me up!
Maison Q, a Singapore-based brand, is all about quality. Their Chinese New Year collection features their signature red scallop print that only makes its appearance once a year during this festive season.
We love their interpretation of Babe, an origami pig cutout on the left side of the BabeCanFly Reversible Shirt. Turn it inside out, and let your son take to the skies in an aeroplane print shirt, perfect for post-CNY occasions.
Made of 100% cotton fabric produced and printed by a source that has been awarded the Confidence in Textiles certification, parents can rest assured that your little ones are dressed in only the best!
For stockist information or to find out more on Maison Q's Chinese New Year 2019 collection, go here.
---
Little Qipao
If you're after a cheongsam in Singapore anytime of the year, Little Qipao is your best bet!
Their Chinese New Year collection, Oriental Enchantment, makes use of unique fabrics, such as denim, to give the traditional cheongsam an updated and modern oomph!
The boys and men can have their pick of Mandarin-collared tops in equally fab colours and designs, including Satin Silver.
With Little Qipao's Mini-Me collection, there are pieces for the whole family to look great together this festive season!
To find out more on cheongsams for little girls, and Mandarin-collared shirts for the boys, head online to www.littleqipao.com.
---
Miz Apparels
Want a cheongsam to suit your quirky personality? You'll definitely have to check out Miz Apparels located in Marina Bay Link Mall.
Expect colour block cheongsams, pant-suit cheongsams, and even drop-waist ones in almost all colours of the rainbow and super cute prints – different is certainly the name of the game here! As each dress is available in limited quantities, pop in today to snag your favourite piece!
It seems the boys and men will be a little disappointed since only the cheongsams are stocked online at the moment – go here to be updated on any new releases this Chinese New Year!
Miz Apparels, 8A Marina Boulevard, Marina Bay Link Mall #B2-13, Singapore 018984
More Stories on Chinese New Year: