The Hari Raya Haji long weekend is coming up soon and is a great opportunity to do something out-of-the-ordinary or to check out somewhere new. Why not do both with a fun weekend filled with kid-friendly activities at Agora Colearning at HarbourFront Centre.
Agora Colearning offers a variety of courses and experiences for children by different providers in a fun and safe environment. Parents love it because it is a one-stop location that takes out the hassle of finding the right courses for their kids.
Over the Hari Raya long weekend, Agora Colearning is hosting a series of fun-filled workshops for kids. After the workshops, kids can join in outdoor games, arts and crafts and other activities too. Plus, the location is so convenient that you can head out for a meal at HarbourFront or VivoCity after the visit.
---
Fun Workshops at Agora Colearning, 10 & 11 July
Agora Magic Show & Workshop
---
-- Story continues below --
5 to 10 years old
Sunday 10 July, 10 am to 12 pm
$10
Spend a magical morning with Anderson the Magician. Aspiring illusionists will pick up tips on how to be a good magician and even walk away with a trick or two to astound their friends. Book your spot here before they go "poof".
---
Fizzy Bubbly Science with Whizz Kidz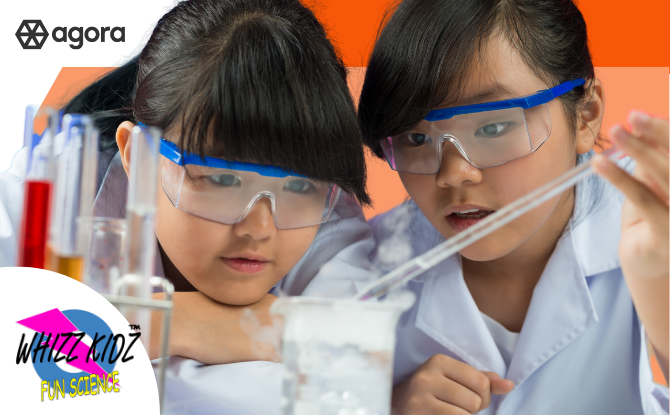 5 to 10 years old
Sunday 10 July, 3 pm to 5 pm
$10
Fizzing, foaming and bubbling – you probably wouldn't want to try these experiments at home. Instead, join the Whizz Kids as they explore the amazing concepts of surface tension and chemical reactions through hands-on activities. "Pop" down for this workshop by booking here.
---
Kinetic Kids with Vivo Kids
3 to 10 years old (with groups to be divided up on site)
Monday 11 July, 10 am to 12 pm
$10
Kick off the day with a fun-filled morning of sports exploration and games! Kids will try out different sports stations and be introduced to team games that give them a chance to develop their social skills. Energise your morning with a booking here.
---
Little Hip Hoppers with Danz People
5 to 10 years old
Monday 11th July, 3 pm to 5 pm
$10
Do you have a little TikTok star in the house? Let him or her join the Danz People for a workshop where he or she will learn to move and groove to a Hip Hop song. Parents can enjoy a mini showcase by the kids at the end of the workshop. Move to the beat with a booking here.
This feature is brought to you by Agora Colearning.