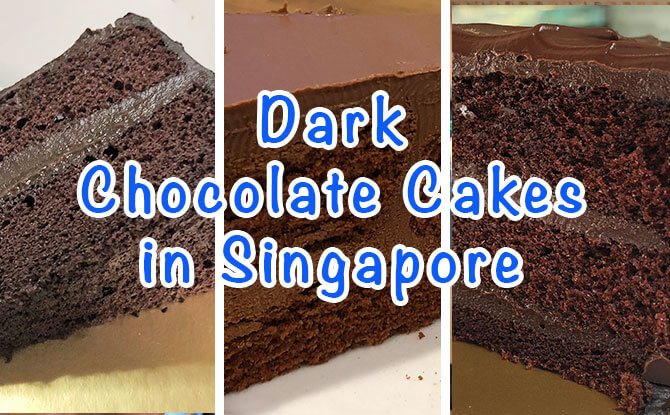 Money can't buy happiness, but it can buy a slice of chocolate cake in Singapore, and we think that's pretty close.
We have been on the prowl for the best dark chocolate cakes in Singapore. In our opinion, dark chocolate needs to have at least 70% cocoa and a slight bitter aftertaste. Our idea of the perfect dark chocolate cake is one that has a slightly dense, yet moist, and with layers of cake and chocolate, with a bitter aftertaste.
With this criteria in mind, we headed off on our quest for chocolately, dark chocolate cakes in Singapore.
Dark Chocolate Cakes In Singapore
Chocolate Origin
With multiple locations located all over the island, we visited Chocolate Origin as our first stop and tried their Chocolate Origin – Dark Chocolate Slice which was priced at $8.80.
---
-- Story continues below --
At first glance, the colour was a lot lighter than expected for a dark chocolate cake. Nonetheless, our first bite did leave us with a have a slight bitter aftertaste. It tasted as it was described: layers of cake and ganache with a layer of dark chocolate glaze on the top.
As we dug in, it was hard to get a full piece as the chocolate ganache layer was a bit hard. It was towards the end that we managed to get a piece with all three layers intact.
Perhaps the chocolate had melted just enough then.
We enjoyed the ganache part of the cake as it was smooth and melted in the mouth without the "dry" feeling that you can get at the end of eating very concentrated chocolate.
We felt it would made the perfect chocolate bar, instead of cake, as the cake to chocolate ratio was not as equal as we would have liked. Nonetheless, it was still a slice of chocolate cake in Singapore that we would go back for.
Choc.a.bloc
Tucked away at a HDB block in Bedok, Choc.a.bloc is homely-looking cake shop.
It offers a variety of cake flavours and one of its best-selling slices is its signature Mum's chocolate fudge cake.
The slices of cake were almost sold-out by the time we arrived. Thankfully, we were fortunate enough to get the last individually sliced piece of cake. Each slice is priced at $8.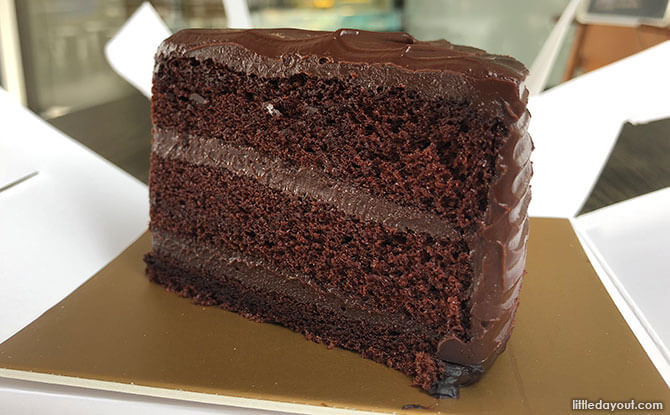 We were told that the cake was made from 70% Belgium chocolate.
As we cut into it, the cake was very moist, soft and fluffy. The chocolate filling's texture was a bit mousse-like but there was no bitter aftertaste that we were hoping for in a dark chocolate cake.
Nonetheless, Choc.a.bloc's cake is one of the best moist chocolate cakes we have tried and we would definitely want to try their other flavours in the future.
Awfully Chocolate
A homegrown brand that is no stranger to Singaporeans is Awfully Chocolate.
We deliberated between the All Chocolate Cake and the Super Stacked Chocolate Cake as those were the two cakes with the highest cocoa content.
We decided to go for the former All Chocolate, priced at $8 a slice.
As we took our first bite, we would describe it as moist, although the top part of the cake was a little dry. We found the cake a little too sweet for our liking though.
While the chocolate cake did not have as much of a dark chocolate taste, it was still pretty decent slice. Awfully Chocolate's many locations also make it a convenient cake shop to get your chocolate cake fix..
Our Verdict
After trying all the different cakes, we concluded that our winner was….Chocolate Origin.
It left a hint of dark chocolate on the palate and had a decent cake texture – something that we were looking for to satisfy our dark chocolate craving.