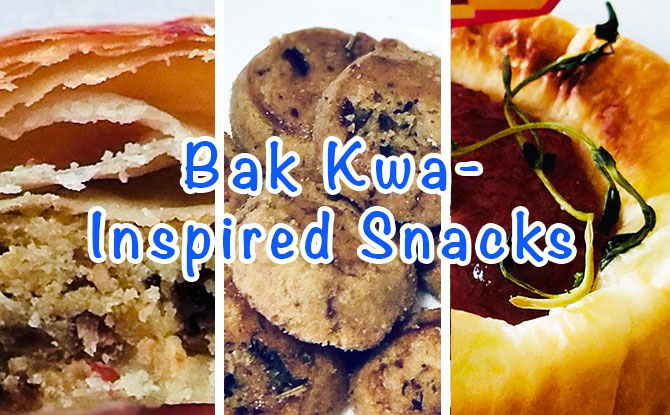 Chinese New Year celebrations simply aren't the same without endless baked treats and other savoury delights being sold, served and consumed throughout the 15-day festive period.
One of the most popular Chinese New Year treat is Bak Kwa, or barbecued pork jerky. Back in the day, Bak Kwa was an expensive, luxury food which you only gifted to friends and family during the festive season.
We've come a long way ever since, and Bak Kwa is sold, gifted, and consumed any time of the year really. However, the Chinese New Year is when Bak Kwa is at its hottest, what with its deep red colour suitably auspicious, and symbolising good luck.
If you thought you couldn't eat more Bak Kwa, well, you can. And you will, once the next few Bak Kwa-inspired treats have found their way into your tummy! We tried three – and some – to decide what we might serve to the Bak Kwa'ed out guests of ours!
---
-- Story continues below --
Bak Kwa-Inspired Snacks
---
Thye Moh Chan – Bak Kwa Tau Sar Piah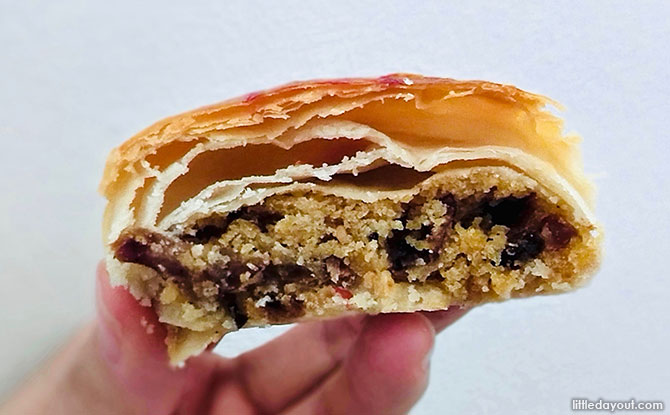 Thye Moh Chan offers some of the finest Teochew pastries that are handcrafted to perfection. From traditional wedding gifts to locally-inspired flavours and treats, Thye Moh Chan never disappoints.
Every Lunar New Year, Thye Moh Chan levels up on the Singaporean love of Bak Kwa and offers the Bak Kwa Tau Sar Piah for a limited time only.
The first bite of the Bak Kwa Tau Sar Piah revealed a mung bean filling, peppered with sweet, yet savoury, nuggets of Bak Kwa, nestled within Thye Moh Chan'S signature fragrant flaky pastry.
The second bite of this not-quite-traditional treat was delightful to say the least as my tastebuds did a sweet and salty Cha Cha to the very end. There certainly was just the right ratio of bite, sweetness, and savouriness to the Mung Bean/Bak Kwa filling encased in crisp golden-brown layers of pastry.
That said, the Bak Kwa Tau Sar Piah did not immediately scream "Bak Kwa!" as I had hoped, especially since it really is super yummy! Thye Moh Chan's Bak Kwa Tau Sar Piah is available at $13.80 for a box of 6 pieces, from now until 19 February 2019.
---
BreadTalk – Bak Kwa Delight and Bak Kwa Treasure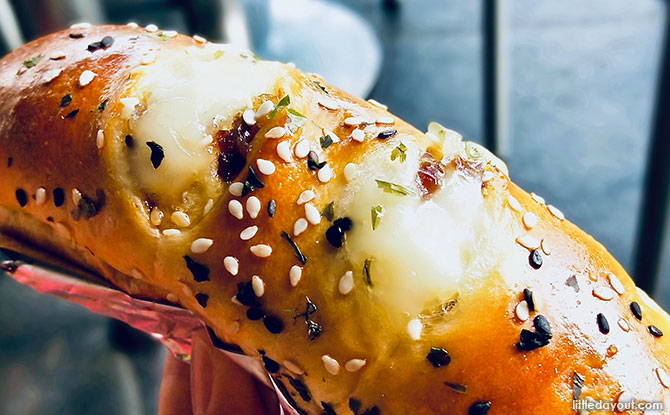 BreadTalk first launched Bak Kwa Delight in 2003. Since then, this hyperlocal flavour has won its way into the hearts of Singaporeans to become a permanent fixture on the BreadTalk menu.
Bak Kwa Delight at $2 a piece is the perfect afternoon tea snack to serve guests who come a-visiting. The sweet soft bun is topped with glorious chunks of Bak Kwa, a savoury spread of mayonnaise, and a smattering of black and white sesame seeds – a festive mouthful if ever there was one!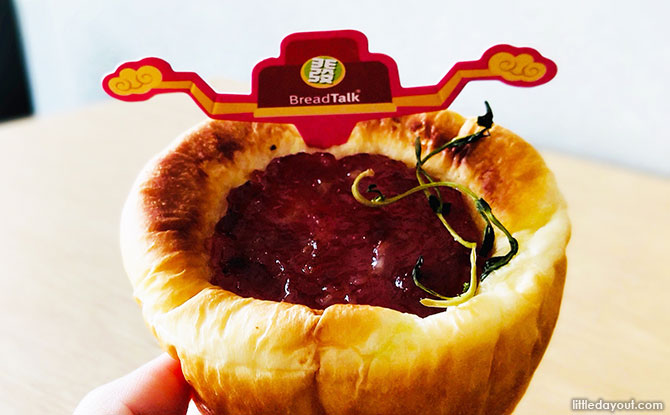 Bak Kwa Treasure, on the other hand, is seasonal and only offered during the Lunar New Year period. At $2.20 each, Bak Kwa Treasure will be available in all BreadTalk stores until 3 March 2019.
Resembling a gold ingot – a symbol of wealth and good luck – Bak Kwa Treasure (金钱币) packs a punch with BreadTalk's signature spicy pork floss filling, topped with a round "gold coin" of bak kwa. This is one truly robust flavour combination for those wanting to spice up the Chinese New Year.
If you're partial to a good homemade Bak Kwa sandwich (think 1 massive slice of Bak Kwa between 2 slices of white bread), you'll love Bak Kwa Delight and Bak Kwa Treasure for making your favourite comfort food so fancy!
I particularly love Bak Kwa Treasure as with every bite, there was a solid mouthful of sweet Bak Kwa unassumingly complemented by BreadTalk's spicy pork floss. It's worth noting that the ratio of floss filling to bun is so awesome I daresay there's as much floss filling as there is bun.
---
Old Seng Choong – Smokey Bakwa Cookies
Founded by renowned local pastry chef Daniel Tay, Old Seng Choong – with its flagship store in Central at Clarke Quay – offers traditional bakes and cakes to celebrate every joyous occasion.
Old Seng Choong's Smokey Bakwa Cookies from the Colonial Days range is a lovely interpretation of the charcoal-grilled Bak Kwa treat so many Singaporeans favour.
Packed and sold in a beautiful tin for $17.82, the Smokey Bakwa Cookies will make your tastebuds dance with savoury hints of pork and spices, before ending on a sweet note. Just like Bak Kwa, every cookie is replete with the familiar smokiness of sweet BBQ sauce, the spiciness of garlic, and a faint whiff of coriander.
Available for purchase all year round, I enjoyed the little nuggets of smoky barbecued goodness, and popped a few in my mouth successively. However, I quickly forgot that the cookies are Bak Kwa-inspired. They're very simply savoury cookies – rich and complex in flavour but not obviously Bak Kwa.
I'm much more taken by the beautiful packaging, to be honest.
What's the verdict?
This was a tough decision to make because as snacks and treats go, all of the above got great big ticks.
If I have to choose one for the Bak Kwa-deprived aunt from Australia, BreadTalk's Bak Kwa Delight and Bak Kwa Treasures will definitely be going home with me.
But if you're looking for a unique Lunar New Year gift, my vote goes to Thye Moh Chan's Bak Kwa Tau Sar Piah!