Trina gives three baby milk bottle detergents in Singapore a try and here is what she thought of each of them.
Sure, regular dishwashing detergents get oil and grime off your dishes easily.
But did you know that most traditional dishwashing detergents leave behind a residue even after putting the dishes through a good rinse in hot water?
This residue can cause a multitude of issues, such as skin irritation, endocrine disruption, and allergy breakouts.
---
-- Story continues below --
With green the way to go these days, choose baby- and eco- friendly dishwashing liquids which are milder on your newborn's vulnerable and developing immune system. Most of them contain plant-based cleaning agents, are free from artificial fragrances, and are also gentle on your skin!
We tried three different brands of dishwashing liquids available in the market today and here's what we found!
Baby Milk Bottle Detergents In Singapore
---
Dapple – Foaming Baby Bottle and Dish Liquid
Dapple is a brand from the USA and its products are made there too. Their products are designed to be baby-safe, which is why they are powered by a plant-based formula, are created with non-toxic ingredients, and do not contain nasties like SLS and SLES, formaldehyde, and synthetic dyes.
Technical mambo-jambo aside, Dapple's products are perfectly safe for babies, and pets!
Another plus point, is that Dapple is good for the environment too! Dapple is a trusted brand of Healthy Child Healthy World, and it has also been certified by Non-Profit Organisation, B Lab, to have met rigorous standards of social and environmental performance, accountability, and transparency.
I had previously used another brand of foaming bottle wash and my issue with it was that the foam wasn't soapy enough, so my bottles and teats still felt oily from the milk fats. I remember having to pump out a lot more foam before my bottles and teats felt clean.
With Dapple's Foaming Baby Bottle and Dish Liquid, one squirt of the foam is all I need to wash one regular milk bottle! I sometimes pump another half squirt out to wash the teats and teat covers.
When I was super sleep-deprived, I'd put all the bottles, teats and covers into a big bowl of hot water, and squirted in 2 to 3 pumps of foaming liquid. I let it all soak for a bit, before tipping it all out for a quick rinse. And yes, everything still felt super clean.
Parents who don't fancy synthetic smells will appreciate that Dapple's Foaming Baby Bottle and Dish Liquid comes fragrance-free. This – along with other awesome baby-friendly Dapple products – are now available online at DearBaby.
---
PiPPER STANDARD – Bottle & Nipple Cleaner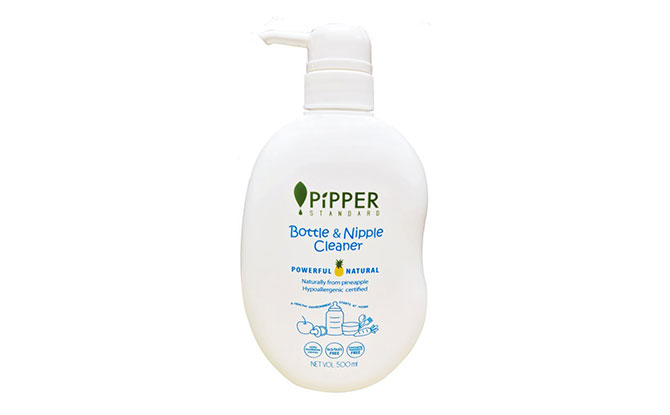 The story of PiPPER STANDARD began when Mr. Peter Wainman realised he was allergic to some chemicals used in his everyday life.
He asked his wife to switch to natural cleaning products. However, they could not find any with good manufacturing standards, and that cleaned well. DIY home remedies using baking soda were safe, but could not clean as effectively as industrially produced, chemical-based products could.
This dynamic husband-and-wife team were thus inspired to create PiPPER STANDARD, a great line of natural, allergen-free, petrochemical-free, safe, biodegradable household cleaning products made from pineapples!
For the uninitiated, pineapple is a powerful natural ingredient that can be substituted for normal chemical surfactants. The fermented pineapple fluid, along with other concentrated natural extracts, have since become the key active ingredients in PiPPER STANDARD's household care products and have proven to be as effective as chemical based products.
PiPPER STANDARD's Bottle and Nipple Cleaner has obtained various hypo-allergenic certifications, and is completely toxin-free. Not only will it safely clean your baby's bottles, bottle teats, and dummies, it will also not leave behind any residue.
Aside from the lovely pineapple scent, what I really love about PiPPER STANDARD's Bottle and Nipple Cleaner is that I can use it to wash my fruits and vegetables! All you need is one pump of soap per litre of water, leave your fruits and vegetables to soak for about 10 minutes, then give a little scrub before rinsing thoroughly.
After every wash using PiPPER STANDARD's Bottle and Nipple Cleaner, my hands never felt dry and tight. I also had the pleasure of using it to wash our regular grimy dishes when I ran out of regular dishwashing liquid, and I'm glad to report that chicken curry oils are no match for this pineapple-laden dishwashing formula!
PiPPER STANDARD's Bottle and Nipple Cleaner is now available online at RedMart.
---
bio-home – Dishwash Liquid
bio-home, by homegrown heritage brand Lam Soon, is a range of eco-friendly home cleaning solutions made from biodegradable and renewable plant-based active ingredients. The packaging is made out of fully recyclable materials; even the brand's logo and shape of the bottles have been designed in line with the brand's eco-friendly message.
One pump of the non-toxic dishwashing concentrate is all I need to wash my regular load of dinner plates, utensils and cutlery! Removing tough and oily stains is almost effortless, and my hands never feel tight and uncomfortable after a whole lot of washing and scrubbing.
My sister-in-law has dermatitis and usually avoids doing the dishes as the traditional dishwashing liquid is far too harsh for her skin, that is until I got her bio-home's Dishwash Liquid. She really loves the Lemongrass & Green Tea scented version!
bio-home's Dishwash Liquid uses biodegradable, 100% plant-based active ingredients in a concentrated, easy-rinse, low foam concentrated formula that helps in reducing water usage. Dermatologically tested and pH-balanced, bio-home's Dishwash Liquid is certainly tough on grease.
Although it isn't specifically for washing milk bottles and teats, I like that bio-home's Dishwash Liquid does not contain any harsh chemicals or toxic ingredients and is definitely kinder to the environment than regular dishwashing detergents as the formula breaks down naturally when released into the waterways.
If it's good enough for Mother Earth, it's good enough for baby!
bio-home's Dishwash Liquid is available at local supermarkets, or online at RedMart.