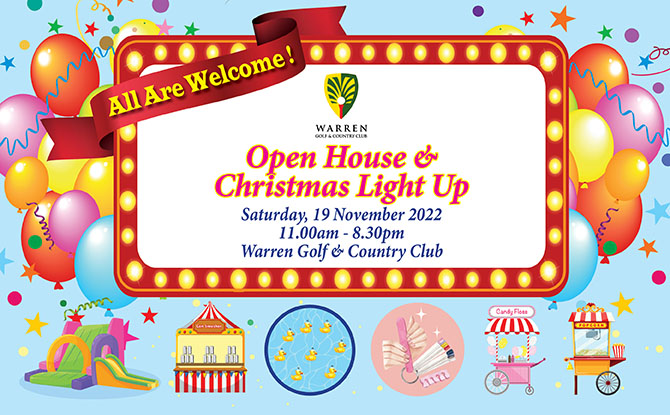 Warren Golf & Country Club will be organising an Open House and Christmas Light Up on 19 November 2022 from 11 am to 8.30 pm. Gather your families and loved ones for a fun filled day packed with exciting activities and programmes specially lined up for you!
---
Highlight 1: Showcase and tryouts of Sports programmes
The Club is proud to showcase and introduce our wide range of sports programmes such as Badminton, Bowling, Squash, Swimming, Table Tennis, Tennis and more. What's more? You will get to try out and experience your favourite sports during our Open House too.
---
Highlight 2: Water Obstacle Course and Inflatable Water Floats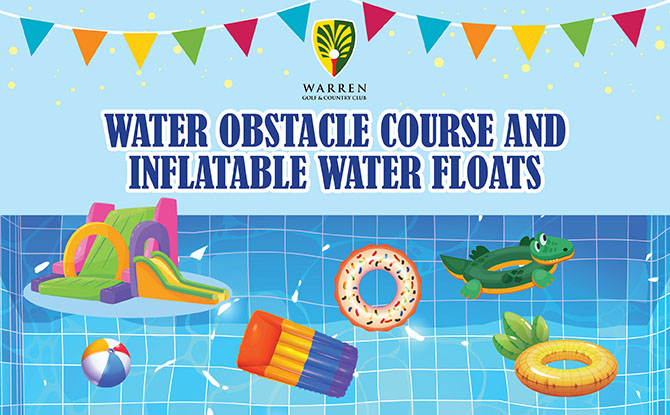 The young ones will be thrilled to challenge one another in the water obstacle course. Alternatively, you can also chill and relax on the cute and cool inflatable water floats too.
---
Highlight 3: Games & Bazaar Stalls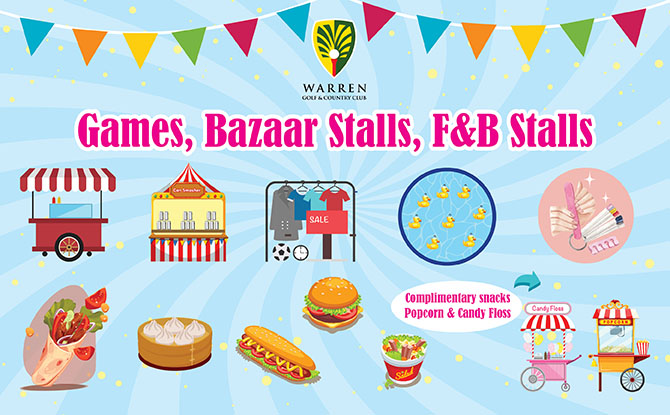 Do not miss out on the all-time favourite carnival games such as Lucky Ducky and Can Smasher. Try your luck at the games stalls and stand a chance to win attractive prizes. You can also shop to your heart's content at our bazaar stalls featuring apparels, handicraft, lifestyle and wellness products. Ladies can also look forward to pampering yourself to a manicure session too. There is something for everyone!
---
Highlight 4: F&B Stalls
Food lovers fret not! Head down to our event for a gastronomic experience as we offer you a variety of scrumptious delights such as kebab, dim sum, rojak, western food, healthy bakes and more. Complimentary snacks such as popcorn and candy floss will be available for kids' enjoyment!
---
Highlight 5: Warren Golf & Country Club Membership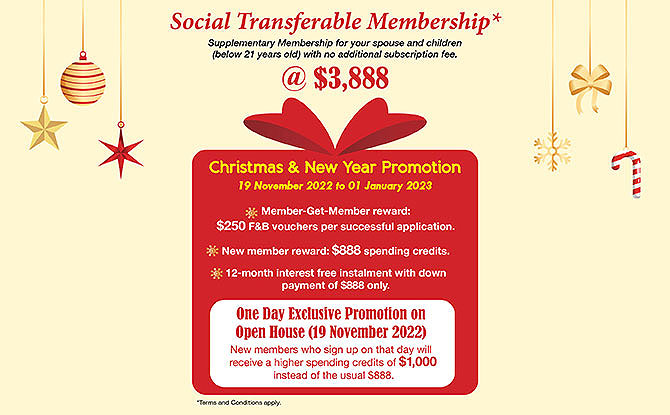 If you are planning to sign up for a Social membership, hesitate no further. We are pleased to share that you can enjoy an exclusive membership promotion on that day. Newly signed up members can enjoy $1,000 spending credits. Simply approach our membership booth to find out more information.
---
Highlight 6: Parrot Show & Puppet Show
Be entertained and amazed by the live performance and tricks of the parrots. To seal this one-of-a-kind memory, be sure to pose for a photo with these brightly-coloured birds. In addition, kids will get to enjoy a fun and interactive puppet show too.
---
Highlight 7: Christmas Light Up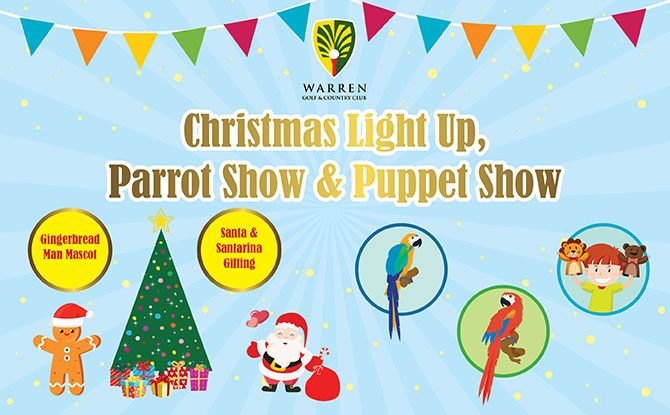 With Christmas round the corner, we will also be having the Christmas Light Up on the same day. Be greeted with the special appearance of the Gingerbread Man mascot and catch our friendly Santa and Santarina handing out goodies to everyone present. Enthralled in the joyous mood and holiday spirit with us at Warren and be dazzled by the magical moments of the light up.
---
Warren Golf & Country Club Open House and Christmas Light Up 2022
Mark your calendar and drop by our event on 19 November 2022 to find out more about the Club and the wide array of offerings. A fun and exciting event not to be missed. All are welcome!
This feature is brought to you by Warren Golf & Country Club.