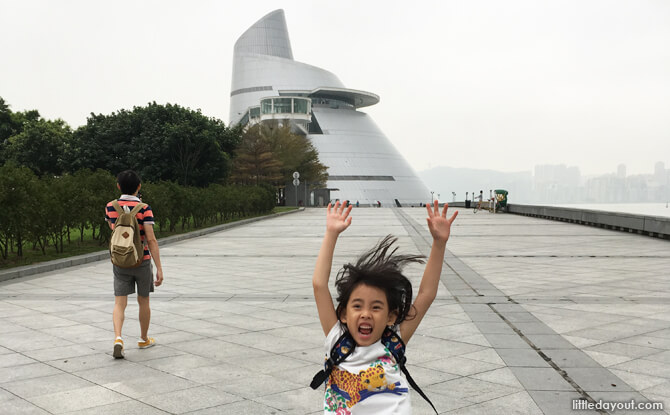 Ever wondered what there is to do in Macau with kids? Wai Ling and her family visited Macau and discovered there is much more to the former Portuguese colony than casinos and egg tarts.
"I don't see any children here," I remember whispering to my husband while waiting to board our Tiger Air flight to Macau.
"Maybe it's because it's not the school holidays?" he replied.
A valid reason, I thought. After all, we had pulled our six-year-old out of kindergarten for this short trip in late March.
To be fair, we were aware that Macau isn't a top-of-mind travel destination for families with kids. It's small, and known mainly for its glitzy casinos.
But we were thinking of food – I had always wanted to try the world-famous Portuguese egg tarts, pork chop buns, and curry fish balls – and it so happens that we have a kid who's quite the foodie.
Plus, our online research showed some interesting places recommended for families visiting Macau with kids.
So we took the plunge. And had a great vacation!
First, a Little Geography Lesson About Macau
Macau is divided into four parts: the Macau Peninsula, the islands of Taipa and Coloane, and Cotai, a strip of reclaimed land between the two islands.
The Macau Peninsula is where the Historic Centre of Macao, a UNESCO World Heritage site made up of over twenty locations, is located. We chose to stay here, as it put us in easy reach of many of the attractions we had planned to visit. We could even walk to the Ruins of St. Paul's, the must-visit attraction in Macau, from our hotel!
Taipa island is easily accessible via the peninsula – we took a bus from a bus stop near our hotel. It is home to the appetite-rousing Rua do Cunha, nicknamed the "Food Street" in Taipa Village, which naturally was on our itinerary.
Cotai is where the new glitzy hotels are located. The Venetian, Parisian, and Galaxy are some of the accommodation-entertainment giants here.
Further down from Cotai, Coloane island beckons with its beaches, seafood restaurants, and Lord Stow's famous Portuguese egg tarts.
Transport in Macau
The best way to experience Macau is by foot, especially at the old town area of the historic centre.
It was fascinating walking along the cobbled streets, into the back alleys of some of the oldest buildings in Macau – this is how you get to some of the most authentic Michelin Guide restaurants in Macau. (More on the food later.)
Walking allowed us to discover interesting finds along the way, such as a quaint store selling tinned sardines from Portugal in vintage packaging, a hipster craft beer joint, and a quirky shop specialising in Japanese instant noodles.
These modern establishments exist alongside the traditional businesses occupying the first storey of old shophouses, reminding me a little of Singapore's Tiong Bahru.
One thing to take note of when travelling in Macau with kids is that sometimes, the pavement disappears for long stretches along the narrower lanes. So make sure you hold your child's hand and look out frequently for traffic.
Another good way to get around in Macau is by bus. Not only is the bus service very efficient in Macau, it is also widely used by the locals. So if you want to get an authentic experience of life in Macau, get aboard a bus like the locals do.
Of course, you can also take a taxi in Macau. The rate is comparable to Singapore's, if not higher. We took a cab from the airport to our hotel and it cost us nearly 100MOP (about S$17) inclusive of 10MOP luggage charge for an 8-km journey. It's also not easy to flag a cab down in Macau; you usually find taxis at the hotels.
Attractions to Visit When in Macau with Kids
Planning your itinerary without including a casino visit isn't difficult at all. There are actually many things you can do in Macau with kids. Even with four days, we didn't have enough time to visit all the places that we would have liked to see.
Ruins of St. Paul's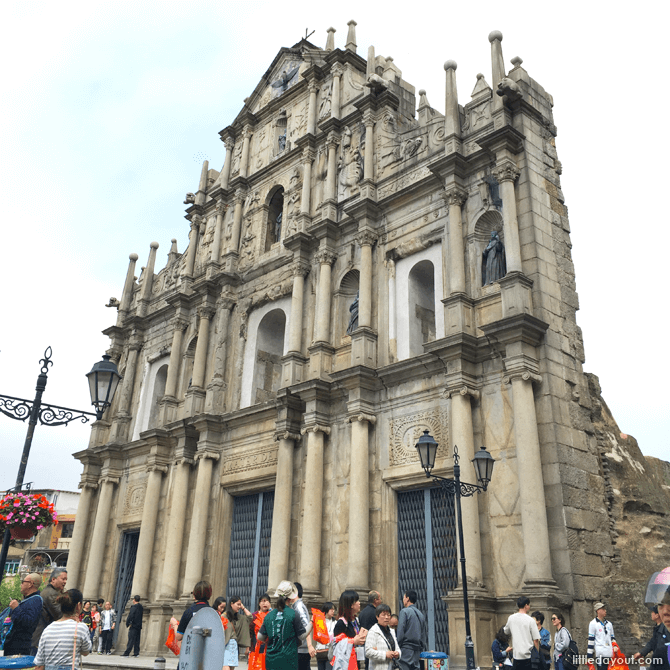 No one leaves Macau without seeing the Ruins of St. Paul's, a part of the Historic Centre of Macao, which earned the UNESCO World Heritage title in 2005.
Built in the 17th century by Jesuits, what remains of the Church of St. Paul and St. Paul's College after an 1835 fire is the very elaborate stone façade, which has become the most iconic landmark of Macau.
Walk past the façade to the back of the area, and you'll find some steps that lead you down to a crypt displaying the bones of Japanese Christians and a museum of sacred art. I must say that the bones were a little disturbing for my little one, so we didn't stay that long in this part of the attraction.
She had fun though, running up and down the many steps leading to the majestic structure, and was wowed by the enormity of the façade and the buzz of the place. It gets really crowded with tourists here, so be careful not to let your child run out of your sight.
Around the attraction, there are tons of stalls selling the ubiquitous curry fish balls and other snacks. It's fun to walk around the surrounds after exiting the Ruins with a snack in hand, enjoying the architecture and the historical feel of the place.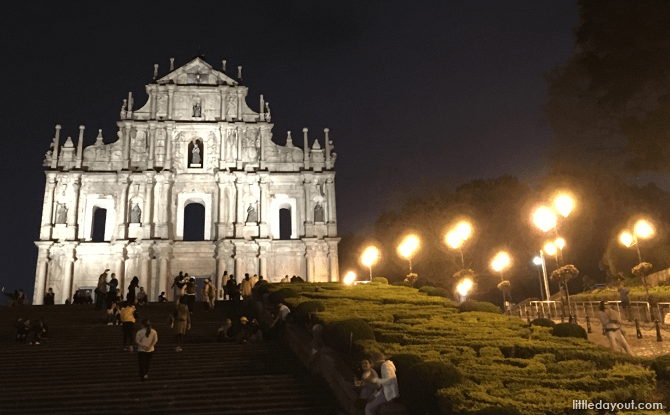 If you have time, it's worth paying the Ruins a night visit. Softly illuminated in the dark, it exudes a magical aura. And because there is no admission after 5.30 pm, you don't get swarmed by throngs of tourists.
Mount Fortress
Just next to the ruins, you'll find another UNESCO World Heritage location – Mount Fortress. Also built by the Jesuits in the 17th century, Mount Fortress is located on top of Mount Hill and offers panoramic views of Macau city.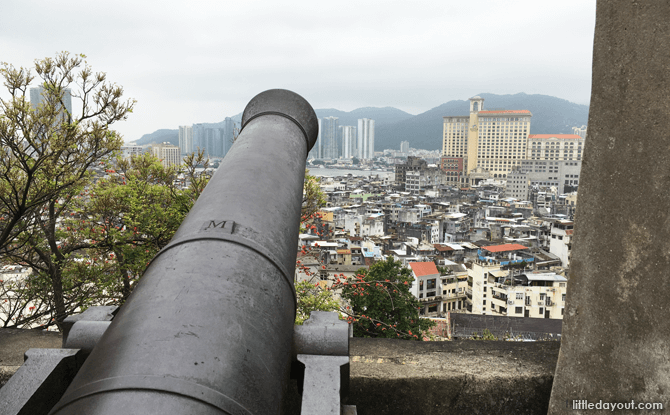 A fun activity for children is counting the number of canons situated around the fortress. My little one reported her find: 20 cannons (or was it 21?). I think we must have missed out a whole section of them, because according to websites, there are supposed to be 32 cannons there!
We had wanted to visit the Macao Museum, which is located in Mount Fortress. Specifically, we wanted to let our girl learn more about the history of Macau and cannon-making (sounds interesting right?) at the Children's Experience Exhibition. Unfortunately, the exhibition only started the next day, and our schedule didn't allow us to go back to the museum.
One of the most exciting attractions for our little one has to be the Macao Science Center. It is huge, with its exhibition areas arranged in an upward spiral like the The Guggenheim in New York. There are 14 galleries covering wide-ranging topics from space science to robotics, eco conservation, and sound. These sound rather scientific, but the exhibits were really interesting and fun!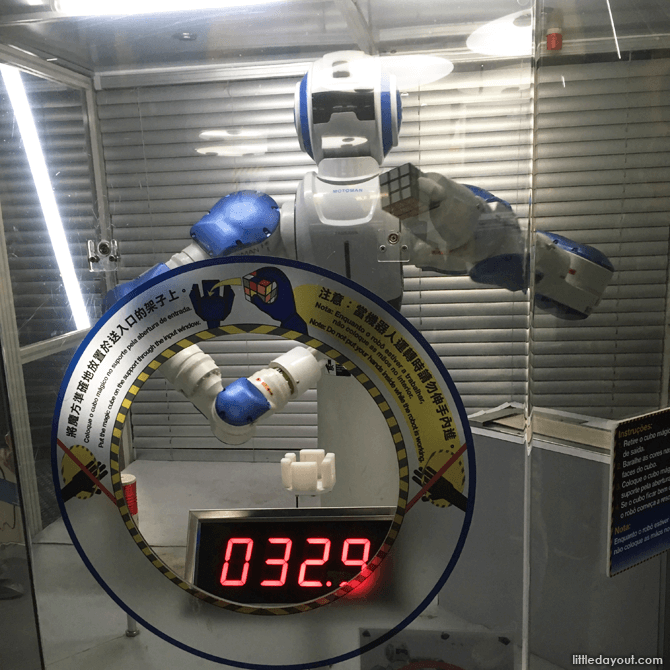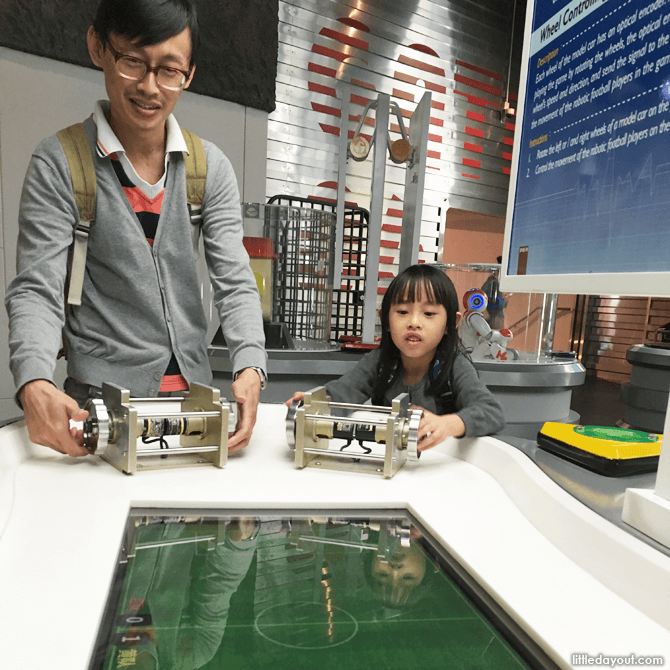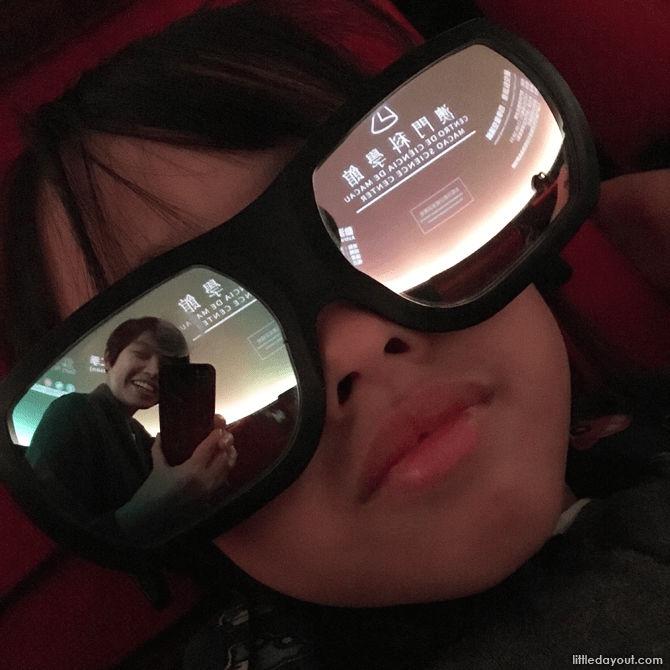 Make sure you catch a show at the planetarium, which holds the Guinness record for being the highest resolution 3D planetarium in the world. I would definitely recommend visiting the Macao Science Center when in Macau with kids.
Camoes Garden
If you want to get a feel of the locals' lifestyle, head for Camoes Garden, the largest garden in Macau. With a long history dating back to before the 18th century, this garden is where men gather to play chess, aunties do their morning exercise, and parents bring their kids to the playground.
The garden is very tranquil and picturesque, great for a leisurely walk with the family. We didn't get to explore much of it as our little one saw a signpost pointing to the children's playground and kept dragging us there.
We did get to see the bust of the Portuguese poet Luis de Camoes in a grotto though, probably the most well-known feature in the garden. The bust is a tribute to the great poet who had lived in Macau and wrote part of his masterpiece Os Lusiadas there.
Taipa Village is known for its food street Rua do Cunha, where you can taste almost all of Macau's famous eats – from Lord Stow's Portuguese egg tarts to Tai Lei Loi Kei pork chop buns and Fong Kei's almond biscuits.
Wander a little way off Rua do Cunha, and you'll encounter interesting sights and spaces. We saw artistic wall art, a gallery cum coffee bar, quaint Portuguese restaurants, and visited the Museum of Taipa and Coloane History.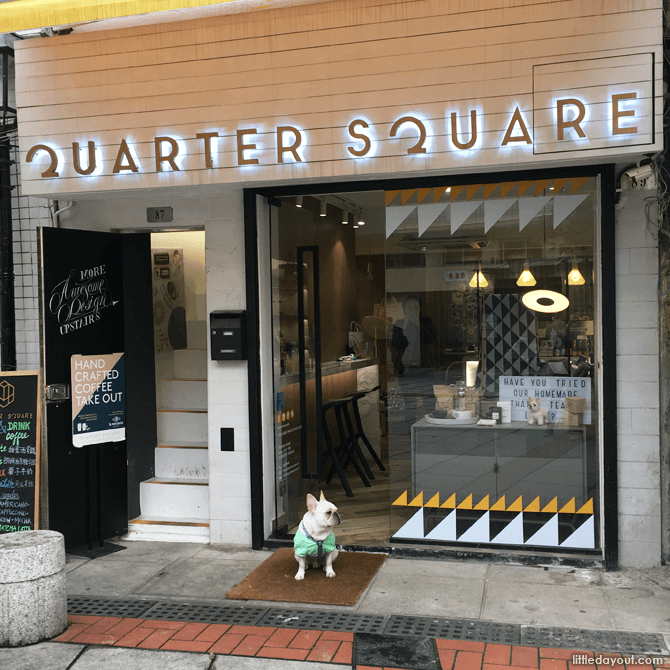 Another iconic landmark of Taipa Village is the Taipa-Houses Museum. It is a collection of five houses of Portuguese architecture in a pretty shade of green. Built in 1921, they were once the homes of Macanese senior civil servants. Our little one made sure she went into every one of the houses, except the one that was not open to the public, to experience the different themes covered in each.
The Venetian Macao and Kids' City at City of Dreams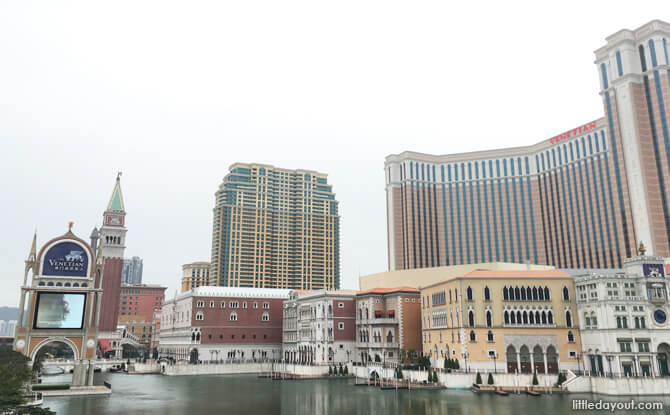 We took a super long walk from the Taipa-Houses Museum to The Venetian. The journey felt so long (and the weather so cold) that our usually good little walker complained that her legs were tired.
When we finally reached The Venetian, we were overwhelmed by the size of both the compound and the crowd. People came by the busloads to this place.
Of course, the touristy thing to do here is to take the gondola. We checked out the price and it was rather expensive, not to mention awkward, with everyone watching you (well, not exactly you, but the gondolier). So we just watched the gondola ride like everyone else hanging around the indoor canals.
We had promised our little one some play time at Kids' City, an indoor playground located at the City of Dreams. Once in the playground, her feet didn't feel tired anymore, and she was happily bouncing at the bouncy space, speeding down the spiral slide, and playing at the ball pit.
At 17,000 sq ft, this is the largest indoor playground in Macau and a popular place to visit when in Macau with kids. On top of the physical activity stations, it also boasts a dress-up area, art and craft station, and arcade machines.
Senado Square
You can't miss Macau's Senado Square. It is always crowded with people. A UNESCO World Heritage location, Senado Square was once the governmental centre of the Portuguese colony, though now it's become a commercial tourist site popular for shopping, dining, and public events.
Reflecting the history of the place, the buildings around the square are neo-classical in style. St. Dominic's Church, the Holy House of Mercy, and Leal Senado Building are the three to note, having been conferred UNESCO World Heritage status.
We found the place a bit too commercialised, but we liked the food options around here! There are restaurants, street food stalls, dessert shops,… and quite a few of these places boast Michelin mentions or are branches of Michelin recognised stores.
Guia Fortress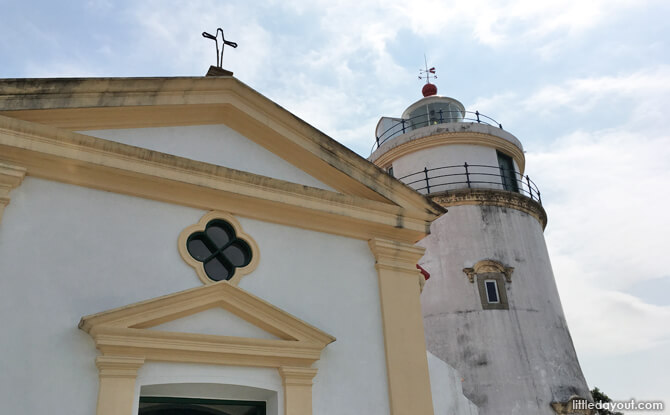 Another UNESCO World Heritage location, Guia Fortress makes for a very pleasant visit when in Macau with kids. It was good exercise for us, trekking up the gentle Guia Hill to come face-to-face with Guia Chapel and Guia Lighthouse, the tiny beacon of light that we saw every night from our hotel. This lighthouse is the first modern lighthouse on China's coast, and is still in operation today.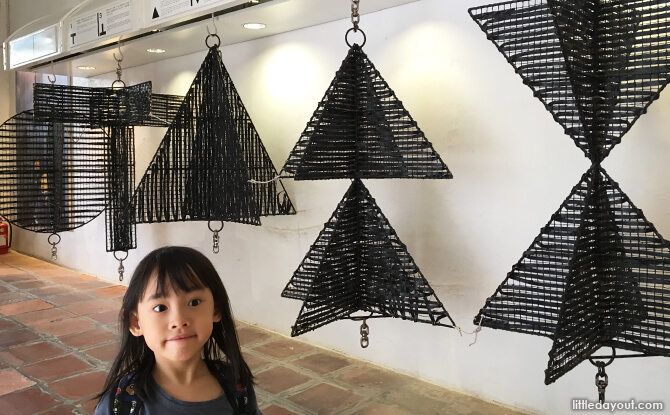 From here, you can see the whole of Macau. Guia Hill is the highest point of Macau and offers panoramic views. Don't forget to take a family picture here.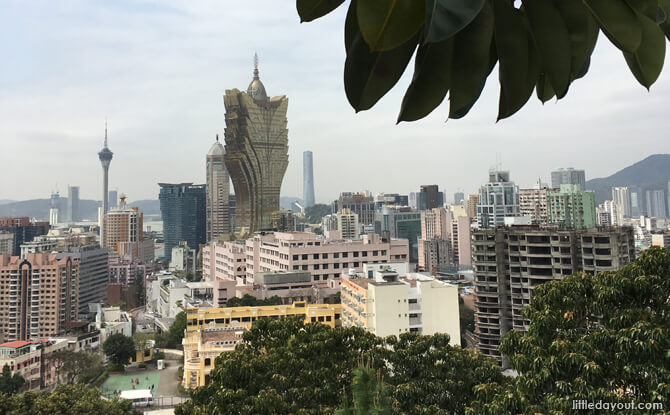 On the way up Guia Hill, we saw many locals doing their morning exercise, walking their dogs, and generally enjoying the beauty and tranquility of the Guia Hill Municipal Park. Our active kid was happy to run around and explore. She had fun all the way up the hill.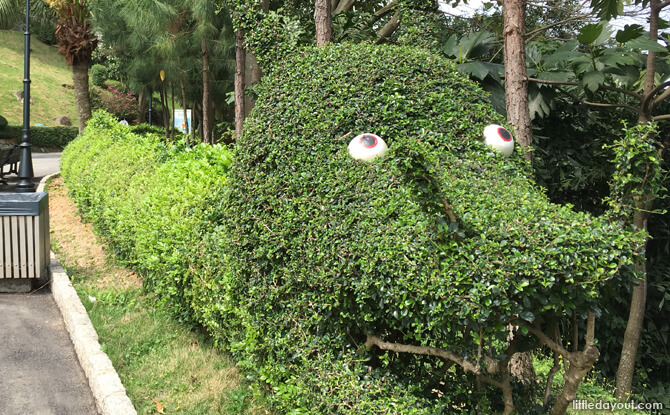 The Food
With the exception of the Portuguese restaurants and cafes, most of our food destinations are small local shops or stalls located at back alleys or some nondescript building. You come for the food, eat, and go – tummy satisfied. Many times, you'll have to share a table with others. That's how popular these places are.
We were not able to try all, but here's a list of what we were aiming for:
Chong Kei Noodle House
Specialty: Prawn roe noodles
Recognition: Michelin Guide 2017 (Bib Gourmand)
Address: 68 Rua de Felicidade, Macau
Tel: +85328574310
Ving Kei
Specialty: Beancurd in slightly gingery broth
Recognition: Michelin Guide 2017
Address: GF, 47 Rua da Tercena, Macau
Chan Kong Kei Roast Duck
Specialty: Black pepper roast goose, roast duck
Address: ‪19 Rua Do Dr. Pedro Jose Lobo, Macau
Restaurante Escada
Specialty: Portuguese food
Address: ‪8 Rua de Se, Macau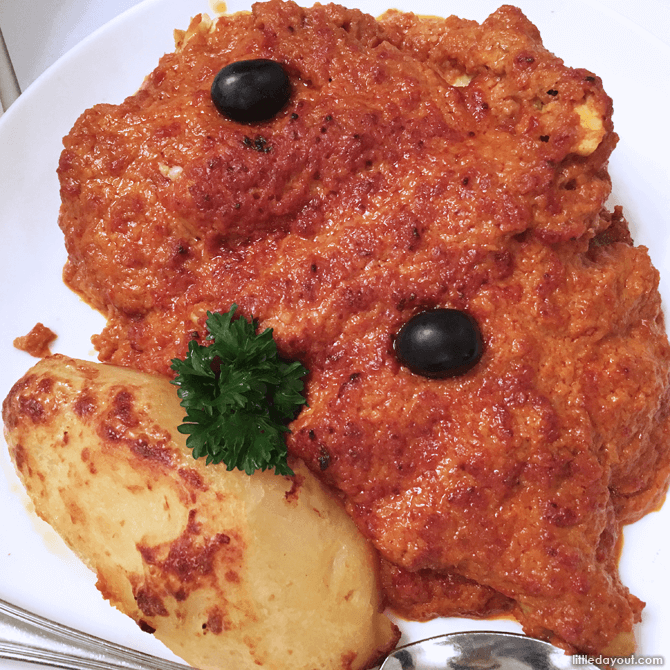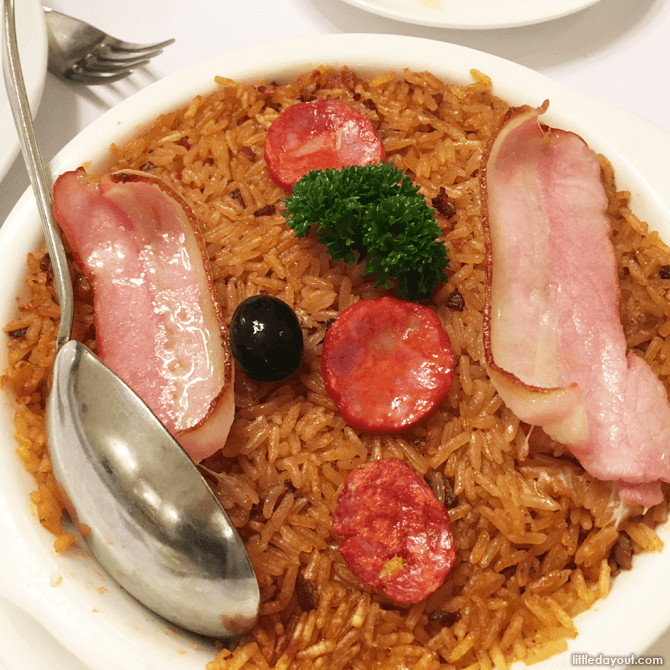 Nam Peng Cafe
Specialty: Hong Kong style café breakfast items
Address: ‪ 85, Rua de Cinco de Outubro, Macau Peninsula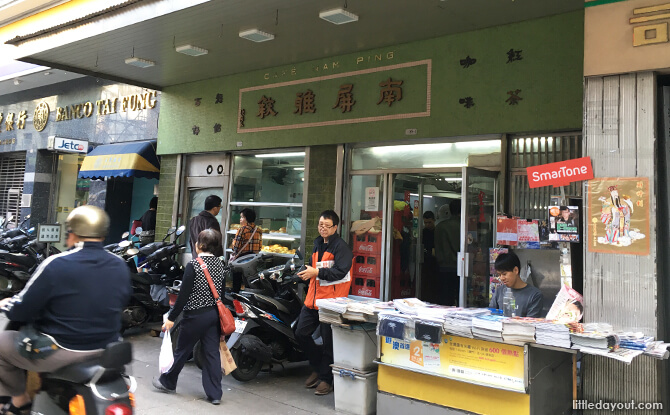 Margaret's Café e Nata
Specialty: Portuguese egg tarts
Address: ‪ ‪7B, Goldlion building, Rua do Comandante Mata e Oliveira, Macau, China
Kam Wai Beef Offal
Specialty: Curry beef offal
Address: ‪ ‪ Travessa da Sé, No 12D, R/C, Macau (a stall along the food lane near St. Dominic's Church at Senado Square)
Hou Kong Chi Kei
Specialty: Cantonese food
Recognition: Michelin Guide 2017 (Bib Gourmand)
Address: Address GF, Block 3, Lai Hou Gardens, Rua Coelho do Amaral, Macau
Tel: +85328953098
Note: This place only serves dinner. We went there for lunch and it wasn't open.
O Santos Comida Portuguesa
Specialty: Southern Portuguese food (Go for the Portuguese suckling pig! It's delicious!)
Address: ‪Rua do Cunha, No. 20, Taipa, Macau
Tel: +85328825594
Café Tai Lei Loi Kei
Specialty: Pork chop bun
Address: Rua Correria da Silva, No 35, Taipa, Macau
Tel: +853 2882 7150
Mok Yee Kei
Specialty: Musang durian ice cream (Musang durian is actually Cat Mountain King durian) and serradura (sawdust pudding)
Recognition: Michelin Guide 2017
Address: 9 Rua do Cunha, Taipa, Macau
Espaco Lisboa
Specialty: Portuguese food
Recognition: Michelin Guide 2017
Address: Rua das Gaivotas No8, Coloane, Macau
Tel: +85328882226
Lord Stow's Bakery (original store)
Specialty: Portuguese egg tarts
Recognition: Michelin Guide 2017
Address: 1 Rua do Tassara, Coloane, Macau
Lastly, don't forget to bring home some almond biscuits and other Macau specialties from the king of bakeries – Koi Kei. With 21 stores in Macau, you almost see one every corner you turn! Everyone goes home with a Koi Kei bag full of yummy treats for friends and family.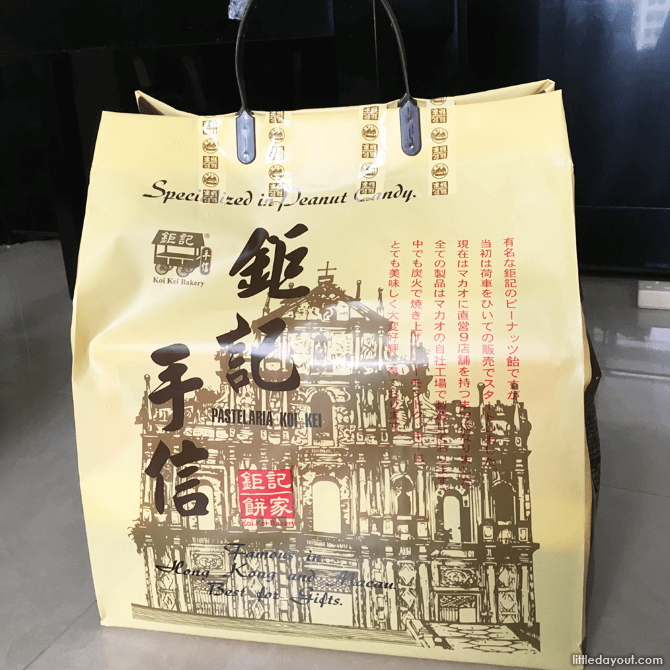 ---
---