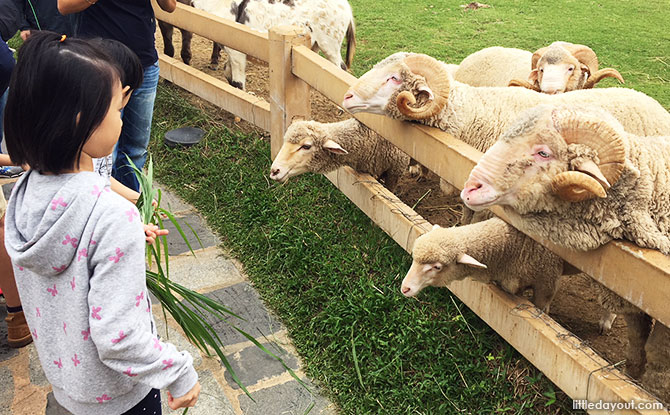 Sprinkled with quaint Italian-inspired villages, wineries with vineyards and flower fields against a mountainous backdrop, the region of Khao Yai near Bangkok, Thailand, offers visitors a chance to savour petite European town experiences.
Khao Yai is about two-and-a-half hours drive from Bangkok. This meant that our family of four had to set out early at 7 am on a day trip which was booked through Klook's "Khao Yai All-Time Favorites Private Tour from Bangkok".
The tour consisted of a recommended 12-hour itinerary (excluding entrance fees to attractions) with a personal chartered air-conditioned van or car (inclusive of toll, fuel and insurance) and an experienced driver who picked us directly from the hotel in Bangkok city. Oriental Holiday (Klook's Thailand Operator) also emailed us a kind confirmation the day before so we were all raring to go!
Primo Piazza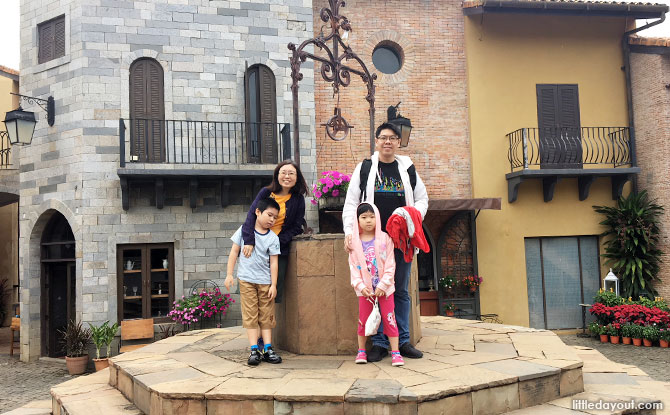 The first stop of the day on our visit to Khao Yai was a little Italian-style village Primo Piazza, complete with a well in the town square. With its scenic flower fields, outdoor sheep and donkey enclosures, and alpaca shed, this European-looking town exuded a certain charm.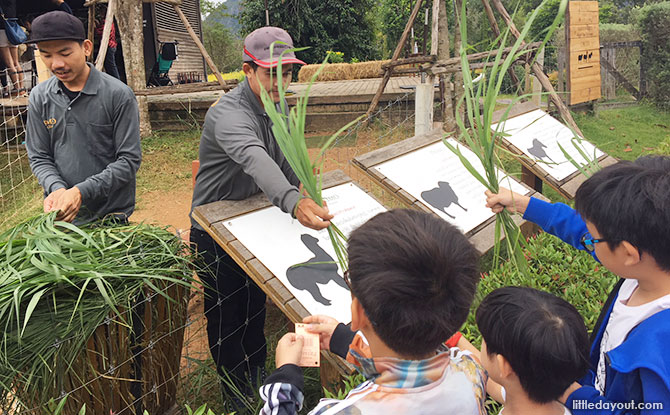 Entrance fees to the attraction included free animal feed. This was certainly a hit with our children who enthusiastically fed the animals. In return, the animals were more than happy to oblige, speedily eating the long leafy greens that came their way.
Little food shops at Primo Piazza offered piping hot fish and chips, a selection of beverages and other light meals. It was a delicious start to the day and we spoiled the kids by allowing them to have creamy vanilla and cookies gelato for breakfast!
A short climb up to the tower afforded an excellent vantage point to view the mountain area and the surrounding countryside. With the cool morning breeze blowing, our cardigans came in handy.
Entrance fees for Primo Piazza: Adult – THB200, Child above six years old – THB100. Both comes with free animal feed and a 10% discount on food.
PB Valley Winery
Lunch was at the PB Valley Winery Restaurant, our next stop. It came along with a wonderful view of a lush valley.
We savoured spaghetti with clams simmering in garlic butter and rich wine-based tomato sauce. In terms of local fare, the Thai green curry chicken pot was yummy but the Tom Yum soup was disappointing. We guessed that Western fare, paired with a glass of freshly brewed wine, was more the chef's speciality!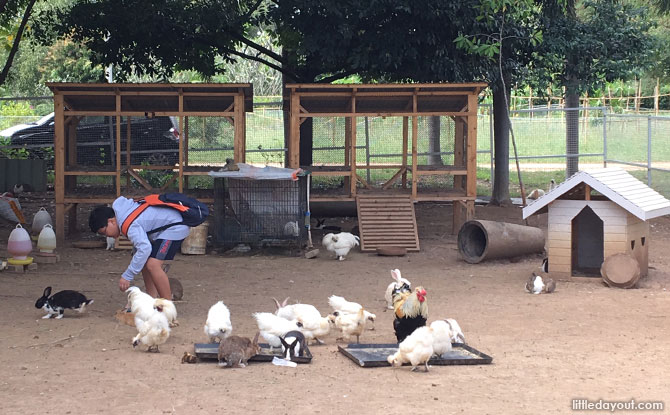 We explored at leisure the vast vineyard's valley of flower patches, lily-padded fish ponds and an animal yard populated with geese, ducks, rabbits and chickens. Unfortunately, we had not signed up for the 70-minute vineyard tour. To do so, at least a week's advanced booking is recommended to avoid disappointment.
While the vineyard was bright green and leafy, it was not the grape harvest season (which is usually mid-January to February) so there was no sight of ripe globes.
The sunny valley did provide a lovely stroll and open spaces for the kids to run around and there was a small outdoor playground near the restaurant.
The Bloom
Hopping back into the van, we soon arrived at The Bloom, Khao Yai's largest 100-acre flower garden.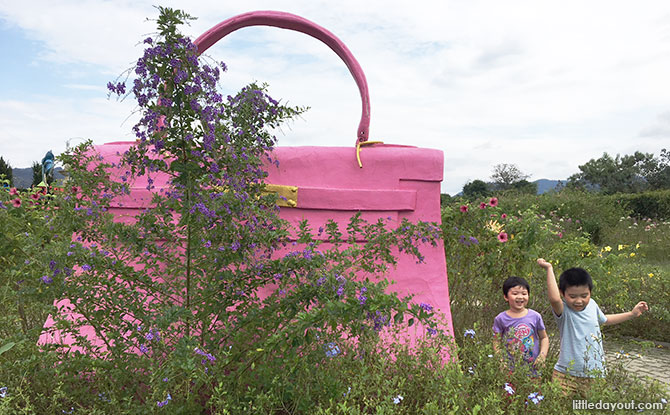 Home to a plethora of different brilliant floral species, the flower garden also has giant willowy tunnels, colourful pavilions and structures such as a giant handbag, a tall fountain and classical statues located around its various garden sections.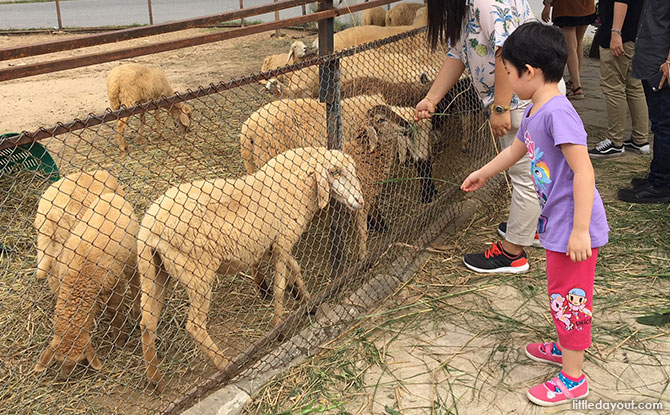 It is an ideal location for taking photos and the kids got to enjoy another round of sheep and deer feeding at the animal pens.
There is also an additional option of a top-up cafe package with the entrance fees offering refreshing drinks and desserts for tired wanderers at The Bloom's Coffee Shop.
Entrance fees for The Bloom: Adult – THB100, Child above 6 years – THB50.
Palio Khao Yai
A shopping haunt with a clock tower and market square, trimmed maze-gardens, bubbling fountains, little cafes and winding pathways lined with pretty flower pots, Palio Khao Yai is a Tuscan-themed village lined with clothing, craft and souvenir stores.
The surprising gem that we encountered during our time at Palio Khao Ya was a cosy little Cat Cafe owned by a couple who love cats and quiet jazz music!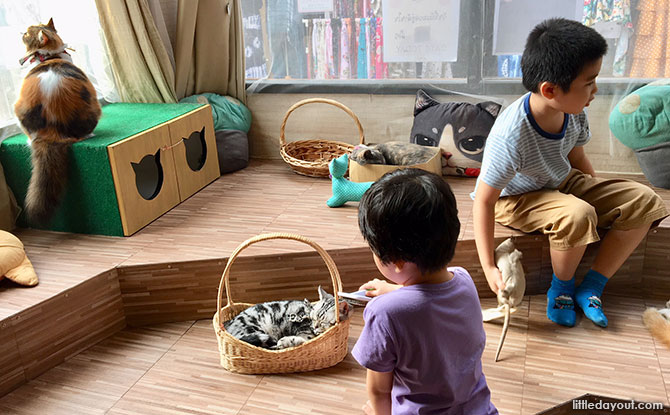 To enter the cat compound in the cafe, we had to purchase drinks. We did so happily as the owner made an awesome iced chocolate which was downed in one delicious glup by our little girl.
There were at least twelve cats in the cafe that day! The kids wanted to spend the entire afternoon there as they loved playing with the cool jazz cats, stroking and combing their coats, watching them sleep and reading the cat encyclopaedia.
The Chocolate Factory
A two-storey restaurant and shop with a small garden area, The Chocolate Factory was crowded with diners and shoppers enjoying rich chocolate drinks, meals and desserts.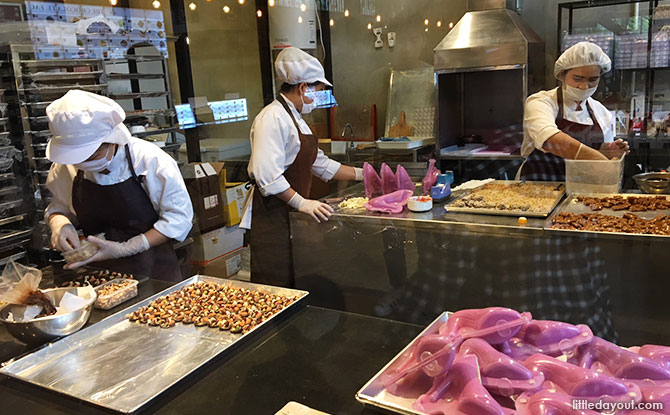 Upon entering we were greeted with a glass enclosure in which three chocolatiers were busy making confectionery from chocolate.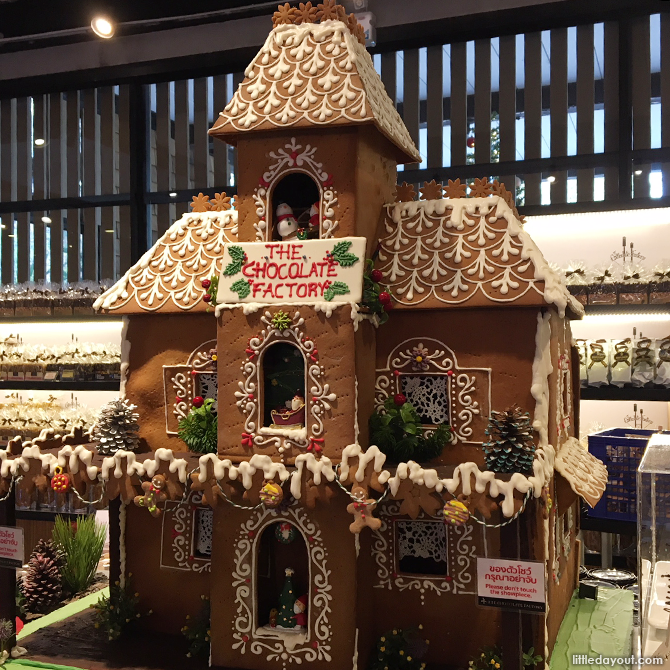 As it was the Christmas season, we went "ooh" and "aah" at an impressive gingerbread house display at the centre while carols were played throughout the shop.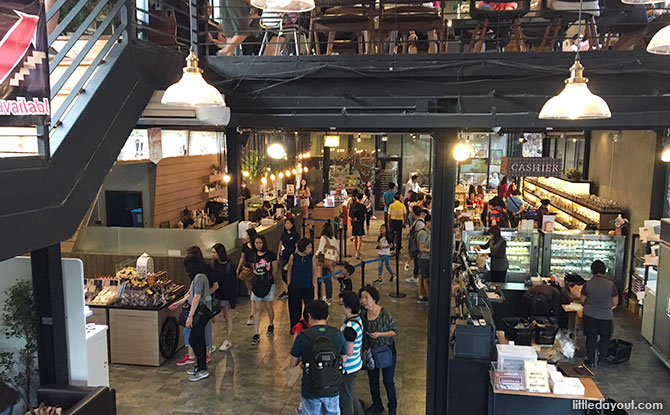 Enthusiastic shoppers were snapping up chocolate offerings such as brownie cookies, Cinderella shoe-shaped chocolate, buttery cakes, pastries, bottles of wildflower honey and even face and skincare products made from cacao.
The kids had a blast at a playground outside in the garden and literally went wild at the tons of bubbles blown out from various standposts for 10 minutes every hour!
Exploring Khao Yai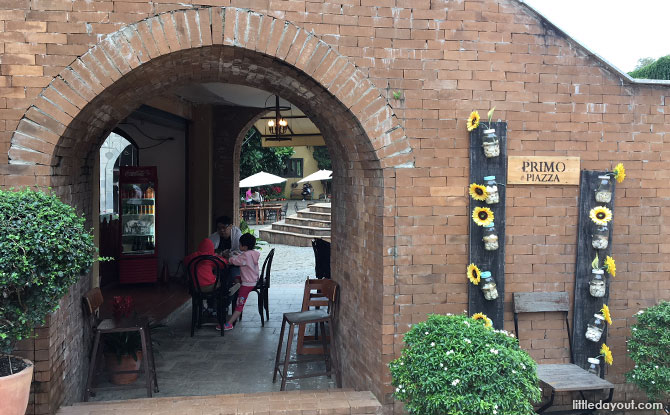 Khao Yai was fun and picturesque but touristy, popular with many Singaporean families with young kids during the December holidays. We had spent about 45 to 90 minutes per stop which were located about half an hour away from the next.
Koong, our friendly and veteran driver was very accommodating and brought us to The Bloom and Chocolate Factory, two additional places on top of the other three spots recommended in the basic itinerary.
By the time we had to make the long drive back to our hotel in Bangkok, arriving at 7 pm, we were exhausted but happy from the wonderful day out visiting Khao Yai!
Book Your Visit To Khao Yai Through Klook
Just like Carolyn, you can book your visit to Khao Yai with an all-time favourites private tour through Klook. This includes a pick-up from your hotel in Bangkok, transport to the various sights and return trip at the end of the day.
Book your day tour to Khao Yai here.
Little Day Out is an affiliate of Klook. Little Day Out receives a small commission for each ticket purchased through our Klook link.
This feature is brought to you in collaboration with Klook.