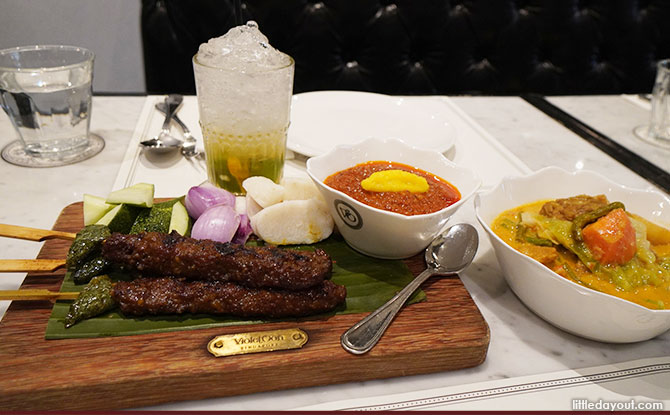 Immerse yourself into the rich heritage of Nonya and Singapore cuisine at Violet Oon. This sophisticated and classy restaurant offers honest and delicious traditional favourites inspired by the different cultures in Singapore. Violet Oon first started in 2014 in a home restaurant in Bukit Timah and has since expanded to different locations around Singapore at places such as National Galley, ION Orchard and Jewel.
A Personal Touch
The visit to each Violet Oon outlet is given a personal touch by the thoughtful design if the dining experience. The music being played in the restaurant are from Chef Violet's personal playlist and contains tunes from her own childhood. Pictures showing her food journey also let visitors share in the story of Violet Oon.
Exclusive Menus at Violet Oon Restaurants
Each outlet also has its own exclusive menu item. The exclusive item in their newest Jewel outlet is a Popiah Party set. It is in keeping with Nonya culture where being invited to a party indicates one is a treasured guest of the host.
Other examples of exclusive items include exclusive high tea set with delights such as mulligatawny soup and salmon with cream cheese on crostini at ION Orchard.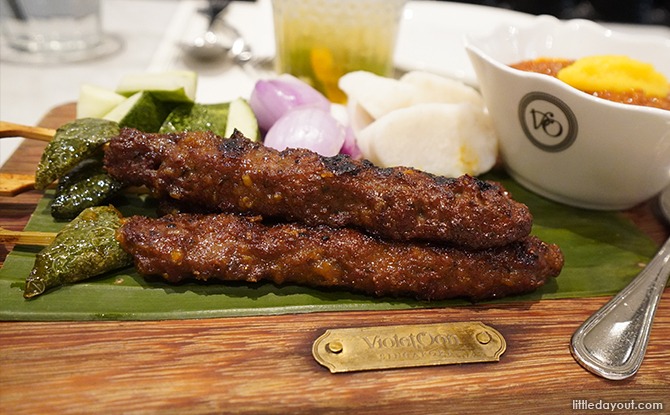 Another rather exclusive item which is currently only available at Jewel and Clarke Quay outlets is the Impossible Satay.
Made with skewers of Impossible meat marinated in spices, grilled and served with a spicy peanut sauce topped with grated pineapple as well as steamed rice cake, cucumber and red onion on the side. The peanut sauce was chunky and flavourful.
The satay reminded us a little of the filling of a ngoh hiang (a mix of prawns, chestnuts and five-spice powder), and we see it being a great alternative to any meatless diets wanting to enjoy some satay again.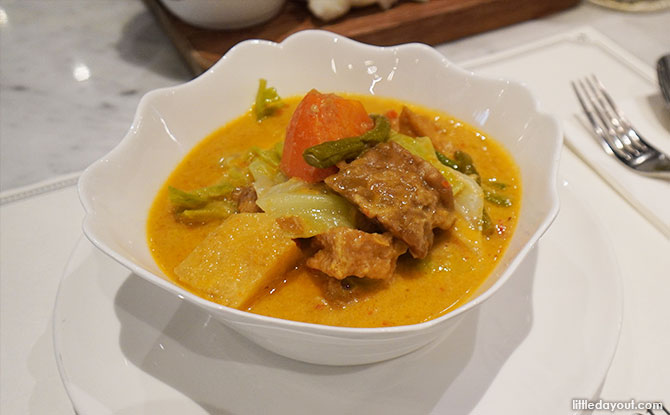 Another delicious vegetable dish was the Sayur Lodeh, which is mixed vegetables and tempeh in a fragrant and mildly spicy coconut gravy. We enjoyed this dish a lot and savoured the flavourful broth which had a distinct flavour of creamy coconut milk.
Despite not being a huge fan of spicy dishes, the mild kick further enhanced the gravy and was comforting over a warm bowl of rice.
We also enjoyed the Honey Kesturi Soda made with freshly squeezed kesturi lime, honey and seltzer water. It was very refreshing and is great to pair with any dish on the menu.
Sweet Endings
We ended off our visit to Violet Oon with Kueh Beng Kah, a fresh tapioca cake infused with coconut cream and served with coconut milk and gula melaka. Other than the portion being very generous, the warm cake had a slightly crisp outer layer with a warm soft inside.
It is an elevated take on the humble kueh, and what we think is one of the best we've had.
The presentation of the food at Violet Oon is gorgeous, the service was wonderful and we hope to be back again to try more of their signature favourites such as their Dry Laksa and Kueh Pie Tee.
Those who wish to have their own intimate Nyonya feast in the comfort of their home or office can opt for Violet Oon Singapore's new Petit Feasts. Featuring signature favourites like Dry Laksa, Babi Pong Tay, Chap Chye, Beef Rendang, and more, each set is freshly prepared and delivered right to your doorstep.
The petite feast is ideal for four to six pax and every set meal also includes jasmine rice, atchara pickle, and sambal belacan. Deliveries are available from Tuesday to Sunday.
For more information on the menu, delivery and other information, visit the Violet Oon website.