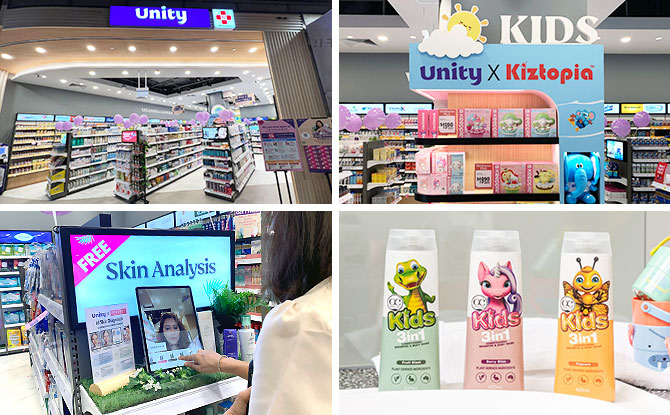 There's a new family-friendly place in Singapore, and it's not an indoor playground or a kid's museum. It's Unity at The Woodleigh Mall, a one-stop centre for health and wellness that caters to the entire family!
Unity at The Woodleigh Mall not only provides healthcare solutions for everyone in the family, but also houses an area dedicated to kids – designed in partnership with Kiztopia.
In-store, resident pharmacists specialised in mum and kids related consultation are on hand to advise on the best course of supplements and medicines, while an AI skin analysis service is offered free to encourage self-care among busy parents.
With many opening promotions and activities to enjoy from now till 21 May 2023 – including free health screenings for mums and kids – there's no better time to visit the store!
---
-- Story continues below --
---
A Space Dedicated to Kids in Partnership with Kiztopia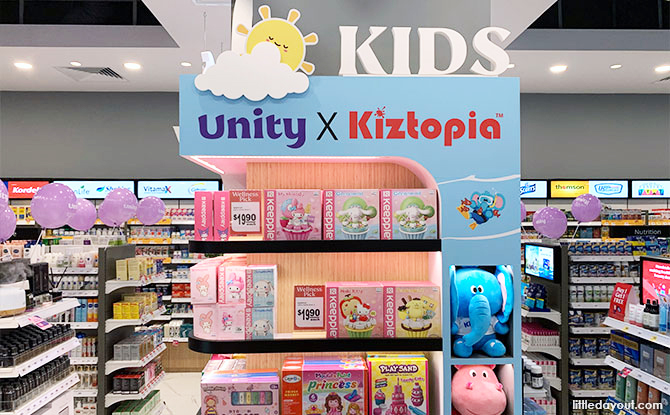 Children may feel apprehensive when in a clinical-looking pharmacy. To make the experience less intimidating for them, Unity at The Woodleigh Mall has partnered with Kiztopia to design a carved-out shelf dedicated to kids within the store.
This space, clad in iconic Kiztopia colours, stocks health products specially catered to kids alongside fun toys. It also features characters from Kiztopia, such as Bell the Bear and Eli the Elephant, in both two-dimensional illustration and as cuddly soft toys.
Drawn to the cheerful display, children will feel more at ease as parents consult the pharmacists and shop for the best products for their health needs.
---
A Large Range of Derma-solutions, Probiotics and Other Products for Children
With the kids happily engaged, mums and dads can have more time to browse through the wide range of products to bolster the wellness of the little ones.
Unity at The Woodleigh Mall stocks products like the B&B Fabric Detergent, specially formatted for baby's sensitive skin, as well as many other established brands of derma-care products for infants and toddlers, such as Cetaphil Baby and Suu Balm, an award-winning itch-relief moisturiser formulated by the National Skin Centre.
Gut health is also very important in the growing-up years of precious young ones. Taking probiotics like Vivomixx, LACTOGG and BioGaia helps to strengthen their digestive system and boost their immunity from the inside.
---
AI Skin Analysis for Mums and Dads
While the kids will always be top priority, mums and dads also need to practise self-care to last the parenting journey. Sleepless nights and, in general, raising a family can take their toll – and it shows on the face. This is where Unity at The Woodleigh Mall's AI skin analysis service comes to the rescue!
Using this service is simple. Just stand in front of the scanning device in-store to have a photo of the face taken. The AI tool will then analyse the image and provide in-depth insights into the condition of the skin across four key metrics: wrinkles, spots, texture and dark circles – even determining the skin's age!
After generating a diagnostic report, it will suggest a personalised skincare routine to combat the issues detected. For the convenience of busy parents, all the products recommended can be bought in-store. Easy as ABC!
---
Opening Promotions and Activities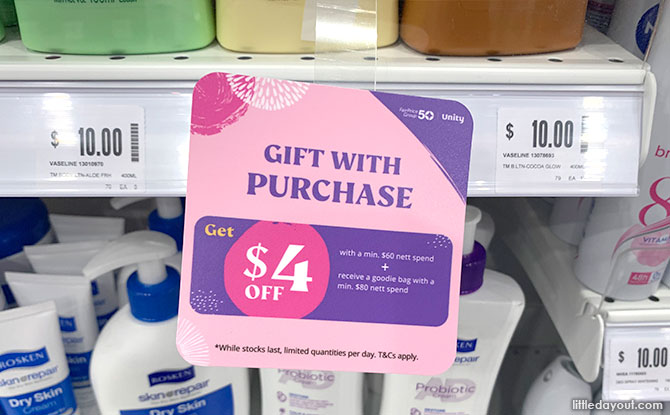 To celebrate the opening of Unity at The Woodleigh Mall, many promotions are available.
From now till 21 May 2023, shoppers enjoy a $4 discount with a minimum spend of $60.
On 13, 14, 20 and 21 May 2023, a goodie bag – which even contains bird's nest – can be redeemed with a minimum spend of $80, while stocks last.
For those who have visited Kiztopia, just present the ticket to get $3 off with a minimum spend of $30.
There are also plenty of exclusive deals and gifts with purchases during this period. In addition, kids can have fun meeting Pororo in store and participating in a colouring session while parents can get a free hair screening at the store on selected days.
For all the details, visit Unity The Woodleigh Mall's webpage.
Where: Unity at The Woodleigh Mall, #B1-28, 11 Bidadari Park Dr, Singapore 367803
This feature is brought to you by Unity.