In the age of smartphones, iPads and toys screaming for children's attentions, a book seems like a quaint and antiquated Christmas gift idea. It does not have colourful flashing images, you cannot bend it into cute poses, nor does it allow you to digitally transform into a superhero and conquer new realms.
However, the truth is, books still make wonderful and treasured gifts.
Just look around you. Many bookshelves at home are still weighed down with treasured books that we cannot bear to part with. What's more, the shelf life (pardon the pun) of a book is a lot longer than the latest app-of-the-week which gets set aside faster than you can say "Angry Birds".
So, what exactly is it that we love about children's books as gifts? Here are three reasons:
1. Bonding Time
For young children, reading is a communal affair. Reading a book to a child is one of the best ways parents can spend time with their children. Reading aloud to your child is an interactive and meaningful parent-child activity, which helps them unlock the wonder of childhood.
2. Personalisation
Few gifts are easier to personalise than a book. With some thought and a simple pen, you can tell a person, "I care about you" with a simple inscription. As a child grows older, these etched inscriptions deepen in meaning and eventually turn into precious memories.
3. Depth and Layers
A good children's book invites reading over and over again. Each read reveals new details that were missed before. Beautifully illustrated picture books allow a child's imagination to take flight and this could very well be the most valuable gift a child could receive.
What Books Should We Buy for The Kids?
With Christmas around the corner, we turned to the experts at Asia's online bookstore – NoQ Store – for the latest and hottest children's book titles of 2013 in order to discover the perfect book gift this season.
** Special 2013 Deal: $10 OFF for Little Day Out Readers **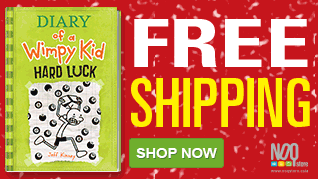 What's more, in collaboration with NoQ Store, all Little Day Out Readers will enjoy $10 OFF your purchase as well as FREE delivery in Singapore and FREE gift-wrapping this Christmas season. Just choose from a selection of over 12 million English books and enter LDOXMAS10 at checkout. You can now shop from the comfort of your home and get your books delivered to your doorstep for free!
"Christmassy" Books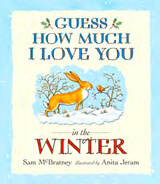 Guess How Much I Love You in the Winter
This delightful winter themed picture book has Little Nutbrown Hare and Big Nutbrown Hare playing a game of "I Spy" in the snow. Little Nutbrown Hare has to guess that he is Big Nutbrown Hare's most favourite thing in the world.
Pinkalicious: Merry Pinkmas!
This year for Christmas, Pinkalicious has decided she wants a bright pink artificial tree. But Mom and Dad immediately say no – the Pinkertons always get a real tree for the holidays. Pinkalicious' fans will cheer at her attempts to start a new Pinkerton family tradition.
Dora's Christmas Star
Nickelodeon's Dora the Explorer celebrates the holidays in this charming Christmas storybook. Featuring pages that glow and over 30 glow-in-the-dark stickers, this festive storybook is the perfect stocking stuffer for girls ages three to seven.
An Otis Christmas
It's Christmas Eve on the farm where Otis and all of his friends live. The farmer has given Otis his first real Christmas present–a shiny new horn! In the middle of the night, one of the horses on the farm is about to give birth to a foal! What will Otis do? A warm, feel-good Christmas story featuring everyone's favorite tractor, Otis, the friend you can always count on.
Elmo's Christmas Snowman: Sesame Street
Elmo, Abby Cadabby, and their Sesame Street friends are building a snowman on Christmas Eve, but there's not enough snow to make it big enough to last! Boys and girls ages 1-4 will laugh out loud when they see how this glittery board book ends.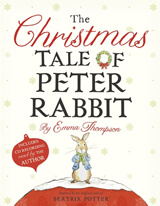 The Christmas Tale of Peter Rabbit
Peter Rabbit and his cousin Benjamin Bunny have a new friend, William the Turkey. The trio is excited for Christmas–until they realize that William is meant to be Mr. McGregor's Christmas supper! Just in time, Peter and Benjamin hide William, and the three enjoy a lovely Christmas dinner of pickled radishes and barley cake at the Rabbit family burrow.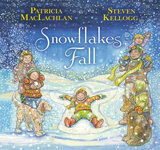 Snowflakes Fall
In Snowflakes Fall, Newbery Medalist Patricia MacLachlan and award-winning artist Steven Kellogg portray life's natural cycle: its beauty, its joy, and its sorrow. Together, they have created a truly inspiring picture book that is both a celebration of life and a tribute to the qualities that make each individual unique.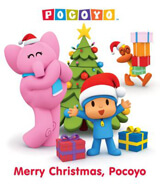 Merry Christmas, Pocoyo
Celebrate the holidays with Pocoyo, Pato, Elly, and Loula! This festive board book features sturdy pages, a sparkly cover, and glitter on every page, making it the perfect Christmas gift for girls and boys ages one to four.
Animal Tales
Audrey Bunny
This sweet children's book tells the tale of a stuffed animal named Audrey Bunny who fears her imperfections make her unworthy of a little girl's love. She'll learn the truth soon enough, and young readers will learn that everyone is special and wonderfully made.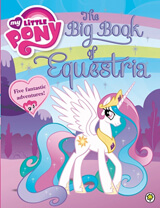 The Big Book of Equestria
Welcome to Equestria, a world of friendship and magic. Meet Twilight Sparkle and her best friends as they explore the land of Equestria, from Ponyville to Canterlot. Join the pony friends on their adventures and discover secrets, magic and fun! The perfect gift for all My Little Pony fans.
Picking Up a Penguin's Egg Really Got Me into Trouble
Four-year old Abbie Rose goes on an exciting adventure to the South Pole with her best friend Billy. She meets a family of Adelie penguins and, together with some penguins, gets separated from the rest of the group. Will the penguins be reunited with their family? Ideal for parents to read to their children aged between two and eight years old or for emerging readers.
Pete the Cat and His Magic Sunglasses
Pete the Cat wakes up feeling grumpy, nothing seems to be going his way. But with the help of some rockin' magic sunglasses from Grumpy Toad, Pete learns that a good mood has been inside him all along.
The Further Adventures of the Owl and the Pussycat
When their beautiful golden ring is stolen, the Owl and the Pussy-cat must travel far from the safety of the Bong-tree glade as their search for the thief leads them across the Sea, to the Chankly Bore and beyond. A beautiful new story by Julia Donaldson, author of the Gruffalo.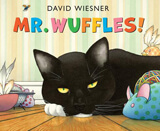 Mr. Wuffles!
Mr. Wuffles doesn't care about toy mice or toy goldfish. He's much more interested in playing with a little spaceship full of actual aliens. When the space visitors dodge the cat, they make a host of insect friends. The result? A humorous exploration of cooperation between aliens and insects, and the universal nature of communication involving symbols and gestures of friendship.
For Older Readers
Roald Dahl's Heroes and Villains: A First Roald Dahl Treasury
To be equally enjoyed by children just coming to know the wonder of Roald Dahl, as well as adults who will love to recapture childhood memories. There are four stories here – The Enormous Crocodile, The Giraffe and the Pelly and Me, The Twits, George's Marvellous Medicine. Beautifully illustrated throughout by Quentin Blake. Another one for the family library.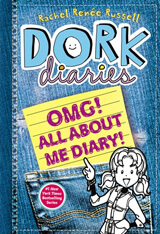 Dork Diaries Omg!: All About Me Diary!
Keeping a journal is a great way to get to know the most important person in your life: YOU! This special Dork Diaries guided journal features questions for every day of the year. If you could swap places with anyone for a day, who would it be and why? What song could you listen to 100 times? Since this is an authentic Dork Diary, Nikki Maxwell chimes in with her answers and artwork as well!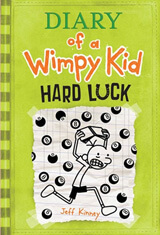 Diary of a Wimpy Kid: Hard Luck
Greg Heffley's on a losing streak. His best friend has ditched him, and finding new friends in middle school is proving to be a tough task. To change his fortunes, Greg turns his decisions over to chance. Will a roll of the dice turn things around, or is Greg's life destined to be just another hard-luck story?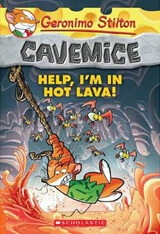 Geronimo Stilton Cavemice #3: Help, I'm in Hot Lava!
Geronimo Stiltonoot and his family are off to find a cure for Grandma Ratrock's aches and pains. She's heard that a remedy hides in a legendary valley, and Geronimo isn't even sure it exists. Little does he know that getting there will be an adventure among geysers, volcanoes, and rivers of molten lava!
** Shop for Books for the Kids at NoQ Store Now! **
Simply click here to order the perfect gifts for your children. Don't forget to quote LDOXMAS10 at checkout to enjoy $10 OFF your purchase with a minimum purchase of S$40, as well as FREE delivery in Singapore and FREE gift-wrapping, by 31 December 2013!
About NoQ store
NoQ store – Asia's online bookstore offers you a brand new shopping experience when you shop for books online. Stocked with over seven million international and Asian titles across dozens of categories, from the Aztec gods to the Amazon tribes, from Steve Jobs to Gordon Ramsay, NoQ store's advanced book depository allows you to browse for all your favourite books without a hitch in a flash. Get your hands on the freshest and hottest titles at up to 50% off, and enjoy speedy delivery from our online shopping trolley to your doorstep FREE within Singapore!
More Stories on Christmas: