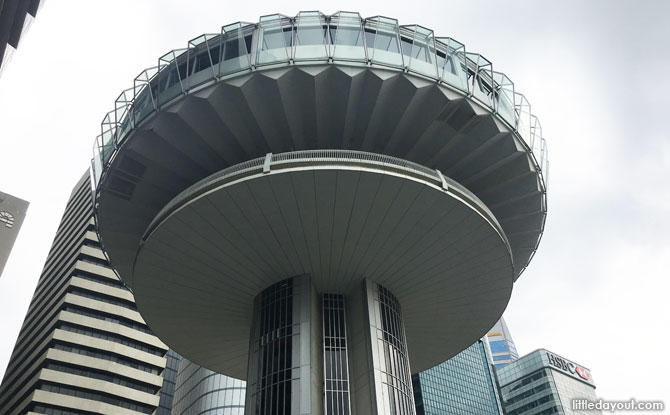 Enjoy ever changing views along with delightful food at Tong Le Private Dining, the revolving restaurant at Marina Bay.
Located on the 10th floor of OUE Tower, Tong Le Private Dining is a Chinese restaurant that pairs the cuisine of a chef from Hong Kong with panoramic views of the sparkling Marina Bay.
Changing Views at Tong Le Private Dining
And of course, as a revolving restaurant, these views are never static. It changes from a bay view to views of the Central Business District to that of the Civic District during the two hours it takes to complete a revolution.
In a similar fashion, the menu at Tong Le Private Dining also varies regularly – a way to keep the menu fresh and interesting for its regular clientele.
When we visited, we sampled a variety of dishes from its a la carte menu. Set menus are also available at Tong Le Private Dining.
Delightful Cuisine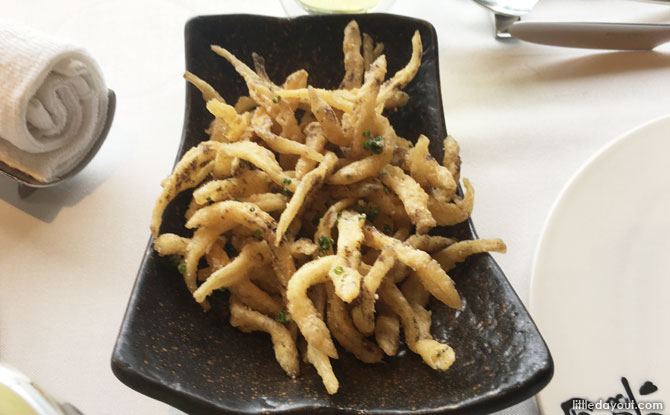 Amongst the appetizers we tried were Crispy White Bait Fish in Truffle Sauce ($16) and Crispy Salted Egg Yolk Fish Skin ($14).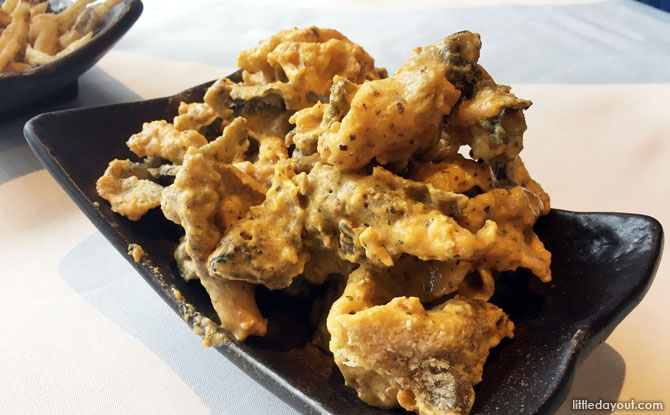 While the White Bait Fish was delightful, the Salted Egg Yolk Fish Skin, freshly fried, was simply addictive.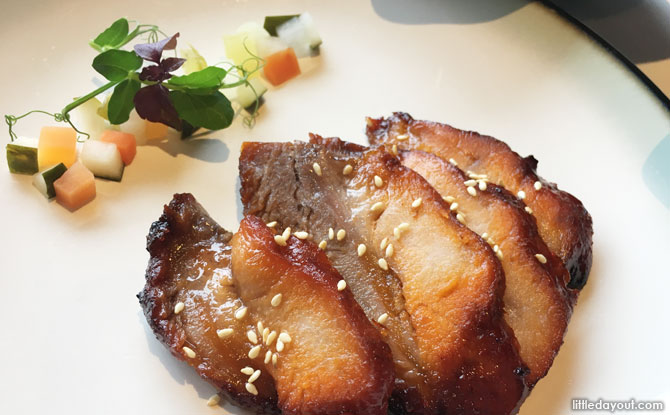 Other dishes that we tried included Oven-baked Barramundi in Turmeric Paste ($18), Roasted Pork and Irish duck Xiao Long Bao.
All the dishes were executed to a high standard.
Tong Le Private Dining also serves dim sum. We had the har gow ($6) which had a fresh and delicate taste. The dim sum is made fresh daily in-house, in limited quantities.
IMPORTANT THINGS TO NOTE – Child Policy, Dress Code
There are some important things to take of at Tong Le Private Dining.
Firstly, you WILL need to make a reservation at Tong Le Private Dining.
Next, the restaurant is only open from Mondays to Saturdays. It is closed on Sundays.
Very importantly, as the main clientele at Tong Le Private Dining are corporate and business types, children below the age of 10 are NOT ADMITTED to the restaurant, except on Saturdays and Public Holidays.
There is also a smart casual dress code.
If you are looking for a different and unique restaurant to celebrate a special occasion (and are ok with the conditions above), Tong Le Private Dining is one of two revolving restaurants in operation in Singapore you can consider dining at.