Parents eager to bring your staycations to another level – heard of a bike-cation?
One such parent is Evie Quah, mother of two boys, ages 9 to 10. She thought a bikecation would prepare them for future biking adventures when they are in their teens. A bikecation consists of cycling from one spot to another, much like a holiday except that commuting is done on wheels!
This led her family to recently go on a bike-cation. She shared with us her experience and tips on planning a bike-cation in Singapore.
---
How did you decide on a DIY bikecation?
Cycling is a sport that we love to do together as a family.
---
-- Story continues below --
We would like to bring our boys on a biking adventure overseas one day when they are in their teens. We are thinking of 4-6 days in Taiwan or New Zealand. They are 9 and 10 now, at an age where it is easy to travel around with them, and resilient enough to ride long distances (20 to 40 km) at a stretch. Since there was no way we could travel overseas during the school holidays, we thought of doing a mini-version of our biking adventure in Singapore.
---
We usually DIY and self-drive on our overseas trips. We choose the same start and end points as we explore the various sights in that country. So, we adopted the same strategy this time.
Firstly, decide how many days we want to take for this activity. I wanted to dedicate a week to do this but was also mindful that we haven't done any 'back-to-back' long rides before. I wasn't sure if the boys would be fatigued. So i broke it up into 2 parts. With a night back at home to get a new set  of clothes and discard our dirty laundry.
Second, decide what are the activities or points of interest that we want to cover.  (Google maps is my friend! But I heard Plotaroute is good too but I haven't used it.)
Thirdly, choose the most convenient and affordable overnight accommodation.
Last but not least, recce the route to ensure there are no surprise roadworks.
---
To accommodate the needs of your children, what were the precautions you had to take?
We had to only ride on PCN and ensure that there were places along the route that we could have toilet breaks or seek shelter should the weather turn bad. It wasn't difficult to do so as Singapore is really bike friendly! We had to ensure that  the boys had enough rest (and us too!) Yet we want to avoid the scorching heat. Hence, we usually start our ride at 8am and nap from 4+pm to dinner time right after we check in and wash up.
---
We all had different 'favourite parts'! I loved the Rail Corridor route.
My hubby usually cycles fast on the road on his road bike so he appreciated the opportunity to slow down and take in the sights of the city. My 10 year old son enjoyed the sand play at Sentosa and swimming at Changi Civil Service Club
My 9 year old boy just loved being on his bike for hours. All of us enjoyed the accommodation and late afternoon naps !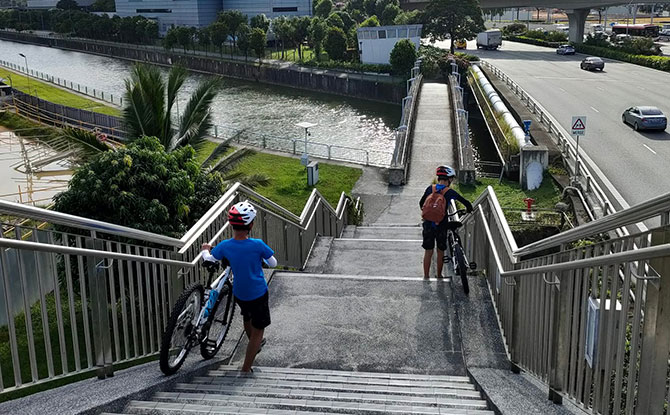 This was our itinerary:
Day 1 Sentosa (overnight at Travelodge hotel)
Day 2 Green corridor (Tanjong Pagar to Bukit Timah and back) overnight at Travelodge hotel
Day 3 Singapore River – Merlion Park – Gardens By the Bay East – Home
Day 5 PCN from ECP to Bishan towards Singapore Zoo. Overnight at Orchid Country Club
Day 6 Rowers' Bay and Punggol Park. Overnight at Changi Civil Service Club
Day 7 Changi Beach towards East Coast Park via Changi Coastal Road PCN – Home
---
Any tips for parents planning a bikecation?
If your child loves to cycle, they will love this activity cos it ends with an even better reward, a hotel stay!
Check with the hotel if you are able to bring the bikes into the rooms and if there is enough space. Some hotels might be particular about wheeling bikes into the rooms and damaging the furnishing.
Take note of progressive distance training and cycling in the heat. There will be long uncovered stretches and it would be even more tiring cycling in the heat.
Do not take long breaks. We made that mistake on the 2nd leg and stayed too long for our Prata Breakfast. Unfortunately we took a wrong turn too and by the time we were halfway to Singapore Zoo, it was 11 am and scorching hot. So we decided to call on Lala move to transport us and our bikes to the zoo.
Be prepared for contingencies like the above. We also had to ride in the rain for 2 days but we had our raincoats with us so we had fun!
When we were heading home, I didn't want my hubby to have to carry a heavy load on his back (he carried our clothes and essentials with a backpack on the 1st leg and for the 2nd leg a kind friend loaned us his Brompton bike bag) Thus, I used Qxpress delivery service to have our bags sent back to our place the next day for $4.50. You can also opt for Grab Delivery service.
---
Family Holiday on Two Wheels!
Thank you, Evie for your detailed sharing.
Parents who prefer an outdoorsy adventure, this might inspire you to make your next vacation a more challenging and exciting one. Of course, with many more elements to take note of, planning is key to take in weather changes and other contingency plans. Nonetheless, such an adventure will mean plenty of lifelong memories to share!