Address: 302 Tiong Bahru Rd, Singapore 168732
Location: Basement 1, Levels 1, 2, 3
Key Features:
Basement 2
Padded diaper changing station
Sink
Hot and cold water dispenser
Armchair
Stool
Electrical point
Foldable baby chair
Size: Medium, accommodates only 1 stroller
---
-- Story continues below --
Find our MEGA guide to the nursing rooms in Singapore here.
---
Tiong Bahru Plaza Nursing Room Review
The Tiong Bahru Plaza nursing room is clean, brightly-lit and decently furnished. The room houses a padded diaper changing station, a sink and a hot and cold water dispenser. There is also a breastfeeding area within the room that contains an armchair, stool, foldable baby chair and electrical point (located behind the armchair). A curtain can be drawn around the breastfeeding area however, do note that privacy may be compromised. Nevertheless, the Tiong Bahru Plaza nursing room is a comfortable, cosy and clean place for nursing mothers to breastfeed or parents to make quick diaper changes.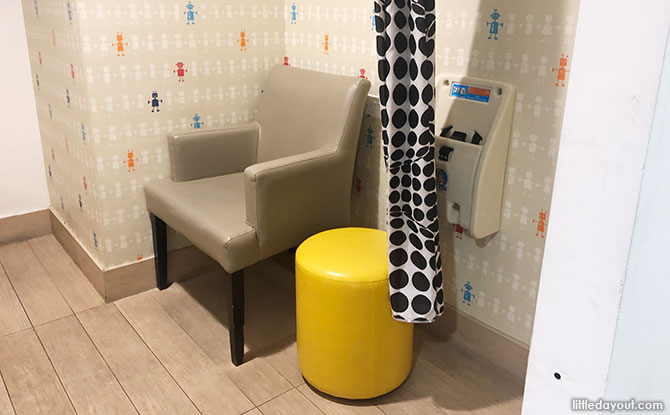 ---
Useful Information
Tiong Bahru Plaza Nursing Room
Address: 302 Tiong Bahru Rd, Singapore 168732
Phone:
Email:
Website: