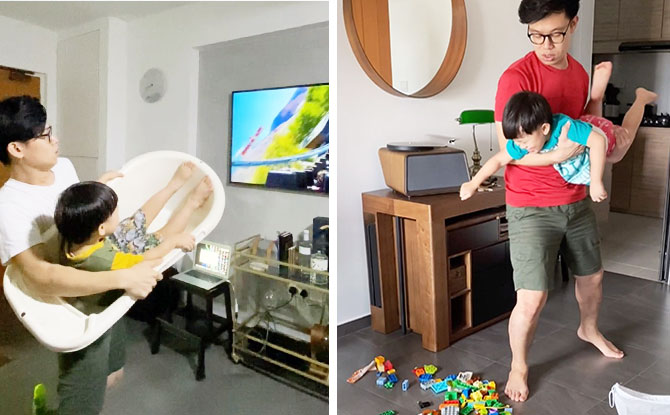 You might have seen a father, his child and their hilarious antics. Josiah Ng and three year old Tyler are protagonists of the social page – The Socially Distanced Dad. Various hilarious photos, memes and videos are posted about their lives at home, and snippets of their activities shared. We speak to The Socially Distanced Dad – possibly one of the most fun dads in Singapore right now.
Little Day Out Interview with The Socially Distanced Dad
---
Tell us about yourself and your family.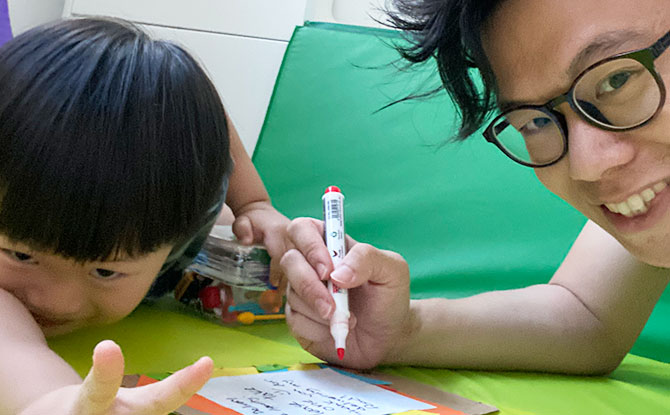 We're just a regular Singaporean family, trying to reconcile and also cope with the limitations imposed as a result of COVID-19. I'm a filmmaker and my wife, Tricia, works at the National Arts Council, while my son, Tyler, loves to dance, so you could say that we're a family that expresses ourselves best with a creative outlet.
What inspired you to start the project "The Socially Distanced Dad"?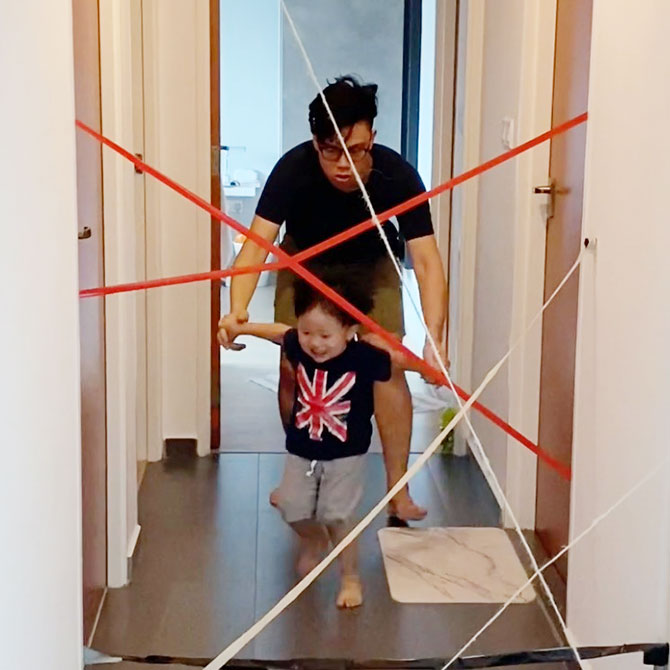 My wife, Tricia, was the one that inspired me to do so. I've talking about starting something that we could do as a family for a while now, and since this circuit breaker started, she nudged me to realise that this was the best time.
The project was meant to do two things. One, to inspire fellow parents who were going through the same struggles, that they were not alone, and two, to carve time out for my son to do this.
I'm a task-oriented person, so with a project like this, it gives me good excuse to also bond with the family with a shared goal.
We see so much fun at home, what goes behind the scenes?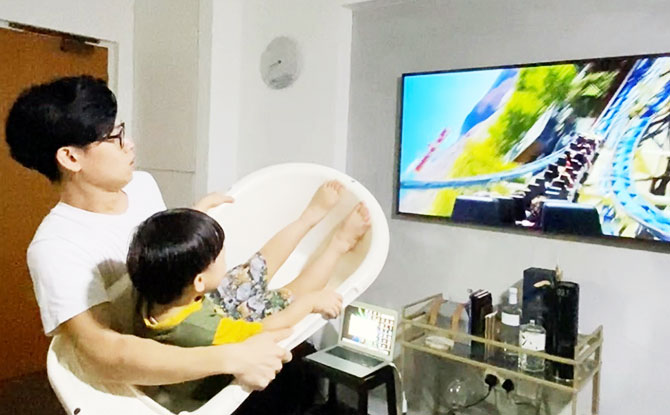 Lots of improvisation where my wife and I would go, 'hey, maybe we can try this!'. There are moments where we film stuff and also moments where we are conscious about just spending quality time with our kid. And I think that makes a huge difference.
Apart from our filming times, what you might not see, are typical meltdowns from our kid for the slightest things of course…. and this I do feel is part of parenting and also what most parents would go through.
Yes, we do try and have fun using filming as an activity, but we also give our kid space to "meltdown" off camera.
SO PLEASE DON'T SEE US AN IDEAL HOUSEHOLD, WE HAVE OUR STRUGGLES TOO.
As your son Tyler is still very young, how do you explain the pandemic and the need to stay home with him?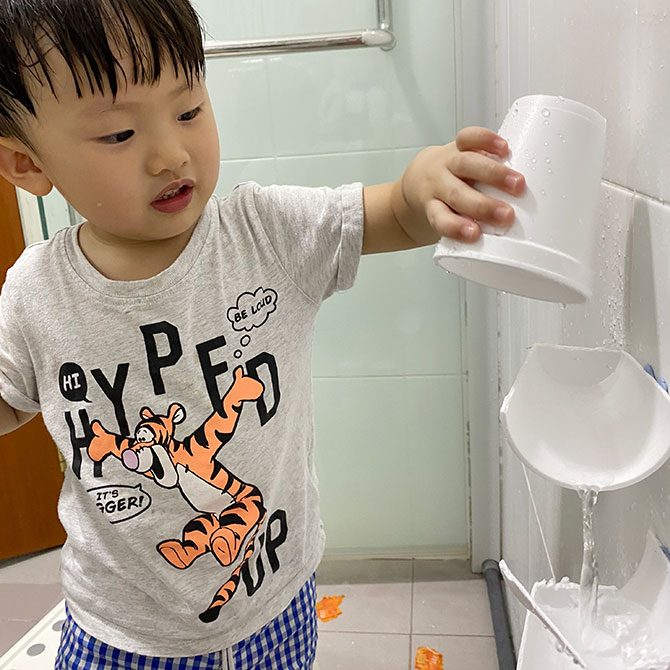 I try to use LEGO and some other toys to help illustrate the situation. More importantly, I've realised that it's important to speak to our son directly and honestly, without trying to sugar coat anything. This is an example.
Actually, I realised we don't need to overcomplicate things. Just tell the kids what the situation is, explain the rationale behind why a mask is important / why it's important to stay at home, and they actually catch on quickly.
The more we try and trivialise or simplify things, the more confused they get.
Your feed is hilarious, where do you get ideas for the various activities with Tyler?
Tyler is the one that gives me the inspiration. Kids are so creative! He's the one who inspires me.
My wife helps to 'QC' later on after we film stuff or carry out activities. If it's not hilarious or not worth sharing, she'd tell me and challenge me not to be too obsessed about it.
I think in a way, just letting go and having fun helps with the humour and hilarity. If it's overplanned, it negates the purpose.
Oh, and of course, there are people who send me stuff that they see online that they thought I'd enjoy doing with my son. So in that sense, I've crowd-sourced our daily activities too. Haha.
What's Tyler's favourite activity thus far?
I don't think he has a 'favourite'. He's hungry for new things always! But thankfully my job and the industry has trained me as such; to consistently think of fresh ideas.
But my wife reminded me that it's not about the activity, but more so about the fact that he gets to spend time with his parents, so any activity works in that sense.
How do you balance working at home and caring for/playing with Tyler, plus making videos?
There is no balance and I'm still trying to figure this out. I guess I have very understanding colleagues.
It's also being conscious about your child's needs, so before I have calls, I spend some quality time with him, and assure him that just because I'm not there for the next hour, it doesn't mean that I am prioritising something else above him.
It has worked but we've had hiccups along the way too, so again, I don't want to paint too rosy a picture.
We're just trying to live each day at a time, and I hope this encourages parents to know that they are not alone. Yes, the struggle is real.
Any protips to keep children from disrupting video calls?
Have a handmade sign by your child! And walk through with him what the sign means. He / She may not get it the first or second time, but with consistent reminders he / she will get it.
My son now volunteers to place the sign for me so my wife doesn't walk in.
This should be coupled with calls that you know you can have him around, so he feels included, but also understand that there are certain calls you can't have him around.
HOWEVER, I need to clarify that every child is different and while this has worked for us, it was really a lot of trial and error.
How would you encourage for fellow parents out there with young children at home?
You are not alone! Hang in there!
Also, my brother told me once, "Your colleagues are not going to remember that you weren't there for a meeting, but your child is going to remember the times you weren't there for him or her."
---
Fun Makes Time Memorable – The Socially Distanced Dad
We hope the sharing by The Socially Distanced Dad inspires us to rethink the #stayhome moments.
There could be periods of boredom and blues but you can conquer them with family bonding time just like Josiah and Tyler. Let not the social distancing deter you in bonding with your family members at home.
For more funny bits of The Socially Distanced Dad's life, visit his Facebook page or Instagram account.