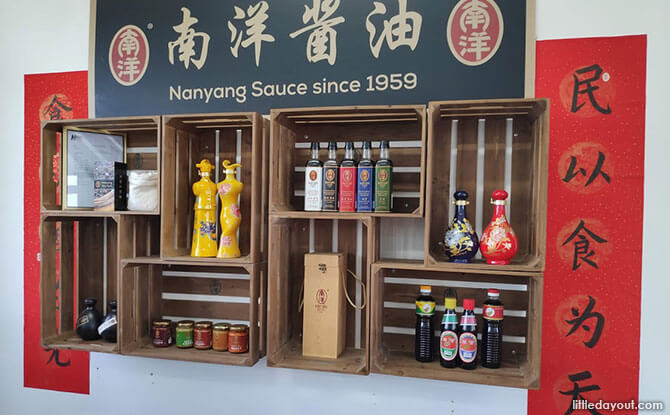 Bak Chor Mee, Char Kway Teow, Hor Fun, Bak Kut Teh, Popiah, Chicken Rice, Hokkien Mee – What do these local favourites have in common? Soya sauce of course! How is such an important ingredient or condiment made? We stepped into the Nanyang Sauce Factory for the answers to our questions and saw the saucery at work.
For those who frequent the Boon Lay area, you might smell a seemingly familiar flavor in the air. It's slightly salty, yet fragrant and rather familiar. It is probably the smell of soya sauce that is prepared at the Nanyang Sauce Factory!
Story of a Coolie and his porridge with Soya Sauce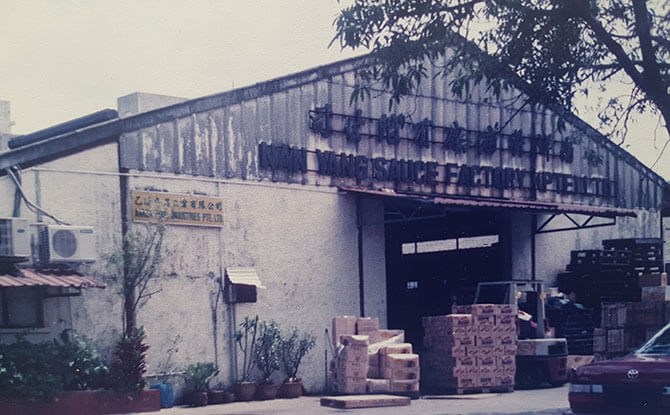 The humble beginnings of Nanyang Sauce started from a village in Fujian province, China. In 1942, Mr Tan Tiong How, like many others, came to Singapore in search of a better life. The lowly coolie wages meant very basic meals consisting of just rice or porridge most of the time. To "upsauce" his porridge, Mr Tan decided to try fermenting soybeans to make soy sauce since he brought the koji (fermented soybean) culture from his hometown. He shared this with others and soon its popular demand meant production in bigger batches. Mr Tan peddled the soy sauce door to door on his tricycle and then started his factory in 1951. The rest is history.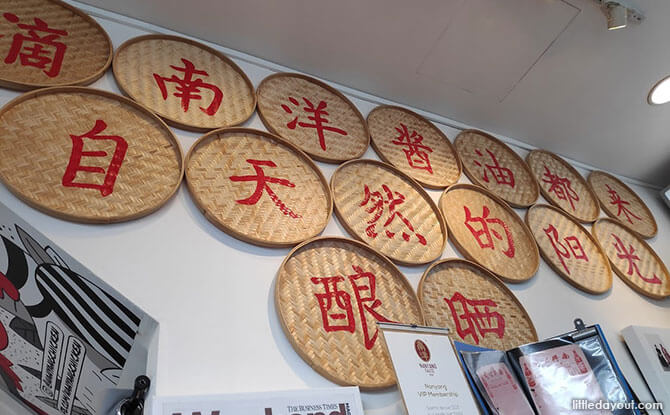 Nanyang Sauce Factory was so named because of Mr Tan's gratitude in the new life he found in Nanyang, which also refers to the Chinese in Southeast Asia who had migrated from China. Now it is one of the largest Soya Sauce factory in Singapore that also produces many other sauces such as sesame oil, black vinegar, chilli sauce and more.
---
-- Story continues below --
The Magic of Turning Soy Beans into Soya Sauce – and the Secret Ingredient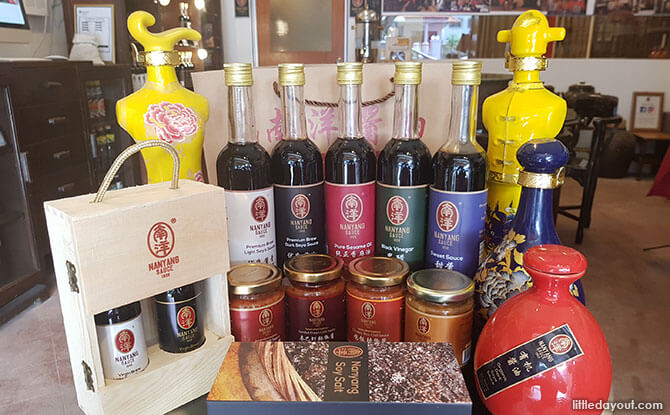 I have always loved the magic of fermenting – the result of which produces flavourful foods that are nutritious and beneficial compared to "fast food". Soya sauce take nine months to produce – much like giving birth to a baby! The tradition of brewing soya sauce has been kept since 1959 at Nanyang Sauce, so the methods and dragon vats have pretty much remained the same for several decades. The unique flavor of the soy sauce is also retained in the "memory of the dragon vat" where the flavour is captured in the ceramic vats which are used for decades to give that deep and rich taste.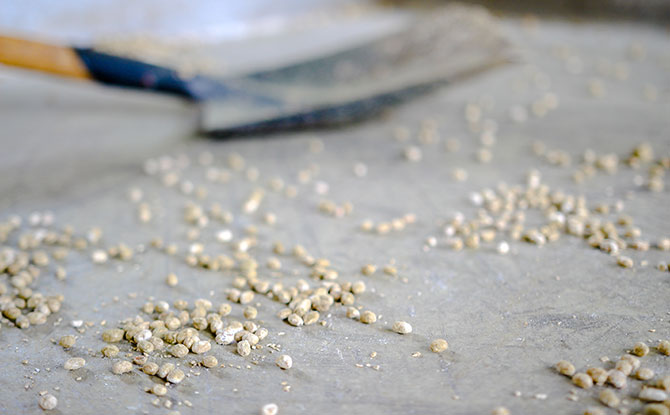 First soy beans are steamed, checked and mixed with the Koji culture. This process where Aspergillus mold does its magic and germinates takes four days. They then sunbathe, literally.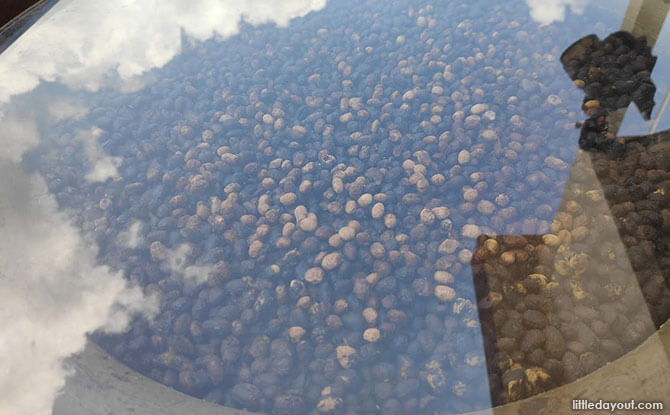 The beans are basked and aged in the sun, leading to a process called Mailard reaction, which turns the colour to dark reddish-brown.  Singapore is said to be the best place in the world to brew soya sauce – reason being sunlight is abundant all year round. The sun is the most important collaborator in the fermenting process!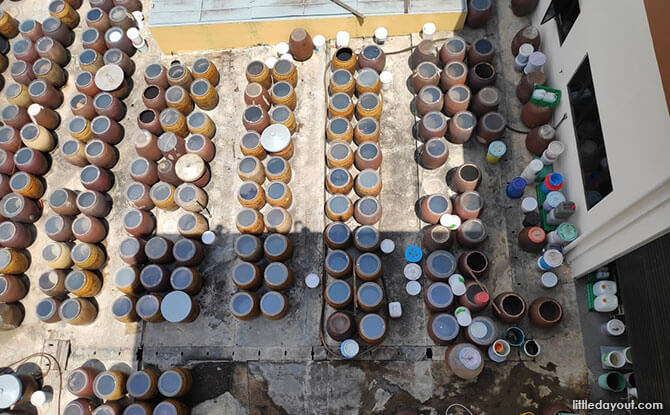 Dark soy sauce takes slightly longer to produce as it takes a couple more months plus some caramel to get that sweet, smooth sauce we love to drizzle over our png kueh, soon kueh or chicken rice!
#protip How to tell what is Good Soya Sauce
The best way to tell what is good soya sauce and NOT express soya sauce is to visit the sauce brewery and check out the production process. The brand you purchase should also have detail their processes on their website. Of course, your taste buds should be able to tell the difference. So try it and determine if it will be a great flavour before using it.
The Most Precious Salt in the World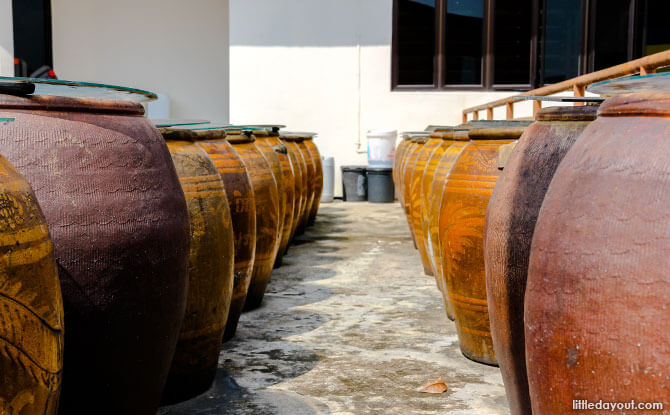 The making of soya sauce exhausts all of its ingredients and byproducts. After extracting the soy sauce for filtering and processing, the remaining soy beans and salt are harvested. The salt which has crystalized at the base of the vats are scraped out. This salt is deemed the most precious salt in the world given the amount of time to "produce" and harvest. Nanyang Soy Sauce sells this salt in limited quantities only. As for the leftover soy beans, they are sold to clients for various purposes such as fermented bean paste.
Nanyang Sauce Workshops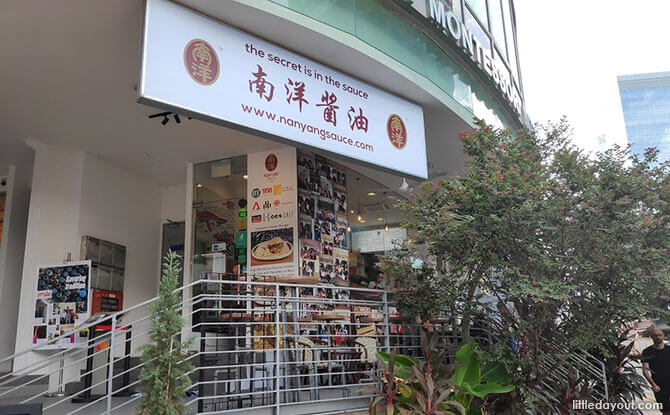 To taste the goodness of Nanyang Sauce, you can sign up for their many family-friendly workshops such as "Sauce Appreciation" or "Sauce pairing" where you will get to taste their sauces and learn the process of sauce-making. For avid homecooks and foodies, you can even try the more "advanced" modules like "Sauce profiling", "Sauce making" and "Sauce Culinary Workshop".
Nanyang Sauce opened a café in the city serving braised chicken at Nanyang Chicken! So this is a place to head to for a 'umami' treat of chicken braised in Nanyang sauces.
Apart from its food offerings, this café also has the complete array of sauces ideal as gifts and souvenirs. For every main dish ordered, you can get to enjoy $2 off each bottle of sauce. Talk about soya-good deal! We thoroughly enjoyed the as-salt of our senses.