"At the heart of it, it is curiosity and the child-like spirit. It is also a reminder for adults to keep their curiosity, to explore and be intrigued by everything," said Ng Fongyee, the artist behind The Curious Sky at The Artground, which has recently been refreshed with a Galaxy Edition.
Relook with Wonder
Set in the main space at The Artground, The Curious Sky is an interactive art installation which invites children to re-examine the world around them with new wonder.
On 29 Jan 2020, The Curious Sky – Galaxy Edition opened, expanding the imagination outwards beyond the Earth's stratosphere into outer space.
"We have kept some of the main structures, but even those have been transformed," said Fongyee when describing The Curious Sky – Galaxy Edition.
---
-- Story continues below --
"The Thunder Tunnel that was in The Curious Sky is now the Warping Wormhole, a space for kids and big kids alike to weave through! We have various new touch points too – the igloo has an interactive control station, a rocky planet that you can climb and even drawing with light!"
All these new elements are designed to continue supporting open-ended, child-directed play.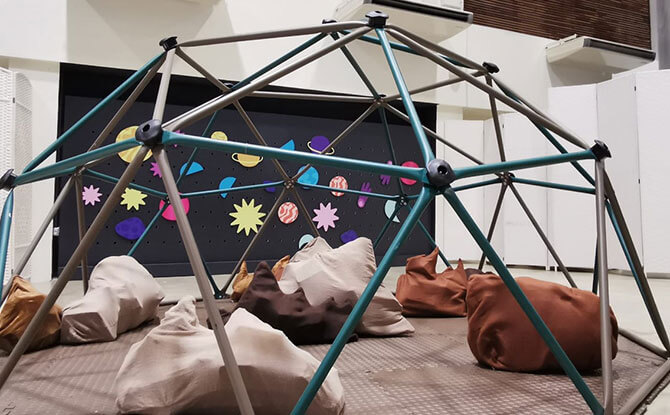 "There are no fixed rules, no explicit instructions and kids will learn through experimenting, climbing and crawling," she adds.
Technology & Kids
A multidisciplinary Singaporean artist, Fongyee believes in learning through play and has previously served a five-month arts residency at PEEKABOO! Play Labs by Superhero Me.
View this post on Instagram
Working mostly with technology and kids, her art makes use of different mediums to activate a dialogue between people, objects and spaces.
In the case of The Curious Sky – Galaxy Edition, the incorporation of technology into the exhibition turned out to be one of its biggest challenges.
"There were a lot of new things we were trying – programming buttons to light up and play a sound, for example – that took a lot of failures and support from the team to get there!"
Expanding Boundaries
The Curious Sky – Galaxy Edition is also her first time working on an installation of such a scale. This gave her the opportunity to work directly with the fabrication team.
"I have learnt so much both technically – from the process of fabrication to materials, and right down to the installing on site. That naturally has an influence on the conceptual part of the process; learning the limitations of scale and materials gave me a better understanding of what was feasible, and by extension, what was safe for the kids!"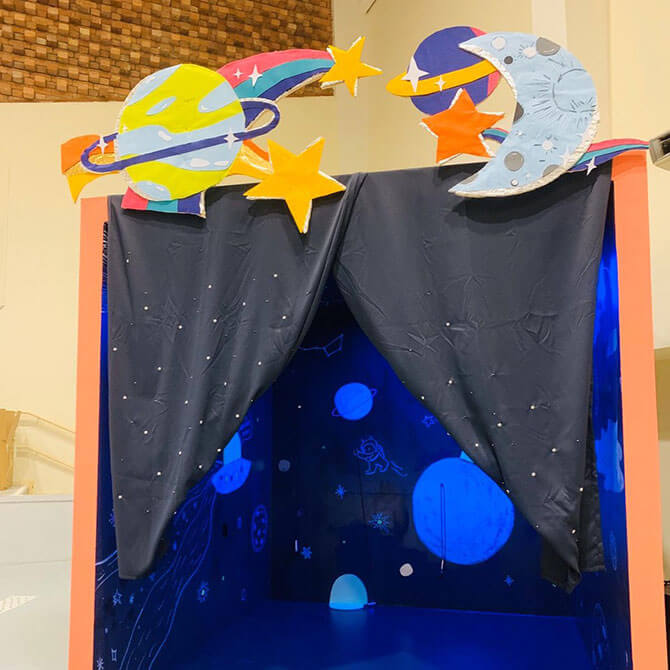 Another challenge in putting together The Curious Sky – Galaxy Edition is that she is not based in Singapore at the moment. The Central Saint Martins, London Graphic Communication Design graduate is currently working full-time in Tokyo with Saturday Kids Japan.
Nonetheless, she has nothing but praise about the team at The Artground and their collaboration.
"For bulk of the project, we were working long distance and that was a new experience for me. Jia En (The Artground's Visual Design and Exhibitions Manager) and the team of super interns made it a very smooth process. I most certainly would not have been able to do it alone."
Ever curious about how kids play, Fongyee is working on a picture book project and building a functional control station – something that served as inspiration for The Curious Sky – Galaxy Edition.
We look forward to seeing that take off soon!
Follow Fongyee on Instagram at @afwhye.
The Curious Sky – Galaxy Edition at The Artground
The Curious Sky – Galaxy Edition is now on at The Artground till 22 March 2020. Opening hours are:
Mon & Tue: Closed
Wed to Fri: 9.30 am to 4.30 pm
Sat, Sun & selected public holidays: 9.30 am to 5.30 pm
Take note that The Arground is taking necessary precautions in accordance with advice from Singapore's Ministry of Health to mitigate the spread of the novel coronavirus, including frequent sanitisation of commonly touched surfaces. Visitors who are unwell are advised to seek medical attention promptly and entry to The Artground will be denied if a visitor looks visibly unwell or has travelled to mainland China recently. For more details, visit The Artground's advisory page.
Images courtesy of Ng Fongyee and The Artground.