Believe it or not, it is less than 80 days to 2022.
While Phileas Fogg spent that time travelling around the world in the Jules Verne novel, you can use that time wisely to plan ahead for your child's needs, especially since The British Council's registration for its Semester 1 2022 courses is now open.
---
The British Council's Programmes for All Ages
The British Council is highly regarded for its world-class English classes. It offers a range of classes designed to develop essential 21st century skills needed to thrive in a fast-changing world.
At The British Council, Nursery and Kindergarten classes incorporate early-literacy phonics, Speech and Drama and strategies to develop reading confidence. There is even a Learning Time with Timmy class which features Aardman animation studio's Timmy the Sheep.
At the Lower Primary level, students are nurtured into passionate readers while developing their written and communication skills. Upper Primary students are guided along with critical thinking tasks and are taught strategies for tackling exam questions with confidence.
The British Council's Secondary level courses aim to develop students' global mindset with an emphasis on critical thinking and deep reading skills.
---
The British Council's Enrolment Discounts for 2022
The British Council is currently having a special $100 discount on Semester 1 2022 courses for kids and teens.
If you are still considering whether to sign up your child for The British Council's classes, here are 5 reasons to do so.
---
1. The Multiplier Effect of English
A strong foundation in English, especially from an early age, has a lot of benefits.
In addition to being a subject, English is also the medium of instruction for Maths and Science. Thus, a mastery of the English Language has a spillover effect on these subjects as well.
What's more, at the Secondary Level, English is the only subject that is required to be included in the post-O-levels score for the Joint Admissions Exercise. Hence, investing in a child's command of the English Language is bound to have returns as it will be reflected in his or her score.
Additionally, the ability to write clearly and grammatically, with a breadth of vocabulary, also makes it easier to communicate with confidence and persuade others of one's ideas, a skill required to thrive in the 21st century.
---
2. Courses Developed by World-Class Experts, Aligned to MOE Syllabus
The British Council has more than 80 years of experience in English classes. Parents can count on a curriculum that has been tried-and-tested over years.
In Singapore, courses also have been tailored to the Ministry of Education's syllabus. It focuses on enabling students to be exam-ready, proficient users of English, whether in preparation for level tests or the national examinations.
---
3. Taught by Internationally Qualified Teachers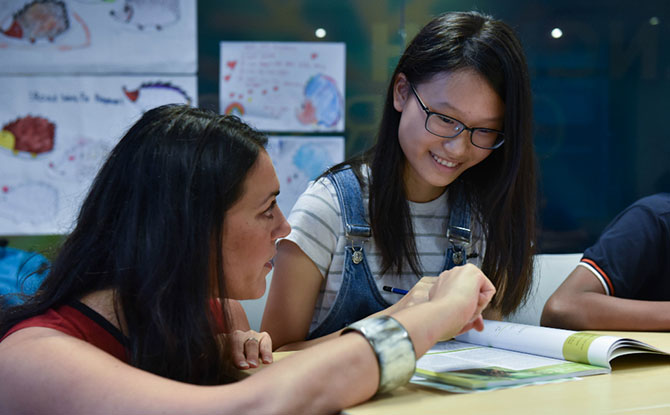 The right teacher can make all the difference. The British Council's teachers are all internationally qualified with many having had substantial teaching experiences with young learners
Moreover, teachers at The British Council undergo regular professional training. Conducted by The British Council's in-house teacher development team, these training sessions tap on best practices from around the world to keep teachers' skills sharpened.
All these measures provide parents with the assurance that students are taught according to world class standards.
---
4. Safe Learning Environment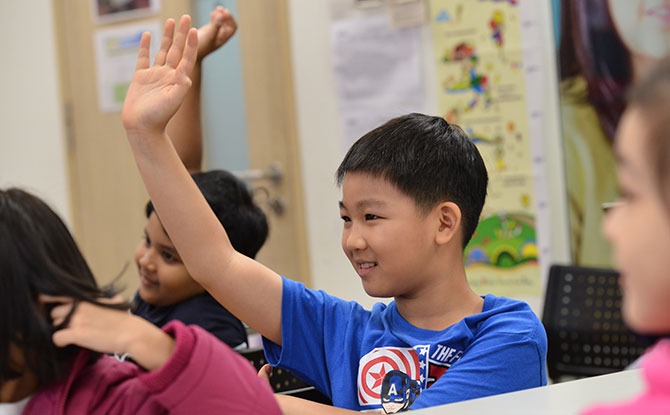 The British Council may be the only enrichment provider in Singapore that has a Child Protection Policy – that's how serious they are about creating a safe environment for their students. This policy includes a duty to value and respect children, conducting checks when recruiting staff and processes to ensure children are protected when delivering their programmes.
Teachers at The British Council are also trained to manage bullying and diversity, creating a safe space for students to learn and develop their confidence.
The teaching approach is also tailored to each student's abilities – providing greater challenge to stronger students and additional support to those who need it.
---
5. Age-appropriate Skills and Mindsets
The British Council's classes do more than impart academic knowledge. They are designed to expand a child's world view, allowing him or her to develop soft skills at different stages of his or her schooling journey.
At Early Years classes, children are prepared to learn with confidence and inculcated with a love for reading.
As they enter Primary school, students are nurtured to become creative thinkers and confident communicators. When they progress to Upper Primary, they are geared up towards academic excellence in the preparation for the national exams.
At the Secondary school level, students get to tackle world issues as part of their studies, allowing them to develop a global mindset. Real-life tasks enable students to see immediate relevance of what they have learnt as well.
The British Council's classes go beyond academics and nurture essential soft skills for the 21st century too.
---
Enrol for The British Council's 2022 Classes Now
So, whether your child is in preschool, primary school or secondary school, The British Council has a programme that is suitable for him or her to reach his or her fullest potential in the English Language.
With a proven world class curriculum, backed by dedicated teachers, and centres conveniently located at Toa Payoh, Napier Road and Tampines, it is no wonder that many parents place their trust in The British Council's classes.
Sign up now for Semester 1 2022 courses for kids and teens to enjoy a special $100 discount
Don't wait too long because the 80 days to 2022 are quickly ticking down. Get more details and sign up here.