A green space along the Siglap Park Connector, Telok Kurau Park is a great spot for those in the East. The various facilities such as playgrounds, rest spots and even a dog run, make it an ideal place to bring kids and fur-kids for a day out.
---
Located Along Siglap Park Connector
There are a few entrances to take for those who wish to visit the park. There is an entrance along Joo Chiat Place, Joo Chiat Walk, Joo Chiat Ave and Lorong J Telok Kurau (Road). The park is along the Siglap Park Connector.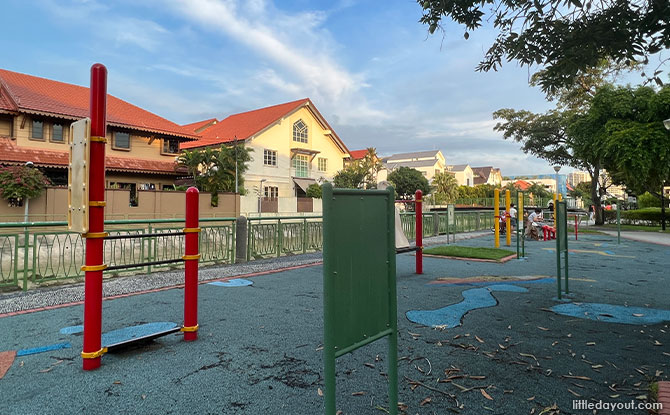 While walking toward the park, visitors will see exercise corners with different kinds of bars. This is a unique spot that seems to be suitable for those looking for resistance training as there are various bars that can be used for a number of resistance exercises. There is also an interesting piece of equipment with hand grips of different heights that can be useful for practising grip holds when climbing.
Being along the park connector also means that those in the area will have lots of space to do activities such as jogging, cycling or even rollerblading.
---
Entering Telok Kurau Park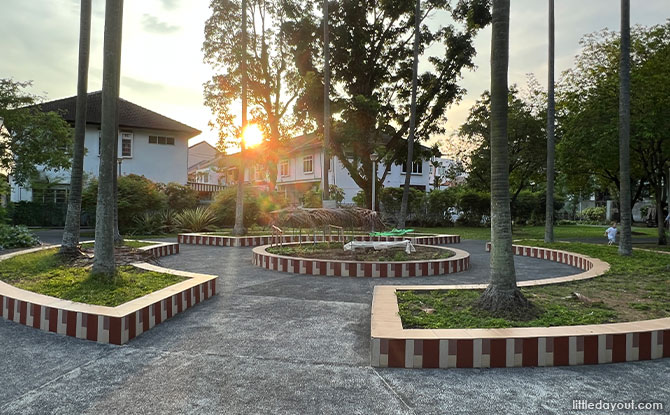 When visitors enter Telok Kurau Park, they can admire what looks to be the community gardening area. Community Gardens are an interesting shared space where residents around the area can not only flex their green fingers, but it's also a great way for them to meet other like-minded residents.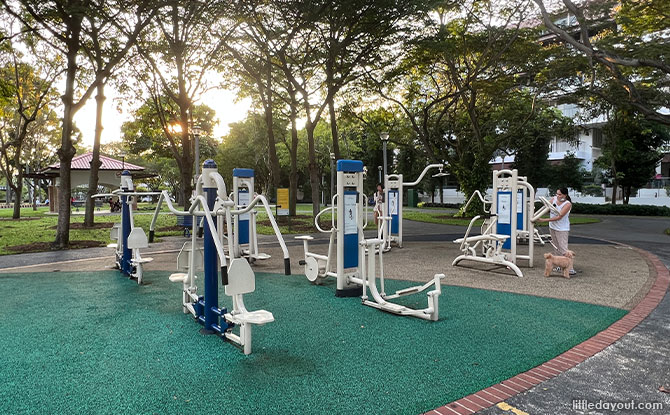 As with many parks, the exercise corner has a substantial variety of equipment to do all sorts of exercises such as cycling on the stationary bike and pull-ups, depending on the skillsets of the user.
There is also a foot reflexology path for members of the public to use.
---
Telok Kurau Park Playground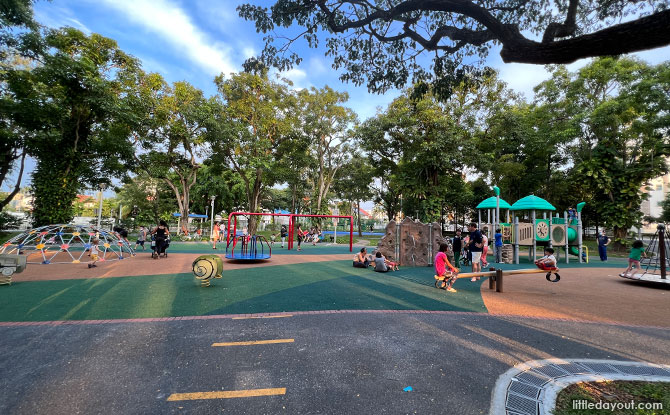 At the end of Telok Kurau Lorong J and Joo Chiat Place, visitors will find the main playground and play area. The inviting park offers a green space for kids to play and bond with their families. The playground is split into three main play areas: the playground, the sand play structure and the swings.
The playground has the classic features of slides, a bridge and poles for kids to slide down from.There are also other play elements such as a rope dome and a mini rock-climbing wall.
There is also a basketball court for park visitors to use.
---
Telok Kurau Park Dog Run
For those bringing their furkids, they can consider letting their dogs have some fun at the dog run. Do ensure that your dog is muzzled and leashed if necessary. The dog run is relatively small and although it would be a great space for larger dogs to be able to run freely, it can get crowded rather quick if there were more than three of them at a time.
---
Telok Kurau Park
For the size of Telok Kurau, we think that many families will be able to spend good quality time together in this space. See other interesting parks in the east here.