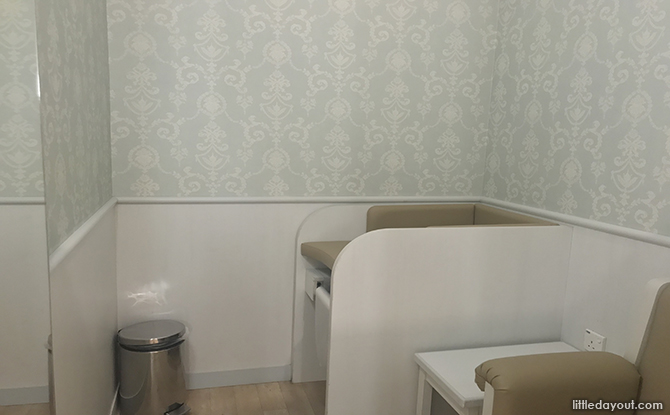 Address: 391A Orchard Rd, Singapore 238873
Location: Level 4
Key Features:
5 lockable breastfeeding rooms (no males allowed)
Sink
High chair
Waiting area
5 padded diaper changing stations
Diaper dispenser and baby bed liner
Hot and cold water dispenser
Size: Extremely large, can accommodate several families with strollers
---
Review
Head to level 4 of Takashimaya and you'll find an entire area allocated to nursing mothers and parents of young children. The Takashimaya Nursing Room is the biggest and (dare I say) best nursing room in Orchard. Tastefully decorated in shades of pastel blue and wallpaper with hot air balloons, the Takashimaya Nursing Room is extremely spacious and can easily accommodate a few families with strollers. It is divided into three areas: the waiting area, breastfeeding area and changing area.
The waiting area contains a high chair, seats as well as a television monitor for family members and spouses.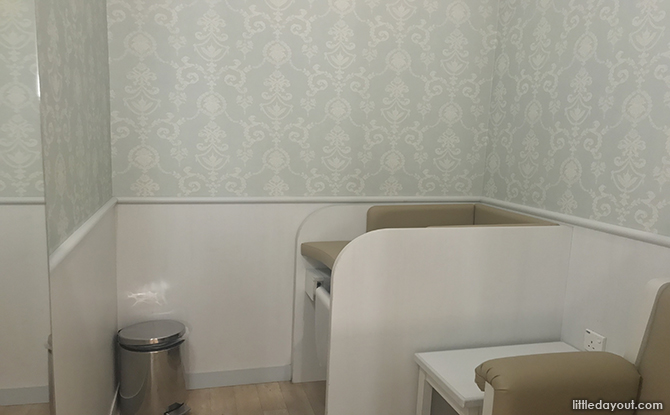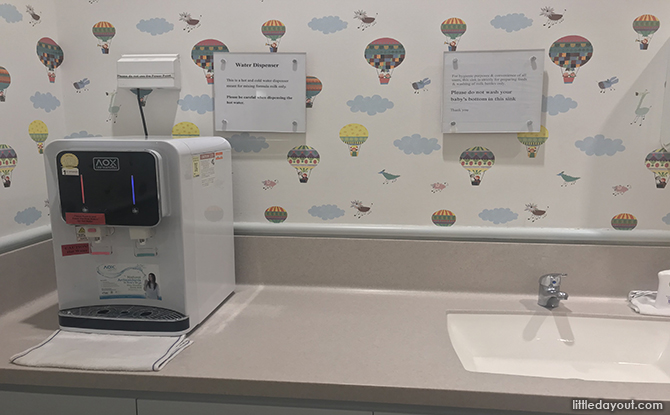 The breastfeeding area consists of a sink and five lockable breastfeeding rooms, where each room is equipped with a cushioned baby changing station, armchair for nursing mothers as well as an electrical point. This makes it extremely convenient for nursing mummies as all the essential facilities are contained in a single space. Do note that there are strictly no males allowed inside the breastfeeding room in order to maximise privacy for nursing mothers.
The changing area holds five padded diaper changing stations, a sink as well as a Huggies diaper dispenser and baby bed liner. Hot and cold water facilities are also available and this area is accessible to both mothers and fathers. Well-equipped and furnished, the nursery room is a safe haven in the midst of the hustle and bustle of Singapore's shopping district.
---
Useful Information
Takashimaya Nursing Room
Address: Address: 391A Orchard Rd, Singapore 238873
Location: Level 4
Phone:
Email:
Website: