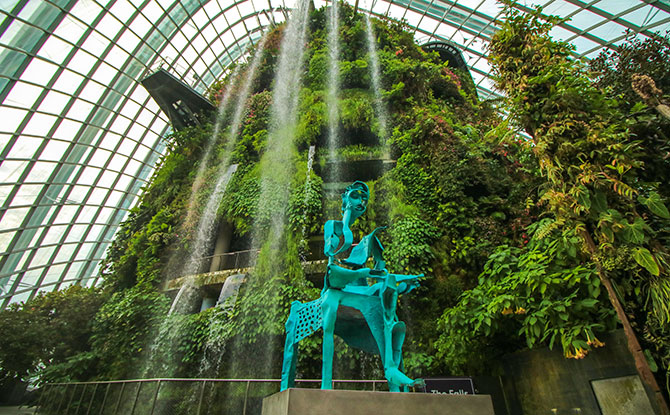 On your next visit to the Cloud Forest at Gardens by the Bay, look out for Taiwanese artist Lee Kuang-Yu's Thinker sculpture.
---
Thinker Sculpture by Taiwanese Artist Lee Kuang-Yu
The Thinker was amongst the 16 sculptures by Mr Lee exhibited at the Cloud Forest for the first full-scale art exhibition to run in Cloud Forest A Sculptor's Secret Garden back in Aug 2020.
At that time, the Cloud Forest had just reopened to the public after the Circuit Breaker period.
---
Cultural Exchange
The Thinker was donated by the Taipei Representative Office in Singapore and Taipei Business Association in Singapore to Gardens by the Bay on the occasion of its tenth anniversary.
---
-- Story continues below --
Taipei Representative Office in Singapore's Representative Francis Liang Kuo-Hsin said, "The gift of Thinker, Lee's signature work paying tribute to nature and life, to the permanent collection of Gardens by the Bay, is testimony to a valuable milestone in the art exchange between Taiwan and Singapore. Singapore is a master in blending nature with urban living while Taiwan is a fertile ground for nurturing humanities and arts that promote curiosity and tolerance. Just as Gardens by the Bay inspires and uplifts the spirits of all its visitors with its blend of botanical beauty and art, we hope that Singapore and Taiwan can leverage on each other's complementary strengths to create positive synergies for both parties."
Taipei Business Association in Singapore's President James Yang said, "Taipei Business Association in Singapore is honoured and delighted to participate in the donation of Taiwanese sculptor Lee Kuang-Yu's signature bronze sculpture Thinker, on the occasion of Gardens by the Bay's 10th anniversary. It is a progression to another level in promoting cultural exchanges between Singapore and Taiwan."
The Thinker is the latest addition to the growing collection of world class sculptures at Gardens by the Bay. It had also recently received a donation of a work by Dale Chihuly, which is also on display at the Cloud Forest.