Many of us would agree that ice cream is a wonderful perk-me-up at any time of the day. Swensen's has made it easier to enjoy its ice cream pint tubs at home with a newly launched "Happiness In A Box" mini box design.
Swensen's Mini Box
We had the pleasure of receiving two pints of Swensen's ice cream – Maple Walnut and Bandung – in a mini box.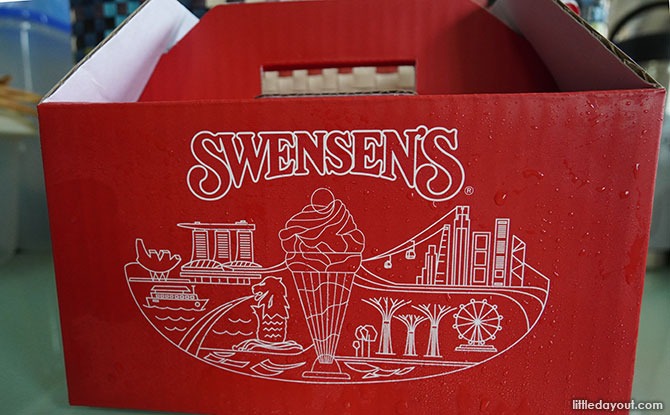 The mini box of Swensen's ice cream arrived mid-afternoon on a sunny day. We unpacked the ice cream from Swensen's newly designed, signature red mini box. The ice cream was still nicely chilled, thanks to the dry ice at the bottom of the box.
---
-- Story continues below --
Swensen's Pint Tubs
We got our spoons out and dug in. We couldn't help but enjoy the ice cream – both its texture and flavour.
The Bandung-flavoured ice cream was very fragrant yet not overly-sweet.
The Swensen's Maple Walnut ice cream was delicious. Unsurprisingly, the sweet maple syrup went well with the walnuts that we found in each bite.
These two new Swensen's ice cream flavours are definitely worth a try.
If you prefer the classics, Swensen's also has tubs of their seven best-selling flavours of Sticky Chewy Chocolate, Cookies & Cream, Lower Sugar Chocolate, Mocha Almond Fudge, Rocky Road, Strawberry and Durian King.
All accept the King of Fruits cost $11.80 a pint. Durian King is priced at $16.80 a pint.
There is current a promotion where two pints tubs of the Swensen's Ice Cream costs just $19.80 instead of the usual price $23.60 (with a top up of $4 per pint if you decide to get Durian King).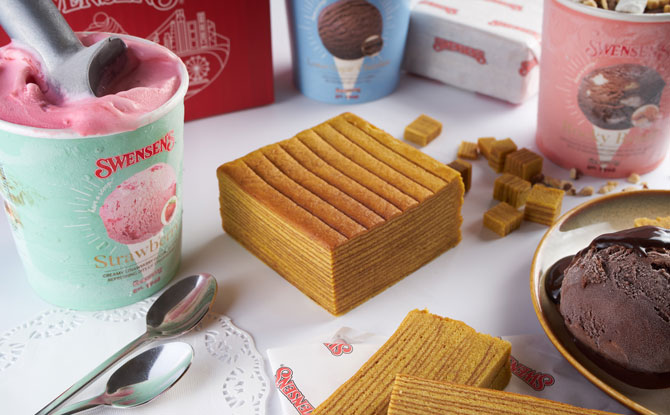 If you want to get a gift for a loved one or even for yourself, there is also the option for a 'Happiness in a Box' package that combines one ice cream pint tub with an additional treat of handmade Kueh Lapis (250g), at just $23.80!
These items are also available for takeaway from 20 Swensen's outlet's islandwide or via Grabfood, Deliveroo and Foodpanda.