The cute and quirky characters from Sumikkogurashi have come to visit and are now in Kumoya's outlet at Orchard Central! Starting 12 March 2021, visit this group of friends at the Sumikkogurashi Themed Cafe and enter the transformed space and enjoy dishes that are specially designed to fit the theme.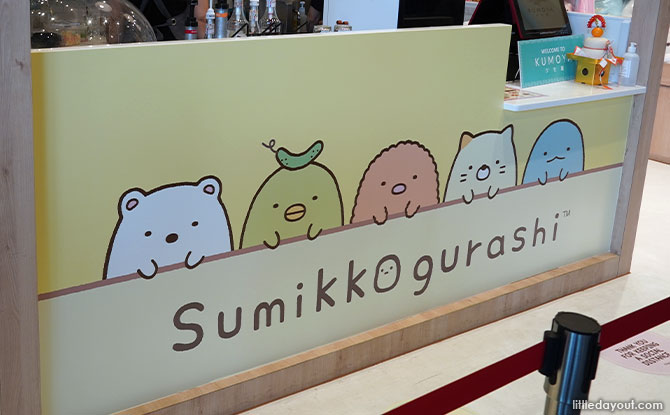 The name Sumikkogurashi roughly translates to "life in the corner" and tell of their desire to live a quiet and solitary life in the corner. They do however get their few minutes of the spotlight in the following kawaii dishes. Here are some of the dishes that we tried and that one can look forward to.
---
Snacks Kumoya Orchard Central x Sumikkogurashi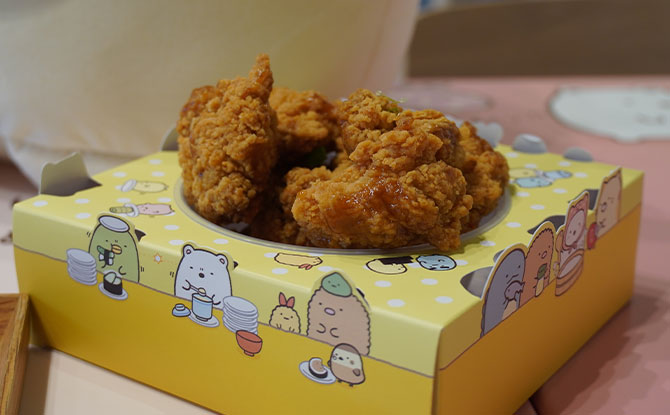 As per usual, Kumoya's menu follows the template of offering snacks, mains, desserts and drinks. This popup has six snacks, six mains, three desserts and 13 drinks.
We've tried each of the snacks multiple times and highly recommend the Karaage Chicken with Shoyu Glaze as well as the Golden Sweet Potato Fries. What draws us to the snacks each time is the cute designs of the box. For the Sumikkogurashi pop-up, the design of the box features the characters from the group having a meal together.
---
Yummy mains at Kumoya Orchard Central x Sumikkogurashi
Left Behind Tonkatsu and Ebifurai no Shippo Cold Udon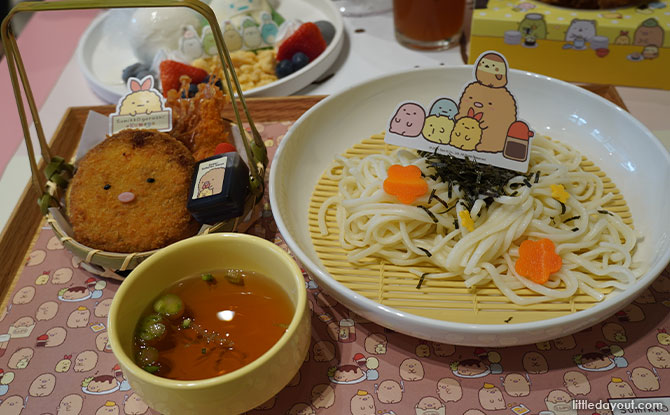 The first main that we tried was the Left Behind Tonkatsu and Ebifurai no Shippo Cold Udon which features Tonkatsu, a character that is the end of a tonkatsu, Made of 1% meat, 99% fat.
In this dish, however, Tonkatsu is transformed into a Salmon croquette and is part of this main along with ingredients such as breaded Ebi and tempura vegetables. The dish also comes with a cute bottle of tonkatsu sauce. We also really liked the cold udon although we felt like the dipping sauce was a tad too salty.
All Friends Picnic Rosti Big Breakfast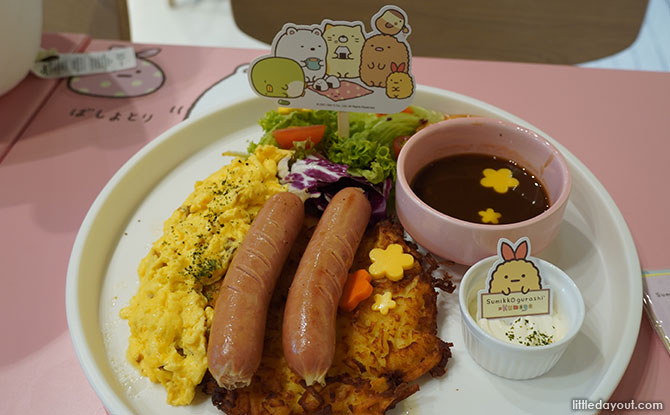 Featuring characters such as Shirokuma the shy bear who migrated south to avoid the cold, Penguin?, who is confused by what they are, Neko who is worried about its body shape and Tokage who is a dinosaur disguised as a lizard, this eclectic group of friends are all present in this Big Breakfast Dish.
Featuring rosti with sour cream and brown sauce, scrambled eggs, Viennese chicken and beef sausage, kawaii carrots, cheddar-cheese flower and fresh garden salad, this is one breakfast to enjoy and start the day right. It's a hearty breakfast and great for one with a big appetite.
---
Desserts at Kumoya Orchard Central x Sumikkogurashi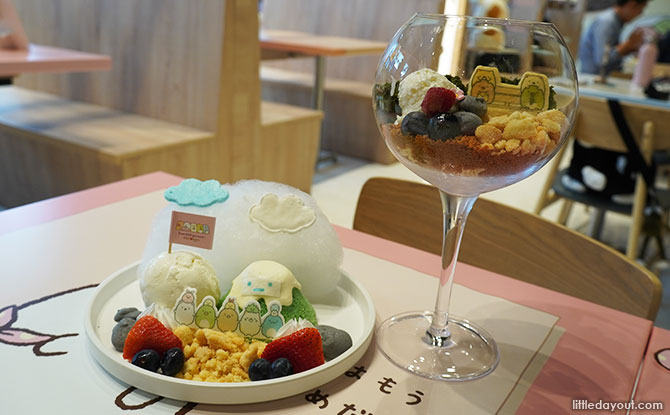 The desserts at Kumoya have always been a feast for the eyes. During this Kumoya Orchard Central x Sumikkogurashi pop-up, we tried two of their kawaii designed desserts.
The Magical Matcha Terrarium Garden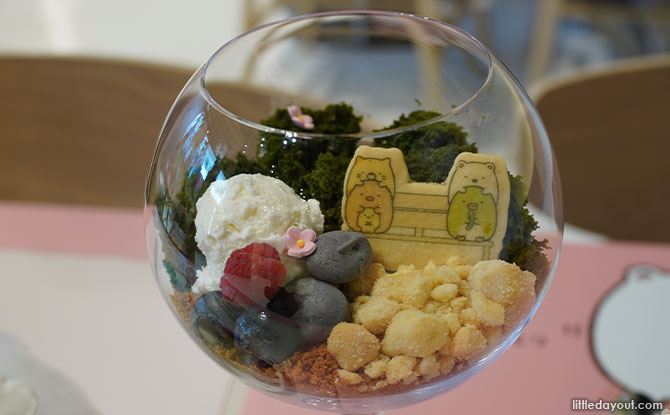 The Magical Matcha Terrarium Garden was a dessert that caught our eyes. Designed to be an edible terrarium, this dish comprises a Matcha sponge cake, Vanilla ice cream, Vanilla and speculoos crumbles, White chocolate rice puffs, Meringue pebbles, Fresh fruits and a Sumikkogurashi cookie. We really enjoyed the bitter taste of the matcha, the textures of the rice puffs and the sweetness fo the ice cream and speculoos crumbles.
Yama and Friends Blueberry Chiffon Cake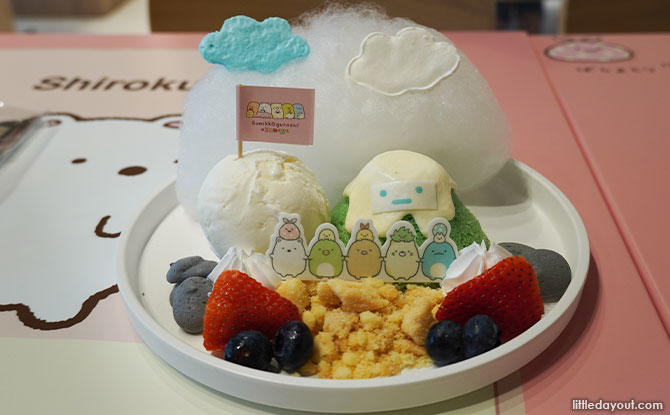 Yama is a small mountain that wants to be a larger mountain, thus sometimes appears at hot springs posing as Mt. Fuji. In this dessert, the Yama blueberry chiffon cake is served with vanilla ice cream, vanilla crumbles, meringue cloud, fresh strawberries and fluffy cotton candy. 
The blueberry chiffon cake has a vanilla custard peak and a very cute edible fondant for the facial features. The vanilla custard peak was a tad too sweet for our liking but the overall aesthetic for this dessert is cute and fans of Yama will be able to appreciate it best.
---
Kumoya Sumikkogurashi x Orchard Central drinks and coasters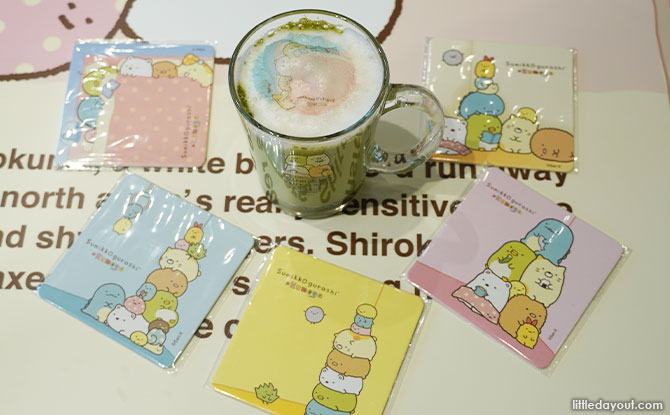 Some new items on the menu can be found in the drinks section. With every drink purchase, customers can redeem a free allocated cafe exclusive Sumikkogurashi coaster. Hot drinks are also served in a limited edition Sumikkogurashi Hot and cold glass that visitors can purchase at $14.90.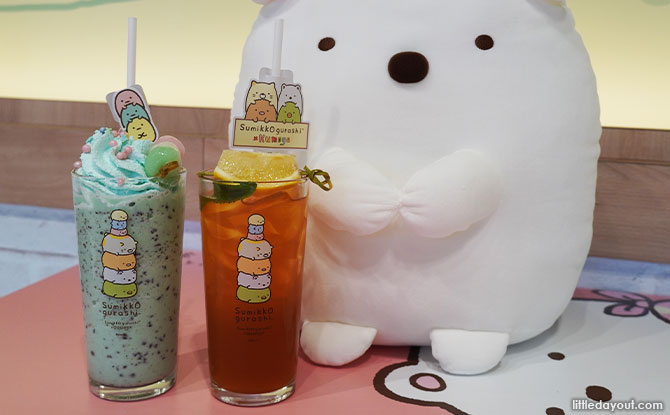 Other drinks that we tried included the Chocolate Mint Frappe with three pieces of Japanese Dango, and served with cute character art of the left behind pearls, Tapioca. We also tried the Mango Lemonade Iced Tea. Both drinks were pretty refreshing and aesthetically pleasing.
---
Kumoya Orchard Central x Sumikkogurashi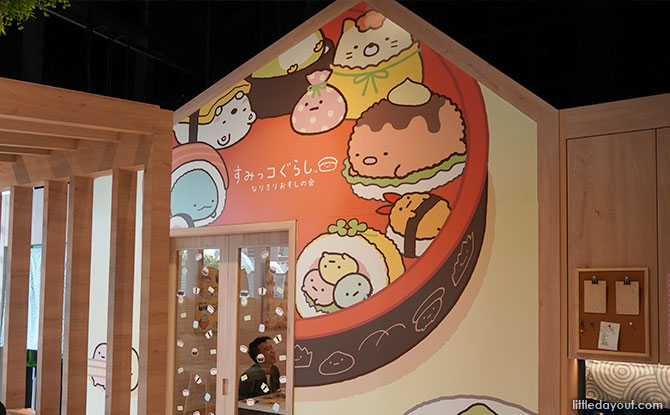 Kumoya Orchard Central x Sumikkogurashi popup is held at Kumoya @ Orchard Central Level #04-08
Their Jalan Kappa outlet is currently holding a Molang themed one. Read more about it here.