Tau Pok, the small cubes of soft bean curd, are versatile creatures. Being pretty plain on their own, they form the body of this Stuffed Tau Pok dish. 
Instead of the typical Yong Tau Fu stuffing of either fish paste or meat, this stuffed mixture comprises crunchy water chestnuts, the juiciness from the shrimps and meat, and the softness from moist mushrooms. Try it. It's a wonderful burst of flavours in the mouth!
As a special bonus, you can actually create a second dish with the leftover stuffing! Read on to find out how.
Recipe for Stuffed Tau Pok and Steamed Minced Meat
Servings: 5 to 6 persons
Ingredients
20 pieces of small square taupok

 

300 grams of small shrimps

 

200 grams of water chestnuts

 

6 black mushrooms
Minced Meat Marinade:
200 grams of minced pork or minced beef
1 tablespoon of cornflour
A dribble of soya sauce

 
Marinade for Stuffing, mix and set aside:
3 tablespoons of soya sauce

 

2 tablespoons of cornflour
1 tablespoon of sesame oil
1 small egg, whisked
A dash of pepper

 
Method
Remove shells from shrimps and devein.
Remove skin from water chestnuts.

 

Soak mushrooms till softened.
Mince all the shrimps, water chestnuts and mushrooms. Add to the minced pork or beef. Mix in the marinade for the stuffing.

 

Cut a small cross on the top of the tau pok and place the minced mixed stuffing.
Heat up a pan with some oil and fry all the tau pok with the meat side for about 2 minutes.

 

Meanwhile prepare, half a bowl of water and mix with 1 tablespoon of cornflour.

 

When all the tau pok are done, add to thicken as a gravy.

 Plate it and serve up this Stuffed Tau Pok as a dish.

For the leftover stuffing, simply flatten the mixture on a plate and steam it as a second dish.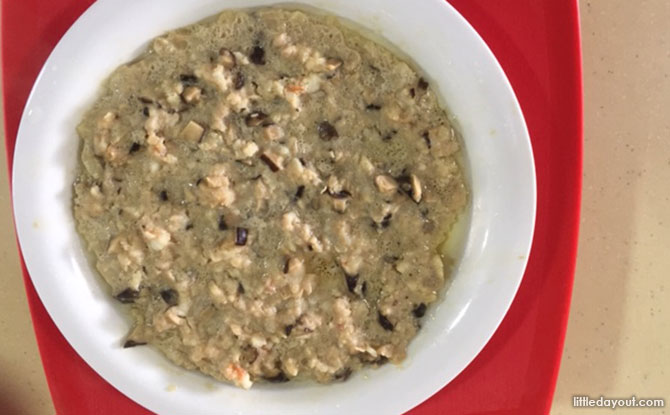 Simple #homecooked-recipes is a series specially developed to inspire beginner cooks with work and kids to handle, and not much time to spare in the kitchen. The recipes are deliberately simple enough even for kids to help you with them. Click here for more simple home-cooked recipes.