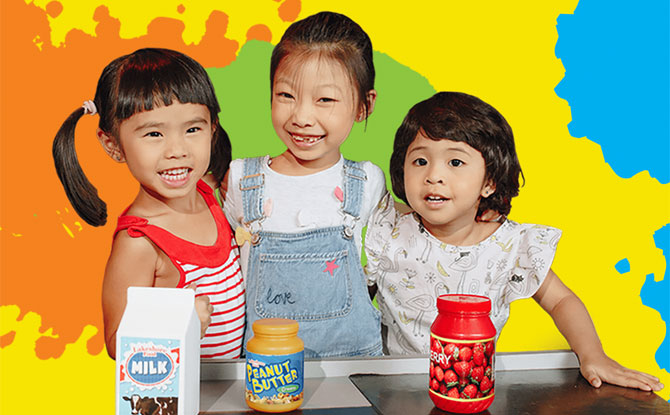 School may be out but fun learning never stops at KidsSTOP™ Singapore, the children's science centre for those eight years old and under. During the March school holidays 2019, get your kids started on earning a "Degree" and engage in fun activities every day of the week.
KidsSTOP™ Academy Activities Week!
KidsSTOP™ Academy is open for enrolment during the March holidays!
Brace yourselves for some theatrics, a little drama, and a whole lot of science when you start your KidsSTOP™ Academy journey.
Participate in workshops and programmes tagged with the KidsSTOP™ Academy logo to earn stickers or stamps. Collect 6 stickers to receive a LEAP (Learn, Explore and Play) Degree or earn 12 stamps to graduate with a PAL (Play And Learn) Degree.
---
-- Story continues below --
From 19 to 23 March 2019, between 2.30 pm to 4.30 pm, there will be activities for kids to work their way to a highly sought after KidsSTOP Academy™ Degree.
One of the exciting activities include making a Karimba! If music gets your child grooving, this will definitely be up their alley. Not only will he or she get to make a take-home instrument from scratch, they will also learn more about musical pitches in the process of making.
Or they can create Magic Colour Bookmarks. A treat for the eyes, your child will study the properties of materials while making bookmarks with materials that allow light to pass through.
If your child is curious about how electricity works, he/ she would not want to miss out on the DIY LED Torch activity. Your child will learn how to put together a LED Torch while discovering the wonders of electricity.
At $5 per activity – or $12 for all three – your kids will have plenty of fun while participating in the KidsSTOP™ Academy activities during the March school holiday – and learn about Science too!
Kitchen Science Showdown
Something is brewing in KidsSTOP™ this March! Here is your chance to cook up a storm while learning simple kitchen concepts.
In a bid to create an amazing dish of scientific proportions, the Kitchen Science Showdown will have children take part in a series of hands-on science experiments using ingredients found around the kitchen!
The Kitchen Science Showdown takes place on Wednesday, 20 March, 9.30 am to 12 pm for 7 to 8 year olds and Thursdays, 21 March, 9.30 am to 12 pm, for 5 to 6 year olds. At $53.50 per child, be sure to sign up quick!
Have a Pancake Party
Mirror, mirror on the wall, who has the fluffiest pancake of them all?
Have foodie children who will only eat fluffy buttermilk pancakes, and turn up their noses at everything else?
3 to 4-year-old children can – together with mummy or daddy – are invited to Pepper's Pancake Party. Pick up basic science concepts along the way while helping Pepper whip up pancakes for everyone. Learn what causes batter to turn into pancakes at this fun programme. Register today and get flipping at $53.50 per parent-child pair!
Pepper's Pancake Party gets cooking on Saturday, 23 March, from 10 am to 11.30 am.
Playmaker Sessions
Other activities at KidsSTOP™ including space-themed craft sessions and learning to fly a preschooler-friendly drone. KidsSTOP™ has so "March" fun to keep you and your children engaged and buzzing during the Term 1 school holidays.
New Exhibits and Activities at KidsSTOP™
Did you know that KidsSTOP™ is constantly refreshing their exhibits and activities?
Good news! The Small World exhibit at KidsSTOP™ will reopen in March. Children under the age of three will have fun learning about farm animals through activities such as sorting and matching at this specially designed exhibit.
Budding conservationists will enjoy the daily Oceans' Buddies sharing sessions. Your child will find out the negative impact on marine animals when trash is not disposed in a proper manner.
Prospective aeronautical engineers can have go atflying homemade creations in KidsSTOP™'s Flight and Space Exhibit Wind Tube.
Other on ground activities includes 'Fun Spot', 'Artsy Science Craft', and 'Tinkering'. Don't miss out on any activities as they are refreshed monthly to ensure new learning experiences.
TOTally Science is monthly special programme for parents and their toddlers of 2 to 3 year-old. This programme is designed to help toddlers engage, explore and experiment with Science. Expect sensory play and a unique bonding opportunity with your child!
Admission to KidsSTOP™
Admission to KidsSTOP™ is just $10 per child (aged 18 months and above) and $5 per adult. There is no better time than the March 2019 school holidays to pay this children's science centre a visit and open your little one's eyes and mind to the wonderful world of science.
Find out more about KidsSTOP™'s school holiday programmes and activities here.
This feature is brough to you by KidsSTOP™.