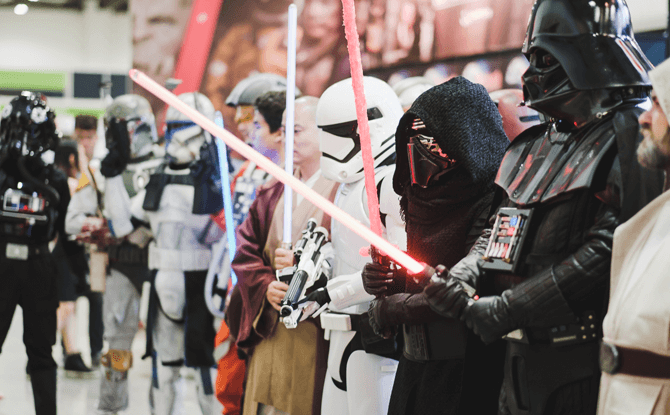 From 1 to 10 September, fans of a galaxy far, far, away can head down to ION Orchard to "Experience the Force".
On Force Friday II, 1 September 2017, toys, collectibles and other merchandise from the upcoming Star Wars: The Last Jedi movie will go on sale at 12.01 am at ION Orchard, Basement 4.
Beyond merchandise sales, other Star Wars-themed activities will also be taking place during the ten-day period, culminating at the Singapore Toy, Game & Comic Convention 2017 (STGCC 2017) being held at Marina Bay Sands from 9 to 10 September.
Here are some of activities Star Wars fans can look forward to at Star Wars: Experience the Force at Orchard Road and at the ticketed STGCC 2017.
Star Wars at Orchard Road
Find the Force AR Experience
Download the official Star Wars app and go on a hunt for special "Find the Force" graphics to unlock 15 augmented reality character experiences and photo ops. Those who do so also stand a chance to win tickets to the Singapore premier of Star Wars: The Last Jedi.
Meet BB-8 (in Virtual Reality)
First unveiled at Star Wars Celebration Orlando 2017, fans in Singapore can now meet and interact with BB-8 in a virtual reality experience at ION Orchard, Basement 4.
Padawan Training
Harbouring aspirations to become a Jedi? Children between four to 12 years old can head to ION Orchard's event space at Level 1 to take part in Padawan Training. These sessions will be held at 30-minute intervals from 3 pm to 9 pm under the guidance of a Jedi Master.
Iconic Star War Vehicles on Display
Don't miss the chance to take a picture with impressive replicas of famous vehicles from the Star Wars franchise. A 1/6 scale of the famous Millennium Falcon will be on display outside ION Orchard, along with an AT-ACT cargo transport. Also keep a look out for an AT-ST "Chicken Walker" guarding Shaw House.
Star Wars at STGCC 2017
TIE Silencer Replica
View the TIE Silencer, a fighter specially built for Kylo Ren, before it appears in the movie, Star Wars: The Last Jedi.
Fan-built Installations
Explore the film replica of the interior of the iconic Millennium Falcon and see Rey's Speeder, signed by director J. J. Abrams.
Star Wars: Experience the Force Singapore Festival
Date: 1 to 10 September 2017
Opening Hours: 10 am to 10 pm daily at Orchard Road, 10 am to 8 pm daily at STGCC (unless otherwise stated)
Venue: Orchard Road (1 to 10 Sep) and STGCC at Marina Bay Sands (9 to 10 Sep)