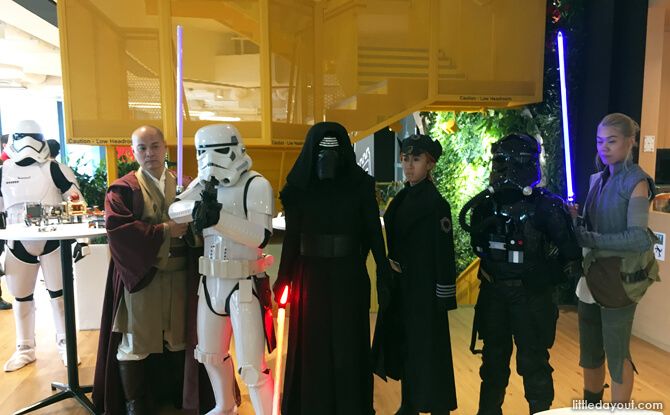 Star Wars Day 2022 was on May the 4th but the force will continue to be strong till 16 May with Star Wars themed activities taking place at Suntec City till 16 May.
Don't be surprised if you encounter stromtroopers patrolling the hallways or come across lightsaber battles as you immerse yourself into all things from the galaxy far, far away.
Here are some Star Wars Day 2022 activities that fans can look forward to at Suntec City.
---
Highlights of Star Wars Day 2022 at Suntec City
Star Wars Character Patrol
---
-- Story continues below --
Look forward to taking pictures with your favourite Star Wars characters as they go on patrol around Suntec City. Look out from them on 4 to 6, 9 to 13 May at 7 pm, and 7 to 8, 14 to 16 May at Noon, 4 pm and 7 pm.
---
Jedi Academy
Kids 12 years old and below can train under the tutelage of lightsaber masters on 7, 8 and 14 May at 3 pm. Report to Suntec Plaza outside "Foot Locker" for training.
Even if you can't make it down, check out some Star Wars moves you can do at home here.
---
Star Wars Day Singapore: Power of the Force!
Did you know that 14 May is George Lucas' birthday? There will be an attempt for break a record for the Singapore Book of Records for the largest gathering of people dressed as Star Wars characters in Singapore. Pick a side and be part of this record breaking attempt on 14 May, 4 pm to 6 pm at the North Atrium. The first 150 participants to join this gathering will stand to receive some premiums too.
---
Galactic Workshops
There will be a series of Star Wars themed workshops held at the North Wing between 5 and 16 May. Make a Star Wars terrarium, customised galactic sneaker art, make a custom Star Wars button and more.
---
Displays & Merch to Buy
There will also be showcases of Star Wars toys, collectibles and LEGO displays. There's even going to be a Hamsters in Space setup where the hamsters of Star Wars fans will be living it up in a galaxy far, far away.
Get more details of what's on below or click here.
This is the way.