With our kind of weather, sunscreen is a must-have in any decent skincare routine. And given that we slather it on every day, wouldn't it be great if they also cover other needs on top of sun protection?
Beauty companies have obviously gotten the memo and been hard at work upgrading their formulas – witness the abundance of sunscreens in the market now that come boosted with all sorts of bonus goodies. Everything from powerhouse ingredients to skin-perfecting properties.
And we love it. Because not only are we getting more bang from our sunscreen, we can also cut down on other skincare steps, whether it's serum, primer or even makeup.
Check out these enhanced UV blockers that go above and beyond warding off sun damage.
---
-- Story continues below --
---
Sunscreens to Protect the Skin
Loaded with antioxidants
Drunk Elephant Umbra Sheer Physical Daily Defense SPF30, $50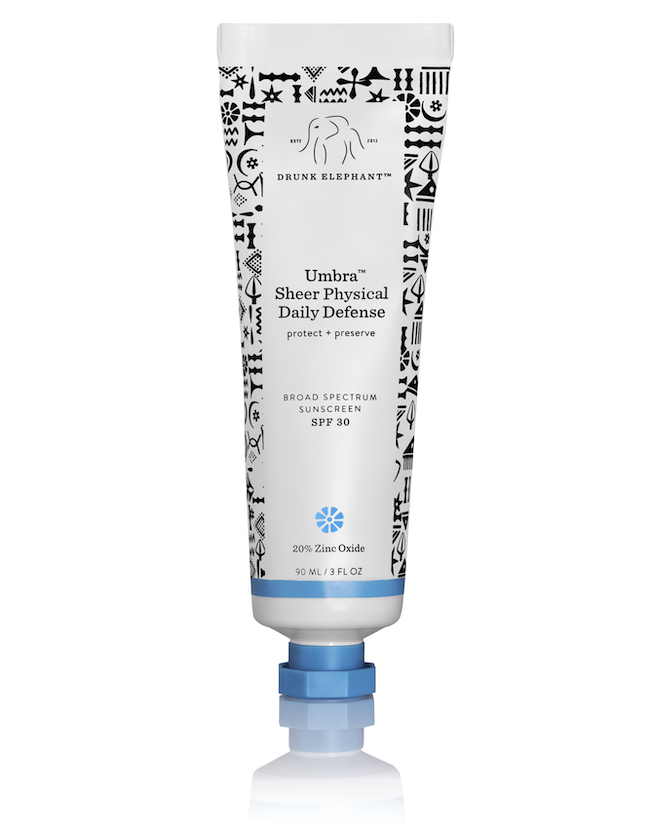 Astaxanthin, grape juice extract and sunflower shoot extract provide protection against free radicals, while moisturising raspberry seed and marula oil smooths out lines and creases. It's also free of chemical sunscreen ingredients and silicone.
Buy
---
Colour coverage and skin repair

D Program Allerdefense BB Essence SPF50+/PA+++, $38.90
This newly upgraded do-it-all functions as a sunscreen, pollution shield, skincare and base makeup to conceal pores, dullness and splotchy skin. It's been enhanced to be friction resistant – so it won't rub off on your mask – and anti-static to prevent pollutants in the air from sticking to skin. Antioxidant rose apple leaf extract aids in skin repair.
Buy
---
Skin brightening and anti-dark spots

Supergoop! Daily Dose Vitamin C + SPF40 Serum, $74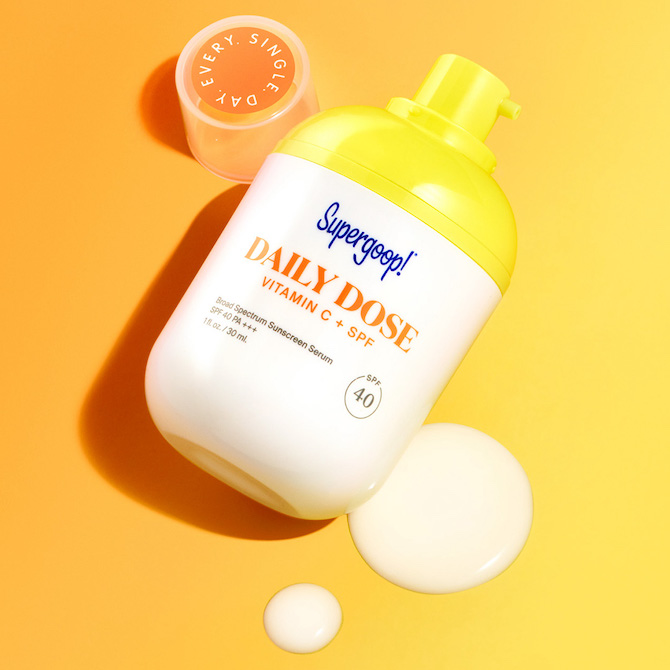 Vitamin C is a proven ingredient, but notoriously hard to stabilise and keep effective. Supergoop!'s solution: combine it with SPF. The result is this oil- and silicone-free hybrid that brightens skin, prevents dark spots and imparts a fresh, dewy glow. Kakadu plum extract and niacinamide further boost the effects.
Buy
---
Skincare-rich and ultra lasting

Anessa Perfect UV Sunscreen Skincare Milk SPF50+/PA++++, $41.90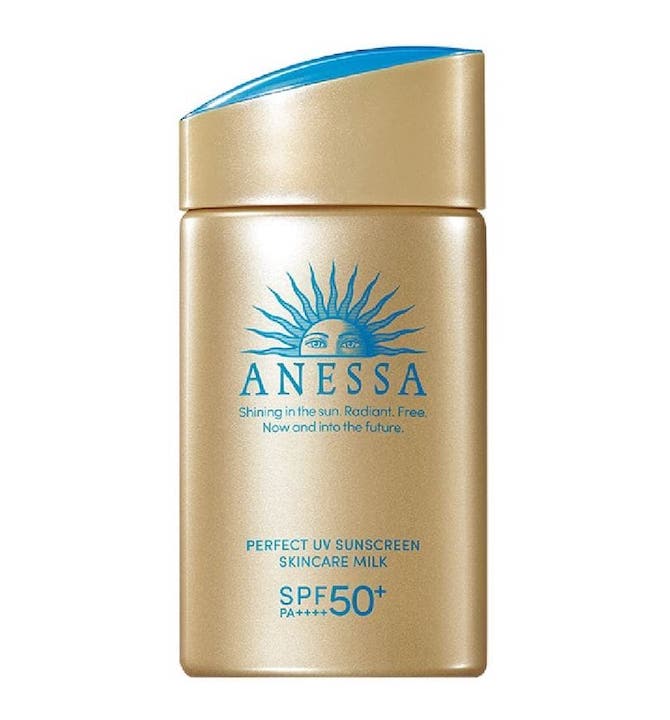 Japan's top-selling sunscreen brand for over 20 years recently upgraded this key product so that it works, feels and looks even better. Not only does it have a 50% skincare formulation comprising collagen, hyaluronic acid and green tea extract, its UV protection now gets stronger the more heat, sweat, water and humidity it's exposed to. A newly added beautifying powder gives a soft, smooth finish that blurs out imperfections.
Buy
---
Enhances complexion and controls shine

Allie Chrono Beauty Color Tuning UV 03 Sheer Beige SPF50+/PA++++, $30.90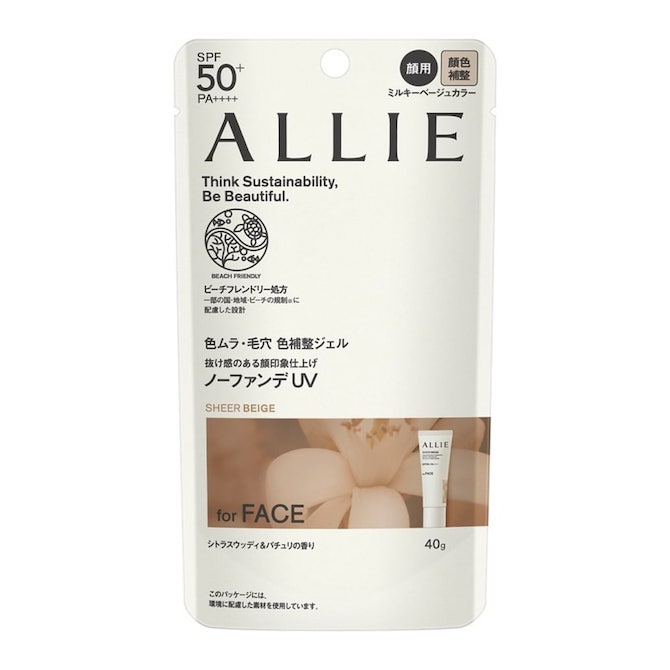 Provides a light veil of colour to camouflage dark circles and dull, uneven skin while maintaining a natural, no-makeup look. It also helps to keep shine in check. Bonus: the citrus, wood and patchouli scent that doesn't smell like sunscreen.
Buy
---
Super moisture booster

Kose Sekkisei Skincare UV Gel SPF50+/PA++++, $32
This sunscreen comprises 80% beauty serum that's formulated with herbs like Job's tears, angelica and rose myrtle to help guard against dryness and roughness. Combining the moisture-rich effect of a lotion with the lightweight, refreshing feel of a gel, it absorbs quickly into skin without stickiness. You can also use it as a makeup primer.
Buy
---
Enriched with superfoods

Sigi Skin Morning Glow, $58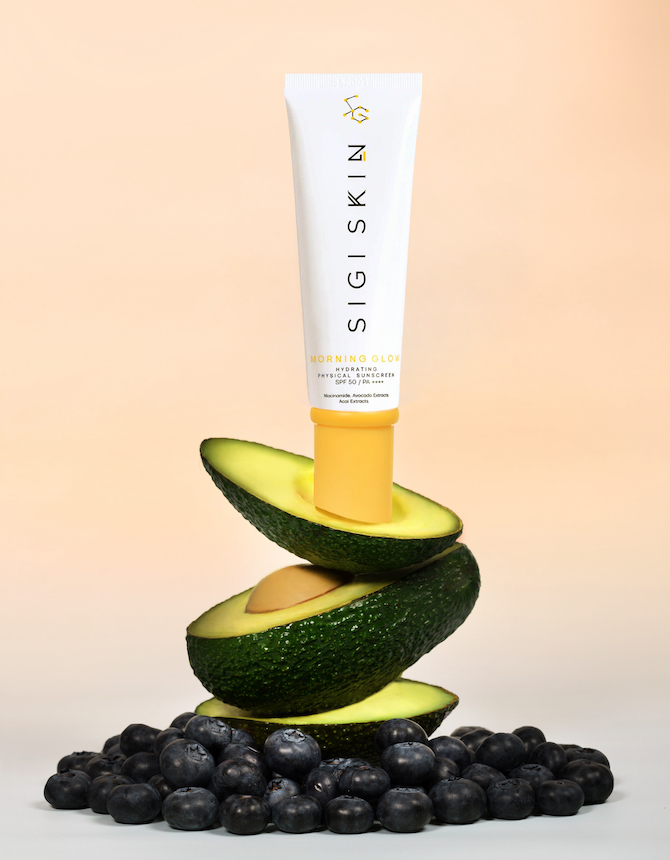 Its formula has been improved to be waterproof and more suitable for mask-wearing. The upgraded version contains 2% niacinamide, as well as avocado and acai extracts – both superfoods that are rich sources of vitamin E and fatty acids.
Buy
---
Colour corrects redness due to acne and sensitivity

Sunplay Skin Aqua Tone Up UV Mint Green Essence SPF50+/PA++++, $27.90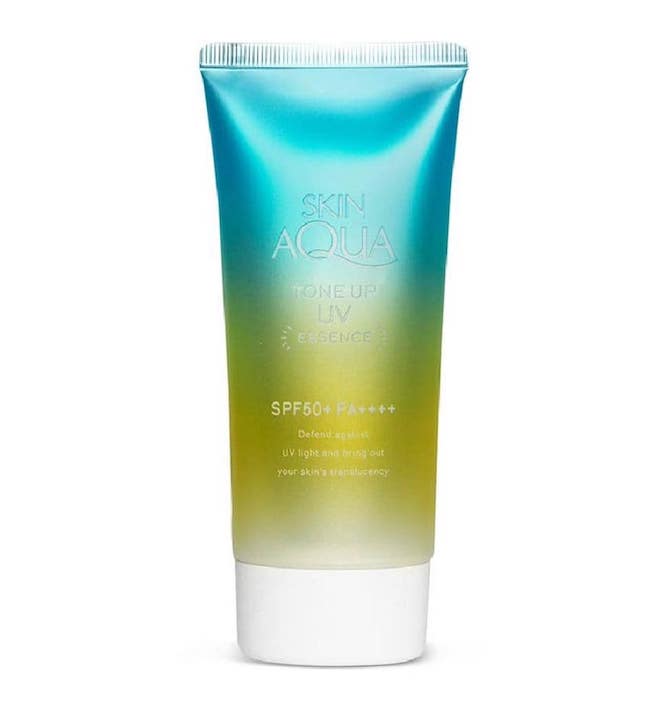 This green-tinted sunscreen counters redness caused by acne flare-ups or skin reactivity, while improving skin translucency and radiance. Besides hyaluronic acid and vitamin C, it also has chestnut rose extract to reduce redness, passionflower extract to calm skin and hydrolysed prune extract to prevent dark spots.
Buy
---
Cools and moisturises skin

Biore UV Watery Gel Aqua Rich Cool SPF50+/PA++++, $18.90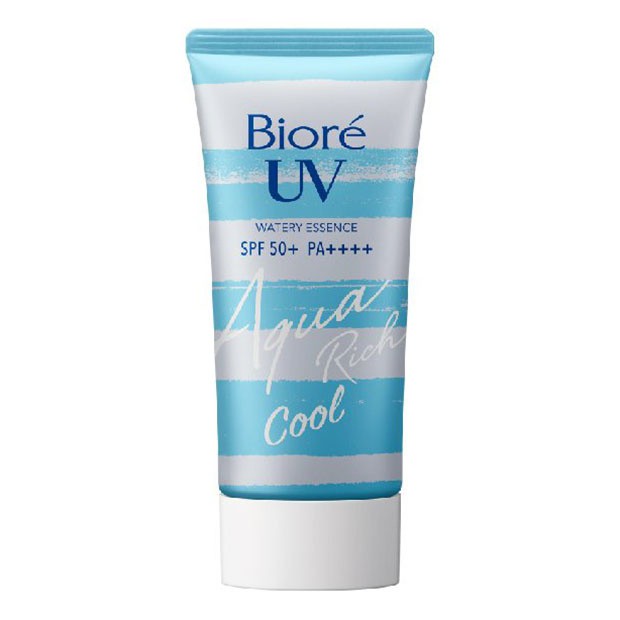 Delivering a cool, refreshing sensation upon application, this water-gel formula contains micro capsules that deliver moisture deep into skin. It also lays claim to having the world's first Micro Defense formula, which provides even and comprehensive UV coverage down to skin's micro level.
Buy