An unusual sight has appeared at Sentosa's Palawan Beach. A long row of swings provide a playful spot for beachgoers to kick back and relax with views of the sand and water.
Swing By Singapore's Longest Swing
The 30-metre long swing at the Sentosa beach, Singapore's longest swing, can accommodate up to 18 people at a time. Each hammock-like seat allows the rider to lie back and shoot the breeze.
---
-- Story continues below --
Standing 2.9 metres tall, the swing set also has a roof to provide some shade.
Singapore's longest swing is suitable for both adults and children and can be found close to Palawan Island.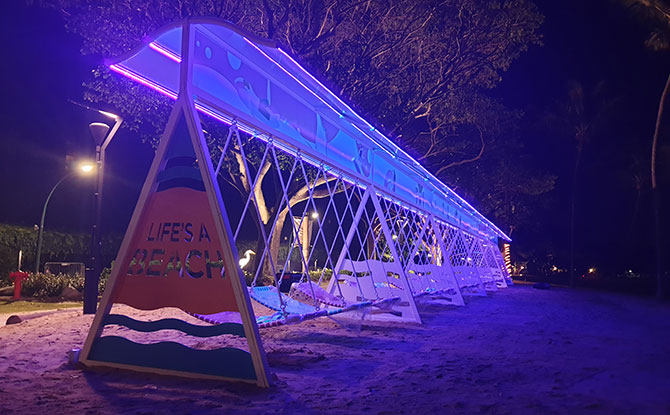 In the evening, it is lit up in an violet hues.
The Sentosa swing has even made its way into the Singapore Book of Records and has been certified as Singapore's Longest Line of Swings.
---
Take Time to Make Time
The unique structure was launched on 27 June 2019 as part of Sentosa's Make Time campaign. This latest campaign is a reminder of the importance of making time for oneself away from work.
"Sentosa is the perfect place for Singaporeans to visit to hit the pause button. With a plethora of unique experiences, the island is a perfect place for everyone to make time, for the all important break, for oneself or with loved ones." said Ms Lynette Ang, Chief Marketing Officer, Sentosa Development Corporation.
In addition to the long swing at Sentosa's Palawan Beach, more initiatives under the Make Time campaign will be rolled out during the course of the year.