Deck the hall with boughs of holly, Fa, la, la, la, la, la, la, la, la!
Christmas came early for us at a special preview of Sing See Soon's Christmas Experiences workshops!
---
Christmas Craft Workshops at SingSeeSoon's Nursery and Event Space
Entering the lush greenery of Lifestyle@SingSeeSoon's Nursery and Event Space, one gets the revitalising sense of nature balanced with nurture.
We were invited to get crafty and festive at three wonderfully unique experiences to be offered in the holiday season, which will warm hearts, brighten spirits and add to cherished festive memories with family and friends.
---
-- Story continues below --
These interactive yet therapeutic Christmas craft sessions in a cozy workshop space promise to let your creativity loose and inject a personal touch and style to festivities!
---
Christmas Wreath Making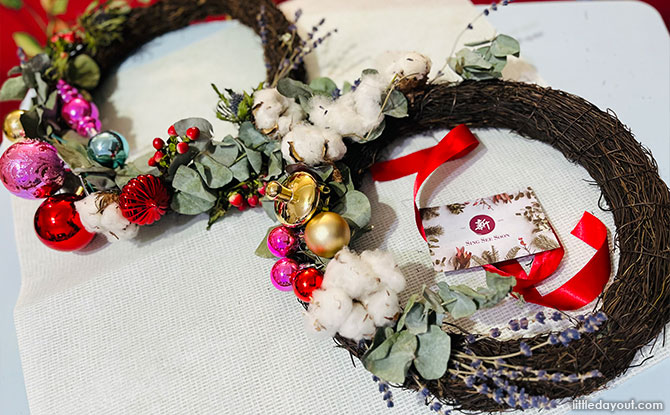 Nothing beats making your own Christmas décor and the festive season extra-special when personalising individual creations with loved ones.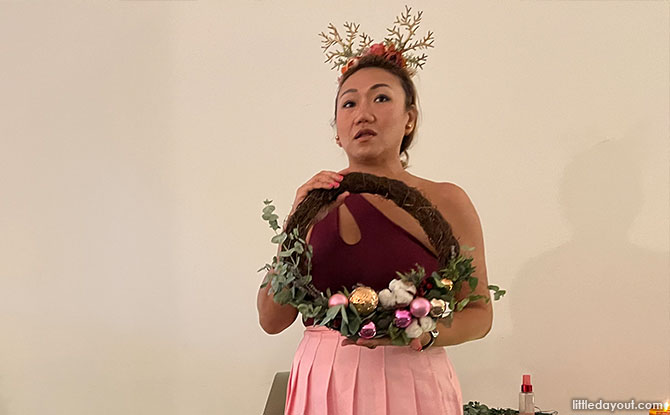 Under the guidance of patient, enthusiastic and experienced instructors, the wreath-making process was good fun working with a rich variety of materials ranging from dried florals and greens to gleaming bright-coloured ornaments.
Starting with a woody wreath, we selected a handful of pretty, shiny Christmas baubles of differing shapes and sizes for brilliance and seasonal embellishments.
The rest of the workshop was spent happily weaving in aromatic shimmery silver-green Eucalyptus as foliage, fragrant dried lavender stalks and fluffy dried cotton flowers, as well as sprays of plump bright red Hypericum berries and beautiful spiky blue-purple Eryngium thistles resembling stars, which added the pop of natural colour.
Proud moment when the finished piece of artistry came together as we oohed and aahed at one another's wreaths – it was deeply satisfying to create a stunning show-stopper!
The workshop is indeed a lovely opportunity for families and friends to bond and get into the festive spirit together through the shared project of designing a meaningful and gorgeous keepsake that will fill the house with fragrant scents.
Details:
For individuals and Couples
Date: Sunday, 10 December 2023
Time: 12 pm to 2 pm
Duration: 2 hours
Price: $100 per pax
For Families and Groups of Four
Date: Saturday, 16 December 2023
Time: 11 am to 1 pm
Duration: 2 hours
Price: $180 per pax
---
#FrameYourLove Pressed Florals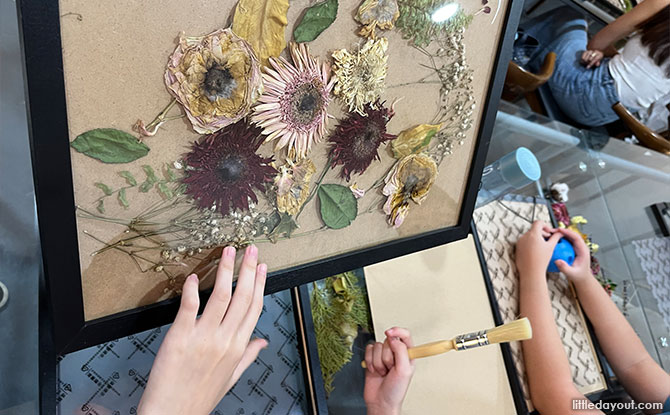 The Pressed Flowers Frame workshop is a charming creative journey into the world of pressed florals.
Kicking off with a brief history of pressed flower art, exploring its cultural significance and various techniques used throughout the ages, the instructors walked us through the timeless art of preserved florals, including best practices for selecting and harvesting flowers and foliage, and processes of properly pressing flowers and leaves.
After a quick brief on creative design principles and ideas for arranging beautiful, balanced pressed flowers compositions, it was time to arrange and frame our own long-lasting pressed botanicals!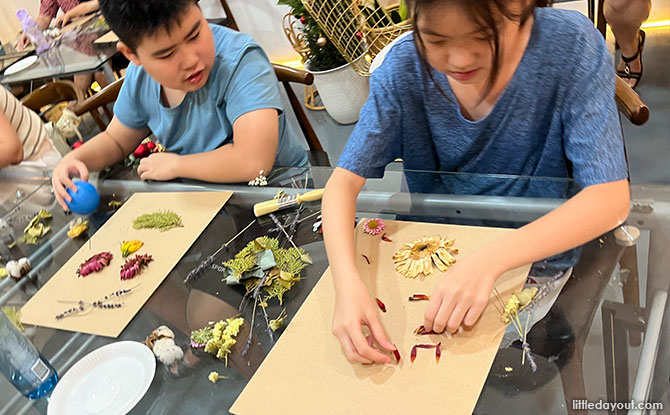 It was delightful creating our own exquisite masterpieces from a wide colourful selection of pressed flower and leaves, and framing them as visually arresting works of art – certainly a new way to connect with nature.
Details:
Date: Saturday, 2 December 2023
Time: 2 pm to 3 pm
Duration: 1 hour
Price: $100 per individual
---
Grow & Drink Cocktail/Mocktail Mixing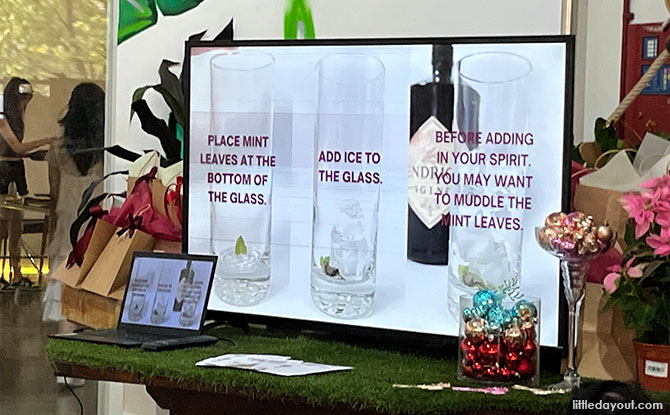 "Ready to mix" magical concoctions? Get set and go embark on a hands-on experience where nature meets mixology with a bonus Floral Workshop thrown in to boot.
During this session, participants will be treated to their own refreshing beverages infused with fresh aromatic homegrown herbs from mint to basil and flowers as they learn the art of crafting signature cocktails and mocktails.
Experienced mixologists and herb experts will share tips and techniques of flavour pairing, as well as the secret of how to muddle, shake, and stir your way to cocktails that are not just delicious but also visually stunning.
I took a swig of the herb-infused non-alcoholic mocktails and it was invigorating!
Details:
Date: Wednesday, 6 December 2023 or Wednesday, 20 December 2023
Time: 7 pm to 8 pm
Duration: 1 hour
Price: $60 per individual
We had a great time at the workshops!
Sing See Soon's specially curated captivating Christmas experiences conducted by nature lovers for everyone offer festive wonder, making connections through craft and creative therapy while embracing the beauty of nature.
'Tis the season to be jolly, Fa, la, la, la, la, la, la, la, la!
Get more details about Sing See Soon's Christmas Experience Workshops.
If you enjoyed this story, you may also enjoy reading about these places where you can get holiday decorations.