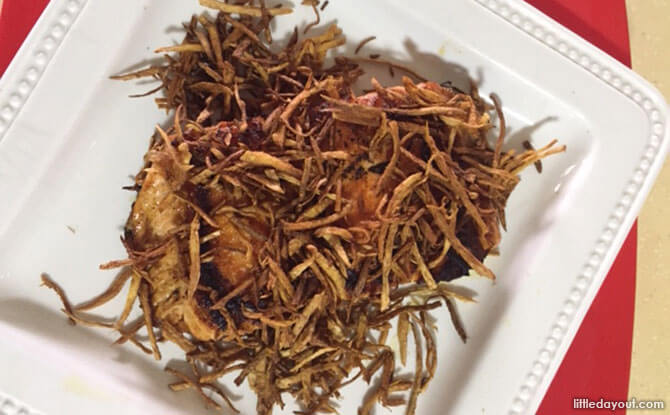 With just two key ingredients and you'll get one of the yummiest fish dishes. Pan-fried Salmon with Ginger Strips is a favourite in my family.
Salmon is an oily with fish rich in protein and Omega-3 fatty acids. Full of flavour on its own, there's an extra zing added when you infuse the oil with ginger. Yet, the ginger does not make it too spicy, and both kids and adults love this dish.
It may be a little difficult for younger kids to assist you with this dish. However, the smell of this fish being pan-fried will surely draw them to the kitchen. Just be sure that they stay a safe distance away. In just under 10 minutes, they can release their fangs on it at the dinner table.
Recipe for Pan-fried Salmon with Ginger Strips
Ingredients
250 grams of salmon fillet
40 grams of thinly sliced ginger (skin removed)
1 tablespoon of soya sauce
Method
Fry the ginger in 2 tablespoon of hot oil till crispy.
Remove from the pan.
Pat the salmon dry with a paper towel. Doing this will ensure that the hot oil will not splatter when you place the salmon in the hot pan.
Fry the salmon, the skin side first for 4 minutes.
Turn the fish over and fry the other side for another 4 minutes.
Splash 1 tablespoon of soya sauce on top of the salmon in the pan to brown the flesh for just 2 to 3 seconds. Before you do so, you might want to hold the cover of the pot over it to reduce splashes of oil.
Good for a family of three to four.
Simple #homecooked-recipes is a new daily series specially developed to inspire beginner cooks with work and kids to handle, and not much time to spare in the kitchen. The recipes are deliberately simple enough even for kids to help you with them. Click here for more simple home-cooked recipes.