Chicken Macaroni Soup is easily every child's favourite and comfort food at its best. Featuring elbow macaroni and tender shredded chicken in delicious home-made chicken stock, the secret to it all boils down to having a good method to cook the whole chicken.
I've cooked countless chickens using this method and they always turn out tender, like the chicken served in Chicken Rice meals sold at hawker centres and restaurants. Left to sit alone in the covered pot, the heat in the boiled soup cooks the chicken evenly. In turn, the chicken infuses the water, making it into good stock in the process.
Once the whole chicken is cooked and cooled, it's time for little hands to help dissect and shred the chicken. We've done it many a times in my household as a competition to see who has the highest pile of neatly shreded chicken. More hands make the work light and you can go about preparing the rest of the dish for the whole family to enjoy as a wholesome one-dish meal.
Recipe for Chicken Macaroni Soup
Ingredients
1 medium-sized whole chicken
2 to 3 tablespoons of sesame oil
3 tablespoons of oyster sauce (to taste)
Macaroni
Green leafy vegetables
Deep-fried shallots (ready-made ones available from supermarkets)
Method
To prepare the chicken: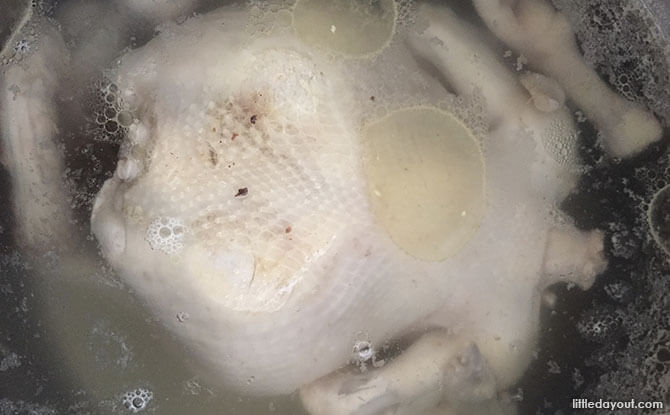 Boil 3 litres of water in a pot big enough to house the chicken.
When it boils, put the whole chicken in and wait for it to boil again.
When it boils the second time, lower fire to medium and boil it for 15 minutes. Do not open the cover at all.
Switch off the fire, leaving the chicken covered in the pot for 1 hour.
After an hour, remove chicken from pot and place it on the plate to let it cool.
When the chicken is totally cooled, shred it into slices.
Marinate the shredded chicken with the sesame oil and oyster sauce. Mix well. (This is an optional step as some prefer the chicken in its original form. However, if you intend to freeze up the remaining chicken, the marinade keeps the chicken moist.)
Proportion the leftover stock and chicken meat into individual boxes/packs. Freeze them up for next meal.
To prepare the rest of the dish:
Boil the macaroni in water and drain off the water once it's cooked.
Wash and boil some vegetables in the chicken stock.
Apportion the meat and place it atop cooked macaroni in individual serving bowls together with the cooked vegetables.
Add salt to the chicken stock and scoop the soup into the bowls of chicken macoroni and serve it with fried shallots.
Simple #homecooked-recipes is a new daily series specially developed to inspire beginner cooks with work and kids to handle, and not much time to spare in the kitchen. The recipes are deliberately simple enough even for kids to help you with them. Click here for more simple home-cooked recipes.