Parents, are you ready for the September school holidays 2020? School will be out for a week between 5 to 13 September. While the kids might be super excited, you must be thinking of plans to bust the boredom, have fun and learn a skill or two. Here's our list of 15+ ideas for the September school holidays in Singapore for kids and families.
September School Holidays 2020: Crank Up the Fun With Exciting Activities in Singapore
---
1. Nurture Eco-conscious and Resilient, Independent Children at Little Day Out's Camps
Join our Love Our Earth and Survivor Virtual Camps which conclude with fun outings for the little adventurers. The themes of the two camps are focused on appreciating nature, our planet Earth and basic skills in the wild. Besides learning to navigate urban landscapes, the children will have hands on experiences noticing their surroundings, conducting experiments, composting, journaling and growing their love for their environment.
For a preview of how our virtual camps are run, check out the experience in July's Around the World camp. P.s. Our camper thought it was the best camp ever! This time, we even have outings for campers – a nature and history walk as well as an orienteering race! Limited places available, register here.
---
-- Story continues below --
#2. Take Part in a Virtual Adventure Quest from Home and WIN Tickets to Bouncy Paradise
How well do you know the parks in Singapore? Take on our Virtual Adventure Quest challenge from home! We have hidden "code words" in three of our stories. Find these code words and submit them online for a chance to win tickets to Bouncy Paradise, Singapore's largest indoor inflatable playground. Get more details here.
---
3. Explore Play at Heartland Playgrounds
There are a ton of HDB playgrounds to check out, and plenty of "wildlife" to spot too! For children who love to climb, check out Circle Green at Woodlands Circle. When in the hood, look for the white animals, and try to spot the hippo at Admiralty.
For Northeasties, the new Alkaff Crescent playgrounds look like mega fun with "wave-like" structures and an area for the younger kids. Westies shouldn't be left out at the Taman Jurong playgrounds with both "traditional" elements and another for the more adventurous.
---
4. Learn to Make a Tsum Tsum Cakepop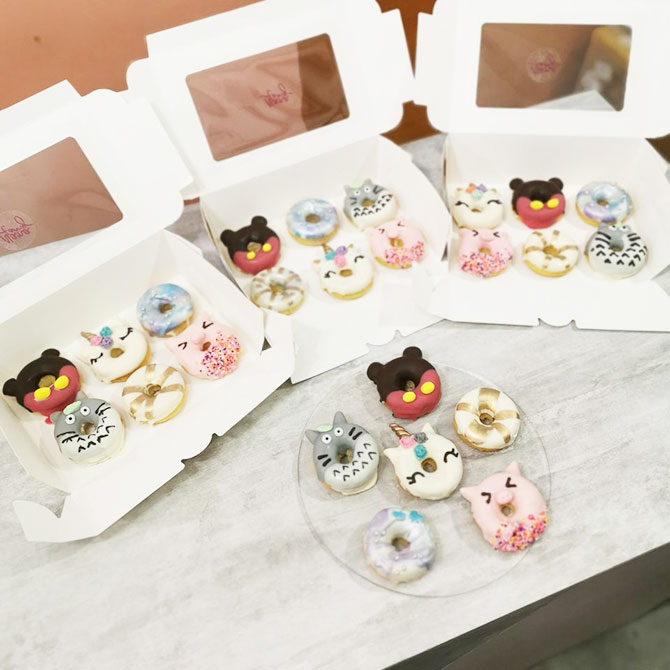 Holidays are perfect for picking up new skills too. Nanatang Bake House and Studio has classes for children 6 and above to make adorable baked goods such as character-themed donuts, Fatcarons, Tsum Tsum cake pops! Click here for more details.
---
5. Time for Themed Park Experience at Resorts World Sentosa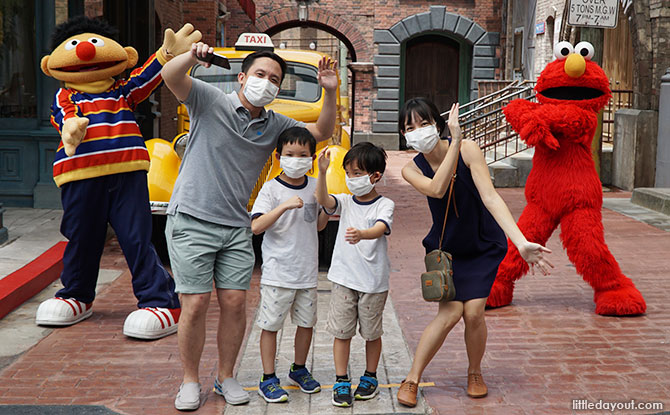 Kids will absolutely love a trip to Resorts World Sentosa. Whether it's the S.E.A. Aquarium or Universal Studios, the experience will be a memorable one. Aside from limited capacity, there are also safe distancing measures at the attractions. A fun and safe play time is guaranteed.
---
6. Have a Family Staycation!
This is one of our favourites. Relish the family bonding time and be on a holiday in a hotel in Singapore – at least for a day or two during the September school holidays 2020. Check out some Singapore family staycations taking place during the holidays.
---
7. Paint and Hide a Rock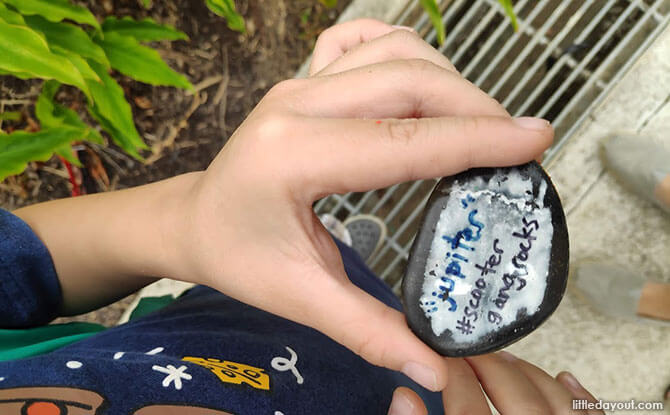 Did you know we have a rock-hiding and hunting community? How about joining them, paint a rock then hide it? Eunos WEC Woman Community is holding a Zoom tutorial on painting beautiful landscapes on rocks. After which, you can choose to keep or hide the rock for other rock hunters! Send a message here to sign up for the tutorial.
---
8. Write like a Chinese Scholar
Encourage your children to read Chinese literature and they may be inspired to write creatively. For those who struggle with Chinese, this camp might be what your child needs during the school holidays. Targeted at 10 to 12 year olds, Sprout's online creative reading and writing programme is focused on using Chinese literature to learn about life's struggles, encourage critical thinking and unleash their imagination. Sign up here.
---
9. Go Rock-climbing
Instead of bouncing off walls, how about climbing some walls? We have a list of rock climbing gyms for families to visit during the September school holidays 2020 in Singapore. Try bouldering, speed climbing, race with the kids and then after expending all that energy – there's none of the bouncing off walls at home.
---
10. Shoot out at NERF Action Xperience Arena
For lovers of action and NERF blasters, don't miss out on this promotion. Get discounted tickets that cost $23 instead of $29. Apart from blasting zombies, your family can scale the elements together!
---
11. Slide, Roll and Admire the Topiaries at Canopy Park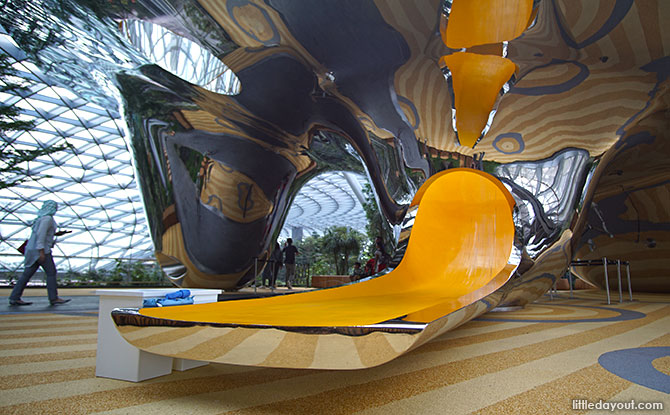 If you haven't already heard, admission to Canopy Park is free with any amount spent at Jewel till the end of September. Time to wake up before September ends and bring the family to Jewel for some fun during the September school holidays 2020! More details here.
---
12. Participate in the Festival of Biodiversity Online
This year, NParks' annual Festival of Biodiversity takes on a different form. The festival kickstarts on 5 and 6 September 2020, followed by registrations for activities such as Wader Watch – a Zoom session on migratory birds, Nationwide BioBlitz cum Habitat Enhancement 2020. Head down to a park with your family, conduct a survey on birds, butterflies, bees and dragonflies and submit the results found. Also taking place in September 2020 is Virtual Pesta Ubin, the festival which celebrates Pulau Ubin.
---
13. Go on a Virtual Safari
Look for novel ideas when it comes to things to do during the September school holidays 2020 in Singapore? How about having an African safari adventure from home. Get to meet a wildlife ranger or sign up for special kids activities. Find out more about this virtual safari experience here.
---
14. Escape from Amazing Chambers Singapura
Have a blast trying to make your escape at the Amazing Chambers Singapura. The escape rooms here are themed after Singapore legends and you will leave having learnt something new and having been entertained. Amazing Chambers Singapura is even having a one-for-one in September. Read about our experience at the escape room here.
---
15. Sail Away to the Southern Islands
Always wanted to explore the islands south of Singapore? If you are looking for memorable things to do during the September school holidays 2020, plan a trip to explore these offshore islands. Read about how to plan a trip here.
---
16. Explore Ecolife at Bishan Ang Mo Kio Park
Go on a family tour to be introduced to Bishan-Ang Mo Kio Park and leave about its biodiversity through themed explorations. The family tour during the September school holidays 2020 in Singapore takes place on 12 September. On the same day, you can also sign up for a special Wader Watch that will be held online. This online workshop will feature the amazing shorebirds that arrive in Singapore and elucidate their journey here.
---
17. Dine with Character at Kumoya
Dine amidst cuteness at Kumoya. Go with the Bad Badtz Maru x Gutetama Pop Up at its original location or pay a visit to its second outlet in town.
---
18. Bricks World September Holidays Playcation
Join an online family event and get creative with your LEGO sets. Tackle five difference challenges for a chance to win vouchers. The Bricks World September Holidays Playcation takes place from 7 to 11 September 2020. Get more details here.
---
19. Redeem Play Sessions at an Indoor Playground
Spend a minimum amount at Changi Airport in order to redeem play sessions at the Cartoon Network themed indoor playground at Terminal 3. Find out how to redeem the play passes here.