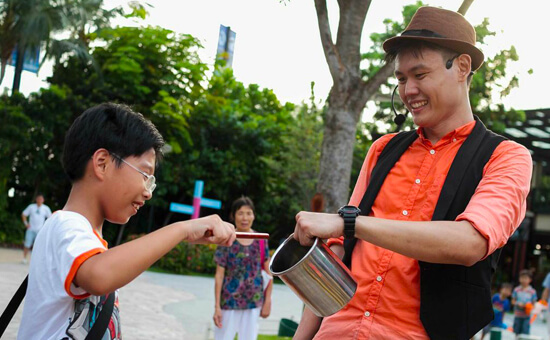 The Sentosa Buskers Festival is back this year from 7 to 15 September. During the September school holidays, magicians, circus performers, jugglers and more will fill the beaches and plazas around Sentosa to entertain and 'wow' families.
For the first time, this year's Festival will feature homegrown talents alongside international acts. One of these performers is The Amazing Alexander, an award-winning Singaporean magician whose personal style and showmanship has been charming audiences wherever he performs.
Little Day Out had a chat with The Amazing Alexander to find out more about his craft and how he feels to be part of the Sentosa Buskers Festival.
You can catch The Amazing Alexander in action at the Sentosa Buskers Festival 2013. Visit the Sentosa Buskers Festival 2013 website for the full schedule of performances by local and international buskers.
Tell us a bit about yourself and what got you into performing magic and busking?
I am a full time magician running my company called Meta Illusions. I hold a Bachelor Degree (Honours) in Psychology and currently I am doing psychological research in NUS, examining the effect and antecedents of amazement.
When I was in fifteen years old, my classmate showed me a card trick which he magically switched a card from my own palms with a card in his palms. That was my first exposure to sleight of hand magic. I then went to my library and borrowed all the magic books that I could find.
Busking, or Street Performing was something that I experienced very much later in my magic career. When I was younger, most of the buskers I had seen were old and physically disabled. Unfortunately, they relied more on the public's sympathy than skill. In 2010, I went to the United States of America for a university exchange programme. I witnessed half circle and full circle street shows; I experienced personally how a performer can rile up the excitement of an audience with his personality, skill and interactions with the audiences. That was the moment when I realised that busking in Singapore does not have to have a negative stigma to it, it can and should be a display of flair and skill. I returned to Singapore and designed a show with these objectives in mind. I plucked up my courage and did the show at Orchard Road, the responses were terrific and I realised that this was something unique that I could offer in Singapore.
What is your favourite thing about street performing?
The best part about street performing really is getting to meet people. In the context of a show, I "break the fourth wall" and engage and interact with my audiences. In the streets (in contrast to a formal dinner and dance), people are less reserved hence they also engage me in return. This experience of using the audiences as part of the show enriches the show as it adds an interactive dimension to it. Through this, I get to know my audience members better.
Also, because of the engagement with the crowd and "breaking the fourth wall", my audiences feel more at ease to stay back and chat with me at the end of the show. I enjoy listening to their stories and sharing mine too.

Do you perform any differently if an audience consists mainly of kids or adults?
I believe that there is an unfortunate misconception that in order to perform for children, the performer needs to be dressed in an over-the-top fashion with glaring mismatching colours and they have to be silly and kiddish in their demeanor. This is not necessarily true. I think as long as the show is well-designed and layered with magic that is easy to understand and strong, the need for performing in a silly manner is not necessary.
I should add that I am gentler especially when performing to younger kids. It takes great courage for a young child to help a magician in front of an audience and being too flamboyant might frighten the child. In addition, I always give the kid a reward for helping me.
What was the wildest reaction you have ever got from anyone to your performances?
This is a tough one. I once had a lady who came up to me after my performance and started to pray for me, specifically that the devil in me would leave. I was baffled, confused and a little taken aback. I had to admit to her that what I had accomplished was through skill and years of practice. Pretty wild yeah?
Do you have a favourite trick?
I do have a favourite trick called the Cups and Balls, and I do this as a finale in my solo show. This is the oldest documented magic trick in history. I love how I am able to weave in nuggets of interaction and comedy in my Cups and Balls routine. Every time I perform this, a small part of me feels like I am paying homage to the grand masters of magic who also performed this routine before me. [grins]
Do you ever get tired of your friends asking you to perform magic for them?
Not really actually. Magic is a huge part of me and who I am. As I always do my best in incorporate my own presentation to a magic effect, I am essentially sharing a part of me when I perform for my friends and audiences.
How do you feel to be part of the Sentosa Buskers Festival?
It is truly an honour to be a part of Sentosa Buskers Festival! I am very flattered to be performing alongside other great talents. As you might know, Sentosa Buskers Festival had relied exclusively on international artistes in the past years. It is a true privilege to be the first Singaporean (amongst 3 other) to be part of the festival. This is a huge step forward for the local arts scene and I am proud to be pushing the boundaries of what the arts scene is and can be.
What can audiences expect when they see you perform at the Sentosa Buskers Festival?
As cliché as it is, they should "expect the unexpected"! Haha! But really, they can expect to have a really amazing time. They will experience what an interactive live show is, and most importantly, they will know what it is like to be part of a show, and I assure you that that is a very different experience from watching another magician performing behind a "fourth wall" to his own music. All in all, it will be great family fun! [smiles broadly]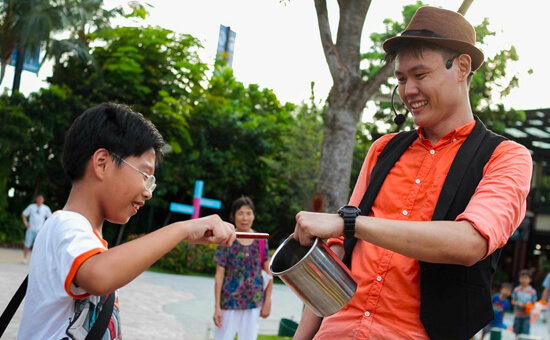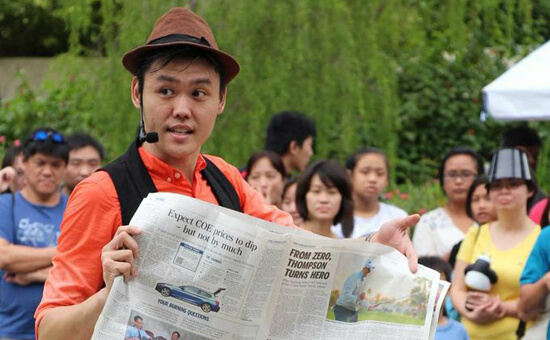 Be sure to catch The Amazing Alexander and the other street performers at the Sentosa Buskers Festival 2013!