On Sunday, 24 May, everyone is invited to SAFRA Punggol Weekend Fun (StayHome Edition), streaming live from 10 am to 4 pm on Facebook. There will be upbeat performances, engaging entertainment and fun workshops for the family to participate in, plus prizes to be won. All you need to do is tune in from the comfort of home and join in the fun.
SAFRA Punggol Weekend Fun (StayHome Edition)
SAFRA Punggol's Weekend Fun programme is normally held during the June school holidays. This year, as the holidays are being held a month earlier in May, this family-friendly event has been shifted to Sunday, 24 May 2020 with a brand new online format.
If you have ever wished to participate in SAFRA Punggol's Weekend Fun but could never make it, this StayHome Edition is perfect for you.
Family-friendly Activities on 24 May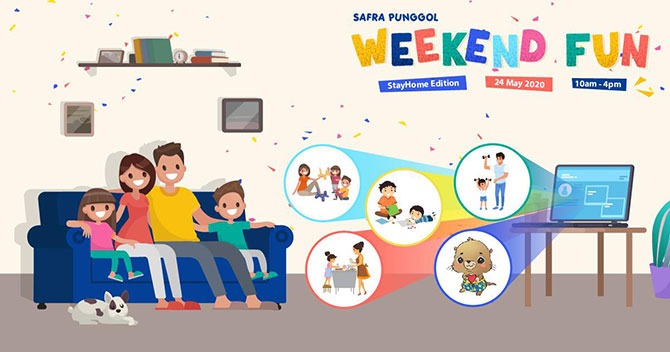 Hosts from SAFRA Radio will kick off SARA Punggol Weekend Fun (StayHome Edition) at 10 am. Join in their lively banter before getting the day off to a bouncing start with a Family Fitness programme led by EnergyOne Gym.
The experts from SAFRA Digital Media Club will show you how to make your own YouTube video from the comfort of home. Level up your knowledge and put together your own digital family memories.
Brighten up the day with hands-on art activities that you can do at home with simple materials. The godmother of Singapore storytelling Sheila Wee also be spinning some tales.
Learn how to make a cute Sea Otter bento with Joanne Chia.
Want a chance to win tickets to Splash @ Kidz Amaze waterpark? SAFRA members can stay tuned for a "guess-the-nursery-rhyme" contest by NurtureStars Preschool.
SAFRA Members: Spot the Baby Sea Otter Toy
Throughout the day, baby sea otter toys, each holding an object, will appear on the live stream.
Eagle-eyed SAFRA members who spot them and can identify the objects they are holding can take part in a contest by submitting their answers online.
Each correct answer will receive a point.
The first 100 SAFRA members with at least four points will win a $20 SAFRA Rewards Voucher. Full contest details can be found here.
Stay In And Have Weekend Fun on Sunday, 24 May
Enjoy family time during the May school holidays and have a day of fun with SAFRA Punggol Weekend Fun (StayHome Edition). More details are available here.
Be sure to get in on the online action on SAFRA Punggol's Facebook page.