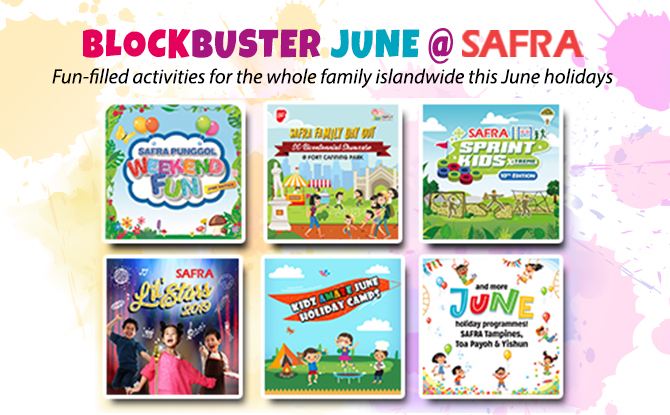 From artsy crafts to amazing science workshops, culinary creativity to super-charged sports, SAFRA June Holiday Programmes 2019 has got you covered with fun-filled activities that kids and families can enjoy.
SAFRA Punggol Weekend Fun, 1 June
Kick off the June school holidays with Weekend Fun at SAFRA Punggol. There are four activity zones the kids can participate in – Literary, Arts, Science and Gourmet. Listen in on the Singapore Bicentennial Storytelling Competition or try a "Power to Save a Life" music video game. Spend the afternoon decorating fondant cupcakes or learn how to create masterpieces with a 3D pen.
Other fringe activities include kite making and a Dragon Playground-inspired bouncy castle.
SAFRA Punggol Weekend Fun takes place between 10 am to 6 pm on 1 June 2019. Registration is required for some of the activities. Get more details here.
---
-- Story continues below --
SAFRA Tampines June School Holiday Programmes
Get active with SAFRA Tampines's June 2019 School Holiday Programmes. Venture along the Changi shoreline on an intertidal trek and learn all about hermit crabs, sea cucumbers and other amazing creatures that call its waters home. Kids can sign up for a sports camp to either sample a variety of sports or hone their soccer skills. Worried that your child is "consuming" too much YouTube? Turn them into a creator instead at a Young YouTube Creator Workshop.
Find out more and register for SAFRA Tampines June School Holiday Programmes here.
Creative Workshops at SAFRA Toa Payoh
Kids get to express their creativity in different forms at SAFRA Toa Payoh during the June 2019 school holidays. Personalise a terrarium while learning how different organisms co-exist together at a terrarium workshop. Parents and children can work together to create a floral corsage, which makes a wonderful gift. There is also a two-day block printing and sewing workshop for 7 to 12 year olds where they will design and stitch together their own sling bag.
Find out more about SAFRA Toa Payoh's June holiday programmes here.
SAFRA Yishun Holiday Workshops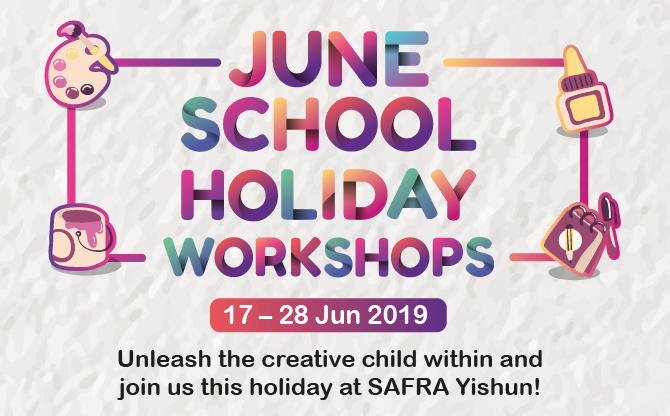 Unleash your child's creativity with SAFRA Yishun's holiday workshops in June. Build a fish aquarium, make ocean slime or put together a glittering scented candle. Budding scientists can even build an 'erupting volcano' and learn about the science behind what makes it blow. Kids who are more craft-inclined can pick up card and knot-making – an ideal workshop for those who want to learn how to make a special gift for family and friends.
Find out more about SAFRA Yishun's June holiday workshops here.
Fun at Kidz Amaze
Head down to Kidz Amaze at SAFRA Toa Payoh, Punggol and Jurong for fun holiday camps.
Sign up for Kidz Amaze Toa Payoh's PLAY! Camp (11 to 13 June) and visit the MINT Museum of Toys and Playeum to discover the joy of toys. Register the kids for the 'Just Dough It' culinary camp (12 to 14 June) at Kidz Amaze Punggol or get them jumping, running and playing at Kidz Amaze Jurong's Summer Camp (17 to 19 June) where there will be sports try-outs, tele-matches and more activities.
Get more information about Kidz Amaze June Holiday Camps here.
SAFRA Family Day Out: SG Bicentennial Showcase @ Fort Canning Park
Go back in time and learn about the iconic moments of Singapore's 700-year history. Enjoy an immersive, cinematic experience at the Fort Canning Centre and explore interactive pavilions within Fort Gate.
Sign up for the bicentennial journey via SAFRA happening on 15 June and try out old-school games at our game booths and stand a chance to bring home exciting prizes. You can also look forward to other activities such as the Families for Life 365 workshop, stage games and many more. Goodie bag redemption is available for each SAFRA Family Package sign-up.
Get more information here.
SAFRA Sprint Kids Xtreme 2019 @ SAFRA Jurong
Returning for the 10th consecutive year is the Sprint Kids Xtreme at SAFRA Jurong on 22 and 23 June 2019. Tackle an NS-inspired obstacle course with categories for kids from 7 to 12 years old. There is also a non-competitive category for children, between 3 to 12, and their parents.
That's not all. Enjoy great deals such as a $1 Gelare mini scoop ice-cream, $10 Jack's Place complimentary voucher with minimum $30 spend, and $1 deals at Rasa Istimewa with choices of drinks, kids fried rice or french fries.
Get more information here.
SAFRA Lil' Stars 2019 @ SAFRA Toa Payoh
SAFRA Toa Payoh's Lil' Stars gives children aged 5 to 12 an opportunity to shine. In addition to the Song and Dance category, this year's edition will feature a new Visual Art Category commemorating Singapore Bicentennial, where kids can showcase their colouring and drawing skills in a timed competition. Heats are on 23 June, while the final is on 6 July.
On 6 July, you can also be part of a life-sized colouring canvas (Brought to you by Families for Life Council)
Find out more about Lil' Stars here.
Families for Life Celebrations 2019 @ SAFRA Punggol
End off the June school holidays on a high with the Families for Life Celebrations 2019 at SAFRA Punggol on 29 June, 9 am to 9 pm.
Sign up for the Family Fun Walk and enjoy a leisure evening 5km walk with your loved ones along the scenic Punggol Waterway starting and ending near SAFRA Punggol. In addition to an exclusive Family Fun Walk tee and medal (upon completing the walk) you will also be entertained by mascots, percussionists, stilt walkers and cheerleaders along the route.
There are also a host of fun-filled activities for families held within SAFRA Punggol and the adjacent event lawn such as old school games and fun food snack, yoga, picnic and movie screening under the stars, and live band. Kids can also jump around at the ever popular FFL Bouncy Castles. Registration is required for family fun @ Splash, bowling challenge @ Orchid Bowl, kite making and canvas art.
More information about the Families for Life Celebrations 2019 can be found here.
Don't miss all these exciting activities for kids and families during the mid-year school holidays. It is going to be blockbuster month of fun this June at SAFRA!
This feature is brought to you by SAFRA.