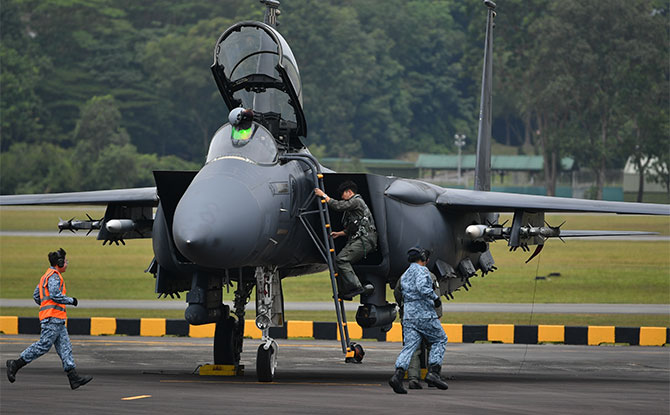 Aviation enthusiasts and families, get ready for the RSAF Open House 2023! Back after seven years, this edition is bigger, better and gets phygital. This year's Open House will be held on Saturday and Sunday, 9 and 10 September 2023 at Paya Lebar Air Base and it commemorates the Republic of Singapore Air Force (RSAF)'s 55th anniversary.
The RSAF55 Open House is free and open to all members of the public. Tickets are not required to attend the Open House.
Opening hours for the Open House are from 8.30 am to 6 pm, and the operating hours are from 9 am to 6 pm.
What this means is that the exhibition halls and other attractions only open at 9 am but visitors are welcome to arrive at the fairground from 8.30 am to view the RSAF's assets at the Static Display area.
---
-- Story continues below --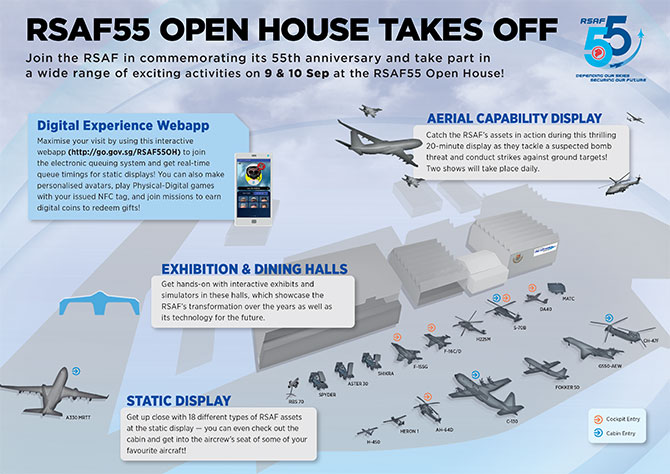 Click here for a larger version of the above infographic.
There are five main segments to look out for at the RSAF55 Open House 2023:
Exhibitions on RSAF with simulators and hands-on games
Static Displays with cockpit and cabin entries
Aerial Capability Displays showcasing fighter aircraft
Carnival with food trucks and live performances
Familiarisation flights (for those who have successfully balloted)
And this year, the RSAF55 Open House will be adopting a physical-digital (phygital) concept via a Digital Experience Webapp. Register, create an avatar, earn points to get your Fast Passes to avoid queuing and unique RSAF gifts like Captain Ted Bears!
Whether you're an aerophile or aviation noob, there's something for everyone at RSAF55 Open House and it's guaranteed to be a fun and immersive experience.
---
What You Need to Know About the RSAF55 Open House 2023
Three Exhibition Halls, Simulators & Games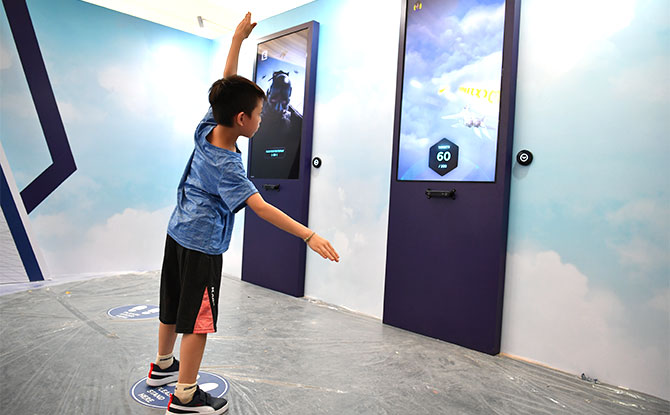 Upon arriving at the Open House, to the left you will find the exhibition halls where there will experiential displays about the RSAF.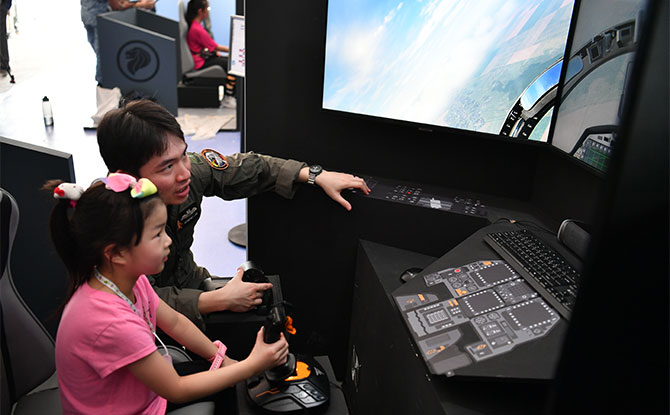 In Hall 1 – RSAF Story, visitors will learn about how the RSAF has grown over the past 55 years. Aside from learning about the RSAF's capabilities, both kidults and children can play immersive games such as Air Combat, Mission Airdrop and Full Body Agility Tests.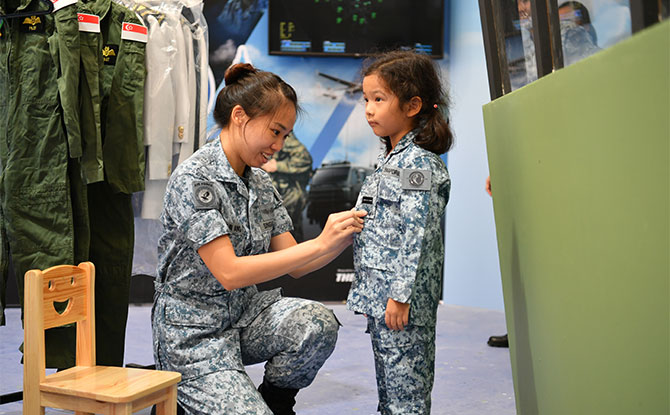 Over at Hall 2 – Our People, Our Air Force, discover the various vocations at the RSAF, and their duties and responsibilities when it comes to defending Singapore's skies.
There will be simulators, physical displays and interactive elements for a fun way to learn about various roles, including Air Crew Specialist, Air Defence Systems Specialist, Air Force Engineer, Air Warfare Officer, Pilot, and more.
The SYFC Virtual Black Knights team will also put up a virtual aerobatics display using flight simulation software and Virtual Reality goggles.
Hall 3 – Future Air Base will feature future technology showcasing forward-looking initiatives and technologies with an emphasis on sustainability. Here you will find an F35 simulator!
View an interactive map of the open house area to help you navigate here.
---
Entering Cockpits and Cabins at Static Displays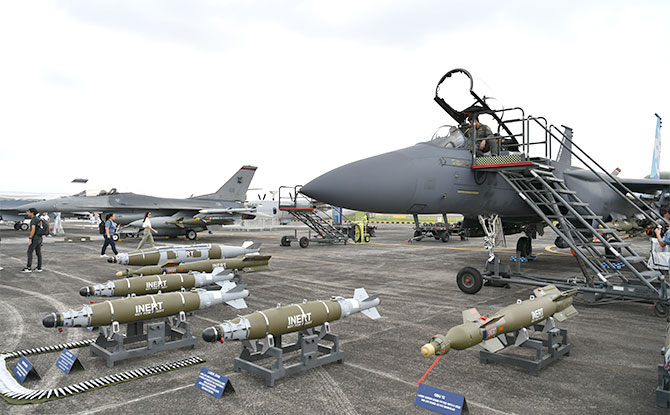 Look forward to posing at 18 different assets that are on display!
In addition, there will be aircraft that allow for cockpit and cabin entries.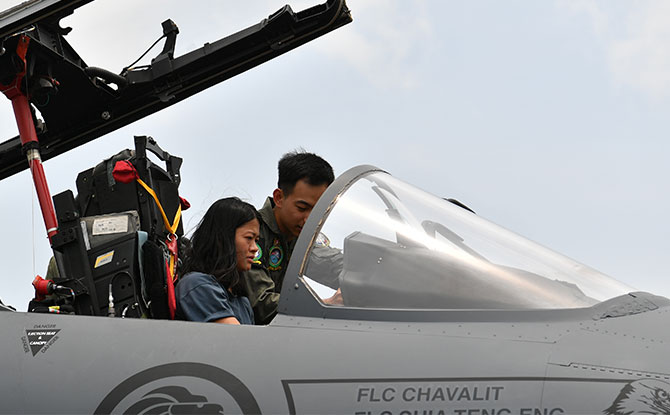 Here are the aircraft with cockpit entries:
F15SG
Upgraded F-16 Fighter Aircraft
AH-64D Apache Attack Helicopter
H225M Medium Lift Helicopter
S-70B Seahawk Naval Helicopter
DA40 Trainer Aircraft
And these are the aircraft with cabin entries:
A330 Multi-Role Tanker Transport MRTT
C-130 Transport Aircraft
CH-47F Chinook Helicopter
H225M Medium Lift Helicopter
Other assets that you can expect to see at the static display area include:
G550 Airborne Early Warning Aircraft
Fokker-50 Maritime Patrol Aircraft
H-450 and Heron 1 UAVs
Aster 30 Missile System
SPYDER Missile System
RBS 70
SHIKRA radar
Mobile Air Traffic Control Tower
---
RSAF Open House Aerial Displays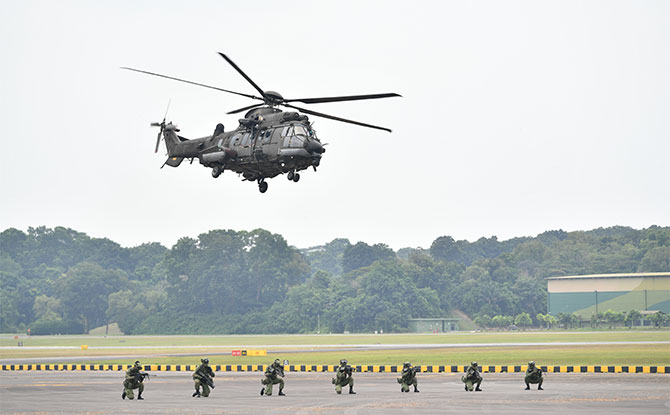 Another highlight of the RSAF55 Open House is the Aerial Capability Display.
The Aerial Capability Display will demonstrate the RSAF's ability to conduct air defence and integrated operations.
Here are some important timings to take note of if you wish to catch the Aerial Capability Display:
9 September – 10.45 am and 3 pm
10 September – 10.30 am and 3 pm
Watch F-15SG fighter aircraft escort a commercial airliner with a suspected bomb threat, portrayed by the RSAF's A330 MRTT, safely down to the ground.
View a deployment of the SPYDER Missile System and see how the Heron 1 UAV conducts Air Intelligence, Surveillance and Reconnaissance, transmitting real-time footage to the show centre.
Plus the F-15SGs will be conducting a strike profile against a simulated ground threat and there will be a troop insertion by the H225M Medium Lift Helicopter.
Get the full programme of all live shows and performances at the RSAF55 Open House here.
---
Carnival & Dining Hall at the Fairground
Families in search for food and carnival games at the RSAF Open House can head to the Fairground.
Besides a bouncy castle and carnival games, there will also be food trucks and food stalls serving delicious fare.
Enjoy live performances from the SAF Music & Drama Company and SAF Central Band in the dining hall.
---
RSAF Familiarisation Flights
For those who have been lucky enough to successfully ballot for the Familiarisation Flights (Fam Flights), this will be a great chance to experience the RSAF's assets for yourself.
Each Fam Flight will take around 15 to 20 minutes, and start and end at Paya Lebar Air Base.
Those going on the Fam Flights are required to wear covered shoes. Crocs, slippers, sandals are not allowed for safety reasons.
It is also advised not to wear loose clothing that is likely to get caught between parts or impede movement. It is also advisable not to bring bulky items on-board the familiarisation flight such as large bags.
---
RSAF55 Open House Webapp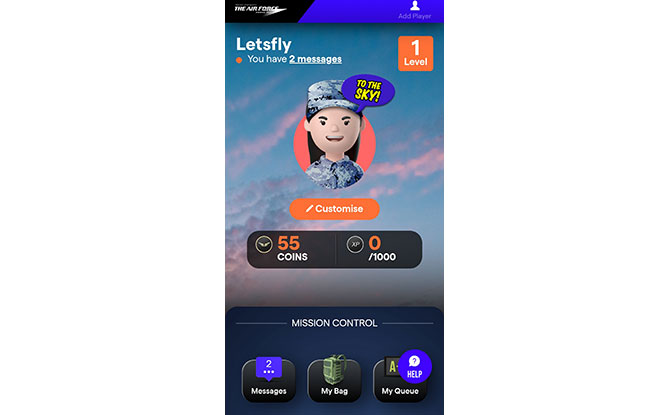 This year, the RSAF Open House has a Webapp that you can register for online.
In the Webapp, you will find all the essential event information to make your visit to the Open House enjoyable include a map, programme outlines, information on how to get queue numbers, as well as real-time queue and waiting times for static displays and simulators.
Participate in the pre-event activities like personalising your very own avatar and using the Augmented Reality Aerial Display Filter to earn digital coins! The coins can be used to earn rewards like RSAF gifts and Fast Passes for cockpit entries!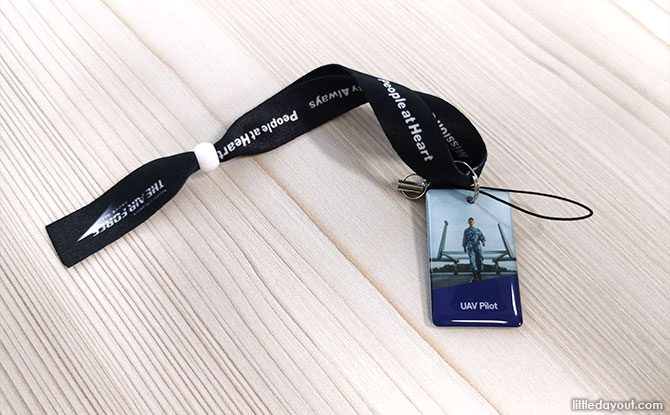 Don't forget to collect your specially designed RFID RSAF Force Tag at the RSAF55 Open House 2023.
Pair your Force Tag to your digital account, use it to participate in games and challenges to earn more coins! The tag will be used for digital queueing as well.
Access the Webapp by registering online here.
---
Getting to RSAF Open House at Paya Lebar Airbase
To get to RSAF Open House, leave your cars at home!
Free Shuttle Buses
There will be free shuttle buses available to take visitors to the RSAF55 Open House. The public can board the shuttle buses from 18 Tai Seng Street or the Hougang Bus Park at 12A Hougang Avenue 4.
The first bus will leave from the pick-up points at 8 am while the last bus will leave at 4.30 pm.
To return to the pick-up points, take the shuttle buses from the Air Force Training Command or the Air Force Museum. The last bus departs at 6.30 pm.
Public Buses
Alternatively, take public bus 90 from Toa Payoh or bus 94 from Eunos Bus Interchange to Air Force Museum. Do note that Bus 94 does not operate on Sunday, 10 September 2023.
Taxis and Private Hire Vehicles will be able to access the RSAF55 Open House for drop-offs and pick-ups.
You can stay updated with what's going on with Live Traffic updates on the event days.
---
Aerial Rehearsals in the Lead Up to the Open House
The RSAF will be conducting flying rehearsals from 21 Aug to ensure a smooth conduct for the RSAF55 Open House. If you are in the area, you may be able to see their flying rehearsals. Here are more details of the upcoming rehearsals:
7 September 2023 – 9.30 am to 10.30 am, 3.45 pm to 4.45 pm
8 September 2023 – 10.30 am to 11.30 am, 3 pm to 4 pm
---
RSAF55 Open House 2023
Where: Paya Lebar Air Base, 504 Airport Road
When: 9 and 10 September, 9 am to 6 pm (Doors open from 8.30 am)
Entry is FREE, no tickets required
Get more details at the RSAF55 Open House website.
If you enjoyed reading this story, we predict that you will also enjoy reading this one on another flight-based attraction in Singapore, and this other one related to the airport.
If you are looking for things for the kids to do during the upcoming September school holidays, check out some suggestions here.