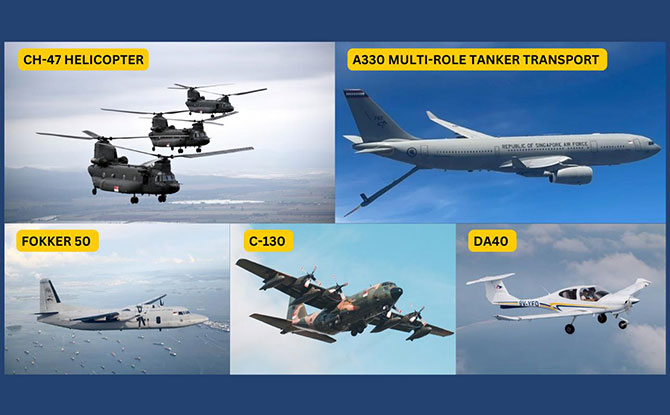 The RSAF55 Open House will be taking place from 9 to 10 September 2023 at Paya Lebar Air Base. As part of its 55th anniversary, there will be an opportunity for the public to fly with the RSAF. With such a great and rare opportunity, you will have to ballot for the RSAF familiarisation flights.
---
RSAF55 Familiarisation Flights: Participating RSAF Aircraft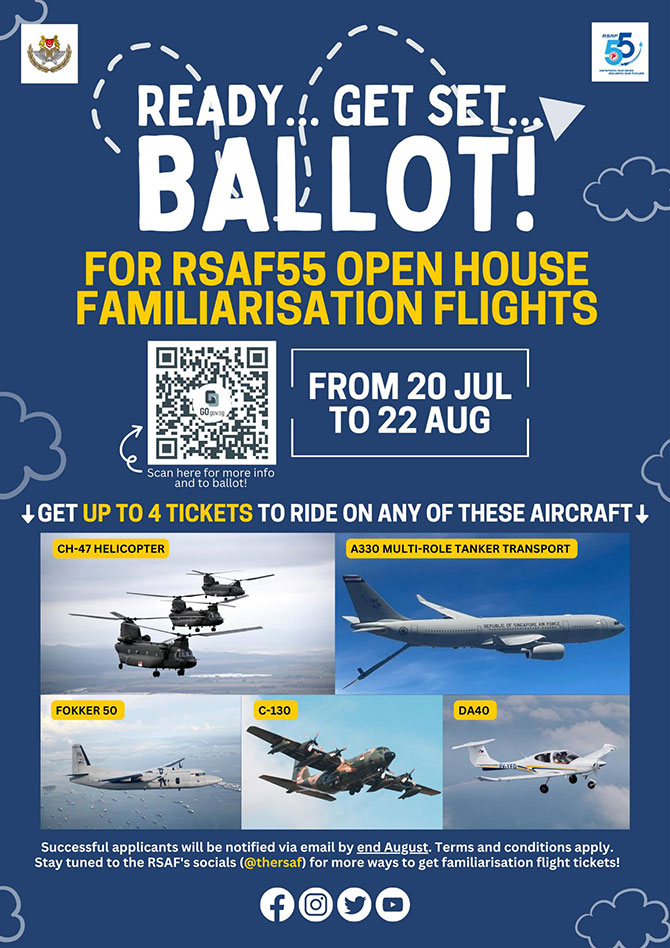 The RSAF55 Familiarisation Flights are an opportunity for the public to get a better understanding of the RSAF's assets and operations.
Aircraft that will be part of the familiarisation flights include the A330 Multi-Role Tanker Transport, the CH-47SD Chinook Helicopter, the C130 transport aircraft, the Fokker 50 aircraft, and the Singapore Youth Flying Club's DA40 trainer aircraft.
---
How to Get Tickets for the RSAF55 Familiarisation Flights
There are four ways that you can get hold of the RSAF55 flight tickets. Here's a look at how you can ballot for the RSAF flights in September.
---
-- Story continues below --
1. Balloting for RSAF Flights: FormSG Ballot
The FormSG ballot is the primary way that the general public can attempt to get seats on the RSAF55 familiarisation flights.
The ballot will be open for five weeks, until August 22 at 12 pm.
Eligible applicants may submit applications for up to four tickets. You will need to log in with your SingPass app. The applications will then go through a randomised electronic balloting system.
Each applicant is only allowed one ballot chance, with the most recent submission being the final one.
The familiarisation flight's date, time, and type of aircraft will all be chosen at random as part of the ballot. Successful group ballots with multiple tickets will be given priority to be on the same aircraft.
Successful applicants will be informed by end August.
They will receive non-transferrable digital e-ticket(s) marked with their personal details, as well as administrative instructions such as the reporting time, location and attire through the email address provided through FormSG.
These tickets are strictly not for sale or exchange.
---
2. Social Media Giveaways
There will be two separate giveaways: from 21 to 27 July, and 29 July to 4 August.
Members of the public who wish to participate in these Social Media Giveaways for a pair of tickets on a familiarisation flight will need to take the following steps:
1. follow the RSAF's Instagram page;
2. leave a 'Like' on the giveaway post; and
3. follow any other instructions on the post and tag three friends in the comments section.
The first Giveaway Instagram post can be
found here
.
50 pairs of tickets will be up for grabs in each giveaway, and winners will be selected at random via electronic means.
---
3. Social Media Contest #1: Find CPT Ted
From 11 to 22 August 2023, 50 pairs of tickets will be up for grabs through an online contest hosted on the RSAF's YouTube channel.
For this "Find CPT Ted" social media contest, members of the public will need to follow these steps to stand a chance to win a pair of tickets:
Find scenes with the RSAF's CPT Ted bear in five of the RSAF's latest YouTube videos posted from 21 May to 9 August; and
Head to the RSAF's YouTube Community page to fill in an online form with the identified video titles and timestamps.
The link to the form will be made available from 11 August onwards.
---
4. Social Media Contest #2: Digital Experience Webapp Augmented Reality Filter Contest
From 15 August 2023, members of the public can attempt to win tickets by trying out the Augmented Reality Filter featured in the RSAF55 Open House's Digital Experience Webapp.
Using the AR filter, dubbed 'Sky Effect', users can upload screenshots or screen recordings of them using the filter onto their personal Instagram accounts, while tagging @theRSAF and hash tagging #RSAF55, for a chance to win a pair of tickets.
Participating accounts have to be made public for their posts to be visible.
50 pairs of tickets will be up for grabs, which will end on 22 August 2023.
---
Prerequisite to be on the Flights
Do take note that for flight safety reasons, the following groups will not be allowed to take the familiarisation flights:
Those with physical mobility conditions that may affect their movement in time-critical situations such as during an emergency.
Those with any pre-existing heart and/or lung conditions.
Those who are pregnant.
Those who have been advised not to take part in any strenuous activities.
Those who have been previously assessed to be unfit to fly by any airlines.
Members of the public who wish to board the flights must minimally be 5 years old and 100 cm tall.
So, there you have it! If you wish to get onboard the RSAF55 Familiarisation Flights, take part for a chance to get those tickets!
All the best!
If you liked this story, you may also like this one on what to expect for the National Day Parade.