"I don't want to go home!" said my six-year-old, as we were preparing to leave our premier suite at The Ritz-Carlton, Millenia Singapore after a one-night stay. We had enjoyed the Ritz Kids Night Safari Adventures package, where kids get to "camp out" in their own comfy tent, right next to mummy and daddy's king-sized bed!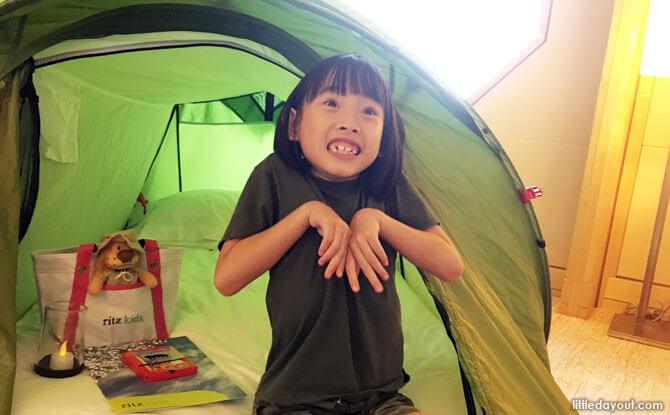 A Warm Welcome For Little Ones
Not only do kids have their own "beds", they get their own little Ritz Kids bags too! Each bag contains a dedicated children's toiletry set, a limited-edition ranger lion beanie and a pair of kid-sized slippers. It is accompanied by an activity booklet that keeps little hands and minds occupied during the Ritz Kids Night Safari Adventures stay.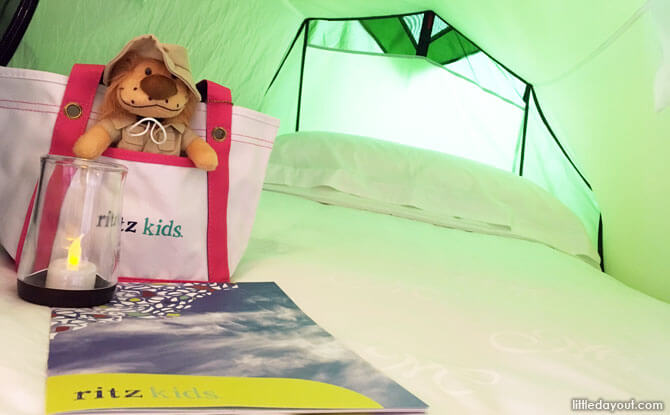 A little distance from the bedroom, an edible turndown amenity – cute animal cookies and colourful sweets – beckoned in the living area. The little one could barely wait for me to finish taking pictures, before sinking her teeth into the buck-toothed hippo!
---
-- Story continues below --
Amazing Marina Bay Views
It was only when she was quietly enjoying her sweet treat that we had time to properly appreciate the views from our suite. And what views they were!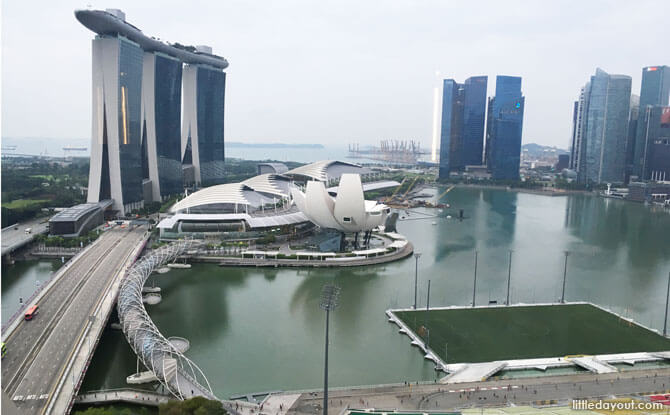 A Rewarding Adventure For Kids
All too soon, it was time to go treasure hunting, as my daughter called it. This is actually an activity where children collect stamps from various checkpoints in the hotel on their Adventurer Passport.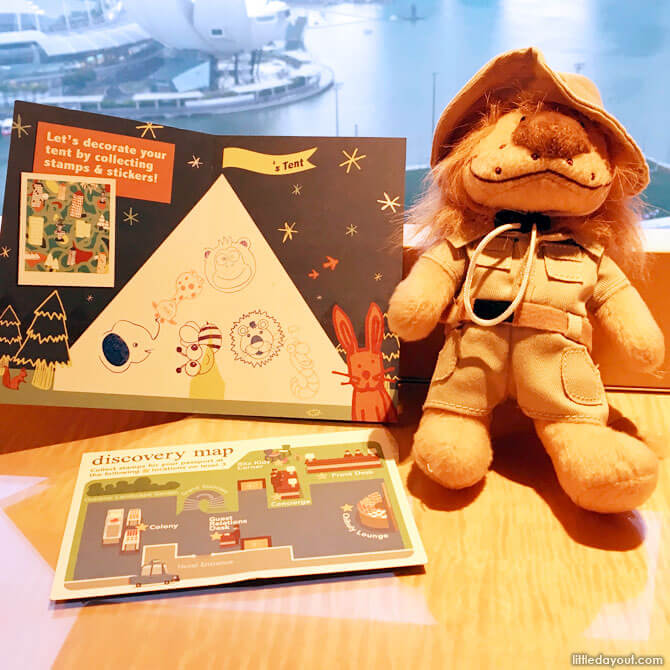 When they have got all six stamps, they can redeem a complimentary scoop of ice cream daily! This must be the "treasure" that my little one was referring to!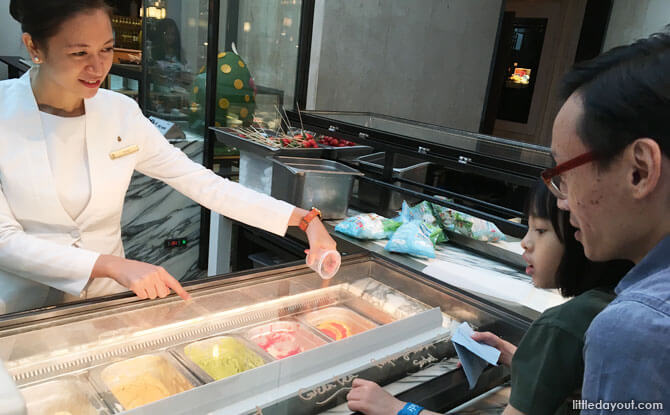 On our hunt, staff at the checkpoints, such as the lounge and the concierge desk, were friendly and on the look-out for stamp-seeking kids, making the experience enjoyable even for shy children.
One of the checkpoints is the Ritz Kids Play Land located on the fourth level of the hotel. Children can enjoy various activities here ranging from reading a book, to watching a movie, playing toys and games, and learning a fun craft (on weekends only).
Do take note though, that the Play Land is not where you can just leave the kids and go for a spa. Adult supervision is required at all times there. It closes at 5.30pm daily so that guests can go back to their rooms to get ready for dinner.
Dinner At Colony
Though dinner is not included in the Ritz Kids Night Safari Adventures package, we had the pleasure of dining at Colony, The Ritz-Carlton, Millenia Singapore's buffet restaurant that totally charmed us with its gorgeous British colonial setting.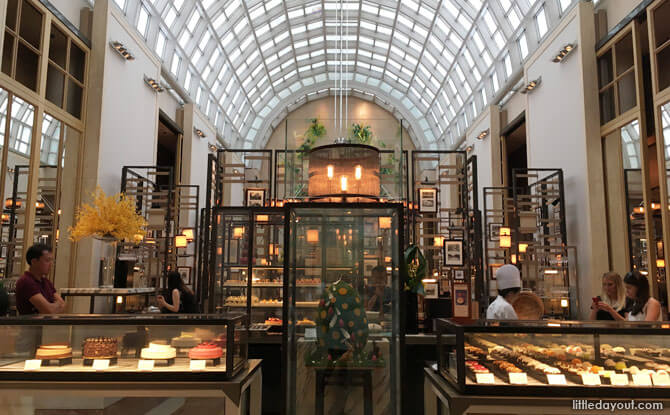 Beautifully designed with vintage pictures adorning the delicate partitions and seven 'live' culinary stations – known as conservatory kitchens – spread across the large area, Colony offered us a visual feast even before we started eating!
The buffet variety was impressive, showcasing the best of Chinese, Indian, Indonesian, Malaysian, Western and local flavours that have helped to make Singapore's dining culture what it is today.
From the fresh oysters and sashimi at The Ice Bar, to the indulgent grilled lobster at The Grill & Rotisserie, famous Colony laksa with homemade lobster ball at The Steam Basket, and finger-licking good chilli crab at The Wok, we enjoyed our culinary journey through Singapore's heritage cuisines tremendously.
Bath Time With The Duckies, Bedtime Under The Stars
Back at our suite, it was finally time for the little one to have her bath. She was extremely excited to bathe with the cute rubber duckies provided by the hotel, and had a lot of fun looking for them under the bubbles.
The kid-sized robe and slippers were a hit with her too!
When it was time to sleep, she eagerly headed for her tent. We had a little problem with the star-projection device, but housekeeping staff came promptly and replaced it for us.
Breakfast At Colony
After a good night's rest, we woke up with the promise of a sumptuous buffet breakfast at Colony – this is part of the Ritz Kids Night Safari Adventures package – but not without first admiring the captivating view from our window.
The restaurant exuded a different vibe in the morning, with natural light streaming in from its floor-to-ceiling windows.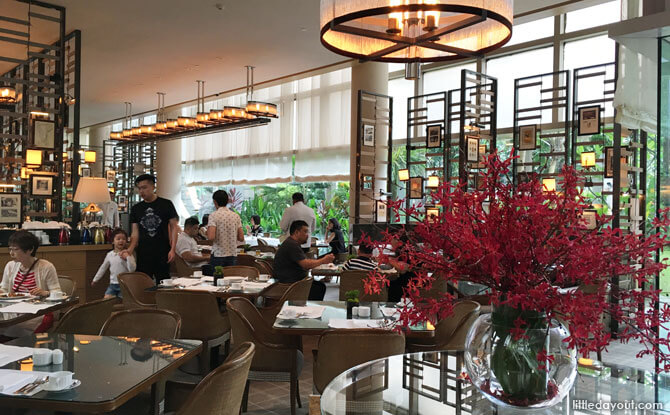 There was a wide selection available, ranging from cheese and cold cuts to Japanese breakfast items, local wok favourites such as fried carrot cake (which had a nice 'wok hei') and otak-otak, Indian curries with roti prata and Chinese noodles made to order.
Child-friendly items included waffles and pancakes, omelettes and sausages, and dim sum items such as char siew bao and siew mai.
Ritz Kids Night Safari Adventures – A Great Experience For Families With Kids
After breakfast, father and daughter had a good splash at the pool, made more enjoyable by the float, ball and kickboard that the hotel loaned out to guests.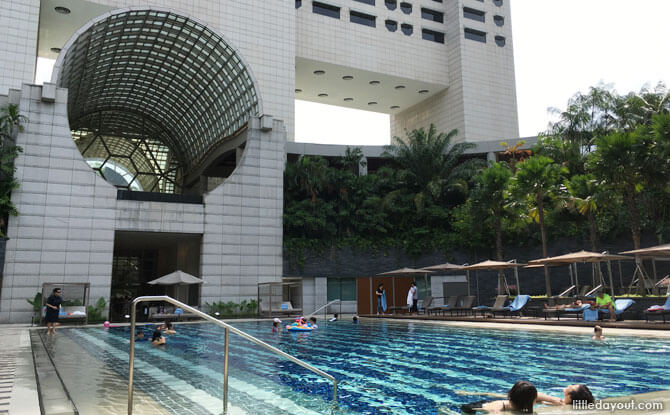 It was then time for the inevitable goodbye. When the little one knew that we had to check out soon even if she did not want to leave, she had a last roll in her tent.
On our way out, she asked, "Can we stay here again for one whole month in June?"
The Ritz Kids Night Safari Adventures room package is available through 31 December 2018 and includes:
Overnight accommodation in

an Elevated Kallang room, Deluxe Marina room, Premier Suite, Club Premier Suite or One Bedroom Millenia Suite

Daily buffet breakfast for two adults and up to two children
A Ritz Kids Night Safari sleeping tent throughout your stay
Ritz Kids amenities including a specially prepared edible amenity, passport and discovery map, and Ritz Kids birthday surprise (for birthdays within the stay duration)
It is priced from SGD 650 per night. Click here for more information.
Media invite.