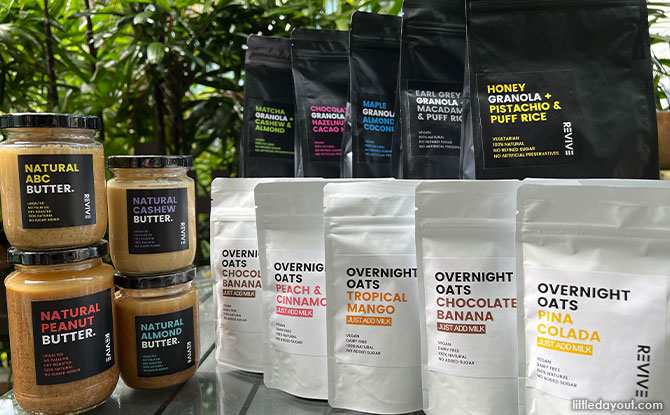 Living a healthy lifestyle with balanced and nutritious meals is something which many us aspire to. One company that is helping people to achieve this goal with their healthy snacks and breakfast foods is Revive, a homegrown, Singaporean brand.
Revive's affordable, tasty and nutritious products make healthier living easier to incorporate into each day.
Revive's belief is that "when it comes to food, no one should have to compromise on taste for health." Their current range of products include great-tasting granolas, overnight oats and natural nut butters that are made with simple and quality ingredients designed to delight the taste buds while helping to fulfil nutrition needs.
Revive food products are filled with nutrient-rich ingredients such as whole grains, nuts, or seeds, each packed with health benefits for all age groups. Here are some of the products from Revive that we tried.
Revive Healthy Granolas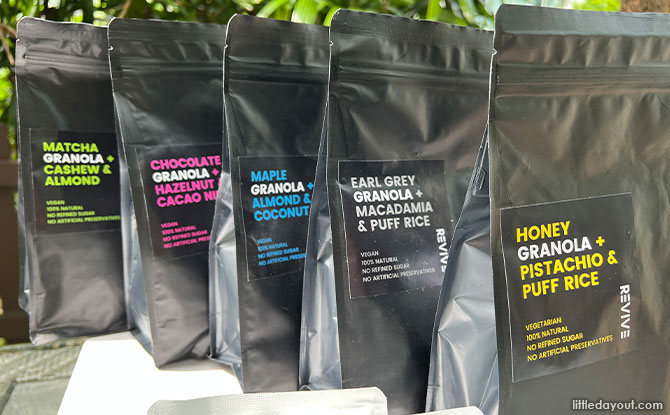 Granolas are a popular breakfast and snack item that are easy to eat as a meal or as a snack on-the-go. Revive's classic granola is made using 100% natural ingredients and comes in five delicious flavours.
Each bag of granola is handmade locally in small batches to ensure freshness and to maintain the quality of all the ingredients. The main base of the granola is oats and they only use natural and unrefined sweeteners in their products.
The granola flavours available are Honey Granola + Pistachio & Puff Rice and four other vegan options – Maple Granola + Almond & Coconut, Matcha Granola + Cashew & Almond, Chocolate Granola + Hazelnut & Cacao Nib and Earl Grey Granola + Macadamia & Puff Rice.
Our favourite was the Matcha Granola. This fuses together a medley of matcha, oats, cashew, puffed brown rice and almonds coated with maple syrup and a light sprinkle of sea salt. The slightly bitter floral notes of the matcha made the Matcha Granola enjoyable on its own or paired with a milk or milk alternative.
See Revive's various flavours of granola.
---
Revive Easy Overnight Oats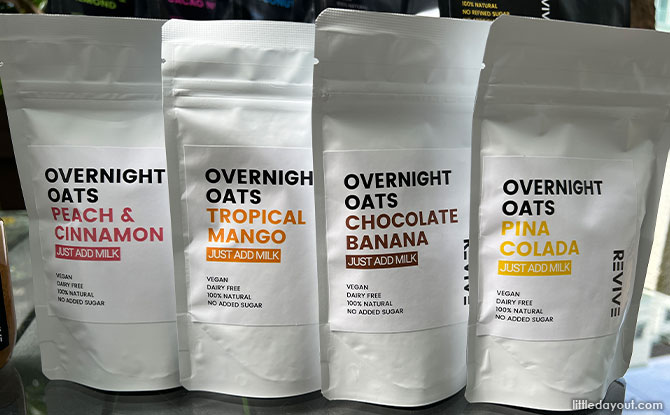 Overnight Oats are a great breakfast option. They can be prepared the night before for a quick and nutritious breakfast the next morning. It is also significantly more nutritious than many traditional local breakfast options.
Revive has four delicious flavours of overnight oats to whet your appetite: Peach & Cinnamon, Chocolate Banana, Tropical Mango and Pina Colada. Each conveniently packed sachet contains real fruit, real flavour, delicious spices and other healthy ingredients that are freeze-dried for maximum freshness.
The oats are easy to prepare. Simply pour 200 ml of milk or milk alternative, and 50 g of packaged contents into a jar or bowl. Stir them well and refrigerate for at least two to four hours or overnight at best.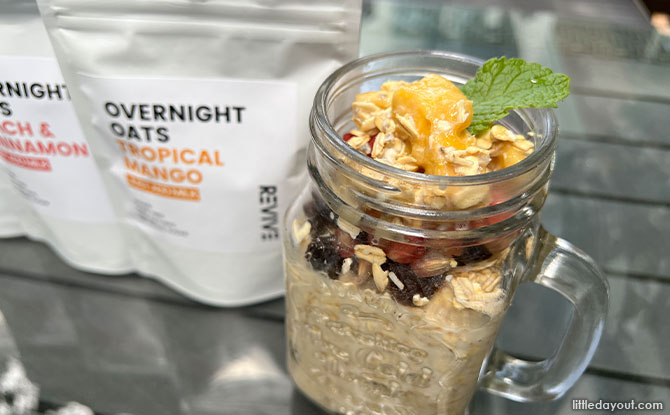 The next morning, the oats can be given another quick stir and enjoyed as a yummy start to the day. They can also be topped with additional ingredients and fruits of your choice. Read more about Revive's range of overnight oats.
---
Revive Creamy Nut Butters
Revive's creamy and delicious nut butters are made with no salt, palm oil or sugar. The only ingredient in these four flavours of 220 g nut butters are dry roasted natural nuts. Each bottle contains approximately seven servings.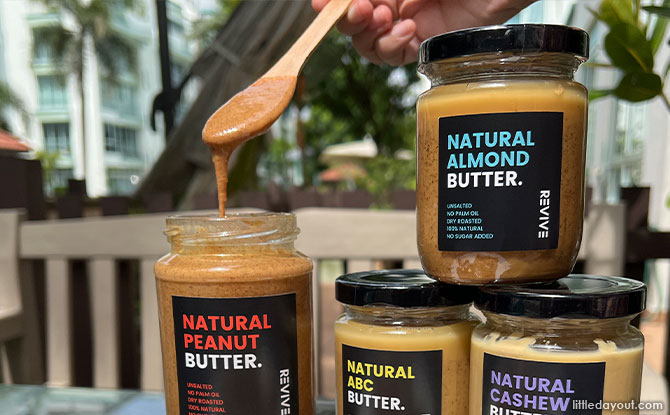 There are four different nut butters to choose from. These are peanut, cashew, almond and ABC nut butters. The last is a combination of dry roasted premium quality almonds, brazil nuts and cashews.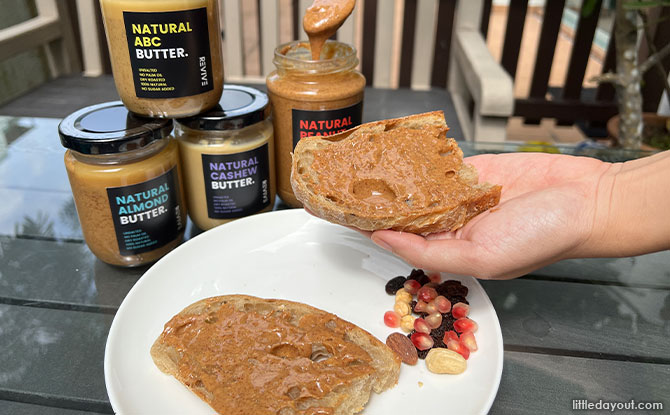 These nut butters are very creamy and make an excellent spread on bread. They can also be used to thicken smoothies or even as topping on desserts like ice cream or acai. Check out the range of available nut butters.
---
Revive's High-quality Healthy Snacks
It is awesome to come across a Singapore brand that takes such great care and pride in its products. With a mission to change the way we eat for the better, Revive is showing that eating healthily can be both delicious and easy to do.