Doo-dloo-doo-doo…doo-doo
Doo-dloo-doo-doo
As someone who grew up watching classic MGM musicals, the opening riff of Singin' in the Rain stirred up warm childhood memories.
Boy meets girl, boy falls in love with girl and together they conquer the world. The story couldn't be simpler, and it doesn't need to be.
The original 1952 film is a classic and has stood the test of time. Singin' in the Rain, the musical, is now on at Marina Bay Sands' Mastercard Theatre. Filled with plenty of memorable moments from the original film, the cast of the musical captured each of these wonderfully at the Gala premiere on 10 July 2015.
It is the late 1920s and silent movies are giving way to "talkies". Don Lockwood (Duane Alexander) is Hollywood heartthrob whose onscreen partner, Lina Lamont (Taryn-Lee Hudson), has a voice that would make a siren blush.
He meets aspiring actress Kathy Selden (Bethany Dickson) and, together with his best friend Cosmo Brown (Steven van Wyk), they hatch a plan to save the studio's first talking picture from disaster.

Singin' in the Rain is filled with colourful costumes and big dance numbers. From vaudeville flashbacks to masterful tap dance routines, MasterCard Theatre's stage became a canvas for energetic choreography and fancy footwork.
The dancing was equally matched by the music.
Upbeat songs like 'Good Morning', 'Moses Supposes' and 'Make 'Em Laugh' brilliantly showcased the cast's triple talents of singing, dancing and acting.
As songstress Kathy Selden, Bethany Dickson's voice sparkled with pitch perfect clarity. Special mention also must be made of Taryn-Lee Hudson's amazing prowess in reaching the soaring heights of the human hearing range as Lina Lamont.
The musical's centerpiece is its title track, Singin' in the Rain.
Duane Alexander gleefully pranced around the stage while torrents of water came pouring down. His playful splashes and perfectly timed kicks accentuated the fabulous score and sent waves of water showering onto the first few rows of the audience.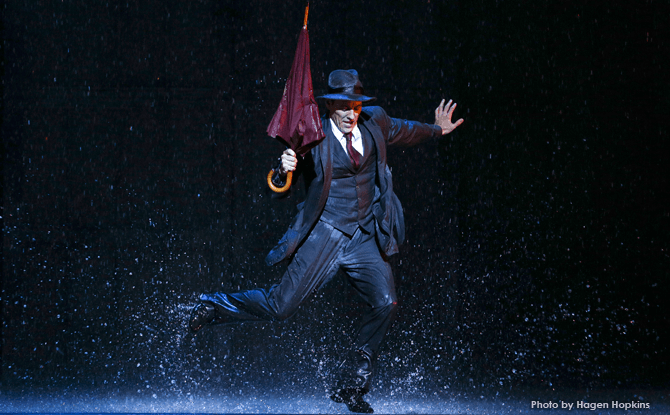 The musical Singin' in the Rain exudes old-school charm, romance and comedy. It is wonderfully light-hearted entertainment, making it difficult not to leave the theatre humming its signature tune with aglorious feelin' and happy again.
SINGIN' IN THE RAIN
MasterCard Theatres, Marina Bay Sands
9 to 25 July 2015
Tuesday – Friday 8.00 pm;
Saturday: 2.00 pm and 8.00 pm
Sunday: 1.00 pm and 6.30 pm
TICKET PRICE: From $65 to $195, excluding booking fees
Tickets available from www.BASEentertainmentasia.com, www.MarinaBaySands.com/Ticketing or www.sistic.com.sg.