When Christmas comes to mind, one thinks about spending time with loved ones, receiving presents, and not to mention, enjoying good food! RE&S, the company behind brands like Sushi-Go, Kuriya Dining and Ichiban Sushi, is rolling out Japanese Christmas items for the year-end festivities.
---
RE&S Christmas Feast Takeaway Menu Offerings
The RE&S Christmas takeaway menu features over 21 items, with 6 new dishes across appetisers, mains and desserts. These include sharing platters and bundle sets that can be customised to fit parties of any size.
---
Japanese Specialty Christmas Items
One of the new items available is the Festive Canape Platter ($43.90). It has seven different types of food presented in bite sized portions. I particularly liked the teriyaki scallop and yuzu chicken. The scallop was juicy and chewy, while the chicken was tender, and both meats are served with generous portions of sauce coated on top.
---
-- Story continues below --
Another new item being introduced this year is the Chashu Miso Pork Ribs ($69.90). This was a delight, with tender meat that came right off the bone and filled my mouth with the umami taste of the miso sauce.
The Red Wine Beef Stew ($89.90), a favourite, returns to RE&S' takeaway menu. The beef was very tender and had rich complex layers of flavour to it, with the incorporation of red wine and vegetables in the stew.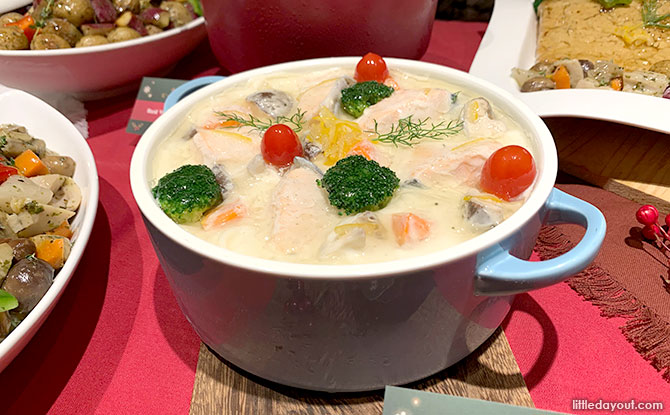 Yuzu Cream Salmon Stew, a new item on the menu, features salmon, topped with the yuzu-infused creamy chowder, added a tangy flavour to the dish.
There's also roasted turkey breast roulade ($89.90) and Gammon Ham & Potato Salad ($29.90) which would fit in nicely to any Christmas table.
Yuzu Duck with Japanese Chestnut Stuffing is new to the RE&S festive takeaway menu. Although it looked promising, personally, I found the meat was tougher than the other dishes served, and the chestnut stuffing was an interesting choice that was not to my liking.
The best way to wrap up a meal is with dessert. The new Yuzu Bûche De Noël ($48.90) was surprisingly light, although slightly too sweet for my liking. The sweet flavours of the meringue marrying the citrusy flavours of the yuzu cream came with little white chocolate balls at its core, provided an interesting texture.
---
Celebrate Christmas with RE&S, with Early Bird Promotions
The Christmas menu from RE&S is a great option if you want to have Christmas feasts with a Japanese twist.
There are early bird promotions available for orders made before 4 December. Free return vouchers come with every Christmas bundle purchased, and log cakes come with a 10% discount.
Online orders open till 30 December, and you may collect your orders anytime from 22 November 2022 through 2 January 2023. Delivery is available islandwide and starts from $20 for all orders. Orders are to be made three days in advance. Get more details here.