"Location, location, location" are three words that come to mind when describing MindChamps PreSchool Leisure Park Kallang. The Centre, located in a mall known for 'play' activities like ice skating and bowling, takes full advantage of its location to make sure that play and learning go hand-in-hand for its pre-schoolers.
Why Choose MindChamps?
Located on the ground floor of the mall, MindChamps PreSchool at Leisure Park Kallang offers classes from Playgroup to Kindergarten 2.
At MindChamps PreSchools, children are prepared to thrive in a fast-changing, globalised world through the '3-Mind' Educational Model.
Comprising the Champion Mind, the Learning Mind, and the Creative Mind, the 3-Mind Model draws on the work of Professor Allan Synder and other experts in the fields of Education, Psychology, Neuroscience and Theatre to inculcate the winning mindset in children from an early age.
Classroom activities are based on the S.M.I.L.E.S.TM (Sensory, Motor, Intellectual, Linguistic, Emotional and Social) curriculum, a holistic approach that nurtures young minds. Through crafted play activities, a child's fertile imagination is shaped into creativity – the most valuable resource in the future world dominated by Artificial Intelligence.
MindChamps PreSchools' unique curriculum is delivered by MindChamp Teachers who have been equipped with up to 200 hours of training and accreditation.
Learning Through Experiences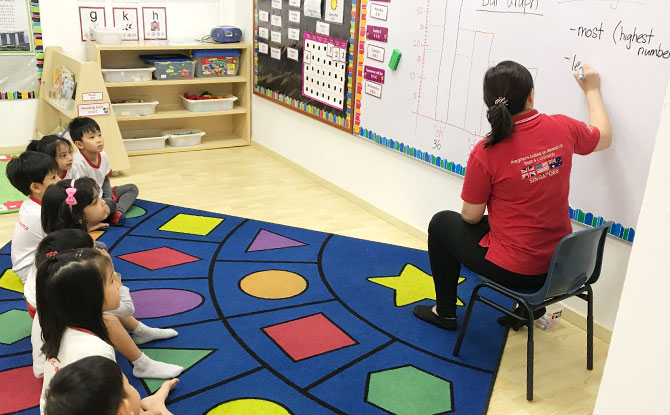 At MindChamps PreSchool Leisure Park Kallang, preschoolers, or Champs as they are known, get to enjoy Core Programmes such as MindChamps Reading & Writing, The Love for Chinese Language and Numeracy Strategies.
These programmes are complemented by MindChamps integrated Enrichment Programmes such as Creativity & Theatrical StrategiesTM, Gourmet MomentsTM and NeuroMoovesTM.
On a recent visit, MindChamps Preschool Leisure Park Kallang's Principal, Ms. Trisha Lim, shared with us that being located at the mall provides plenty of additional advantages for the Centre's Champs.
Field Trips at the Doorstep
One advantage is how easy it is for the Champs to go for field trips to complement the curriculum.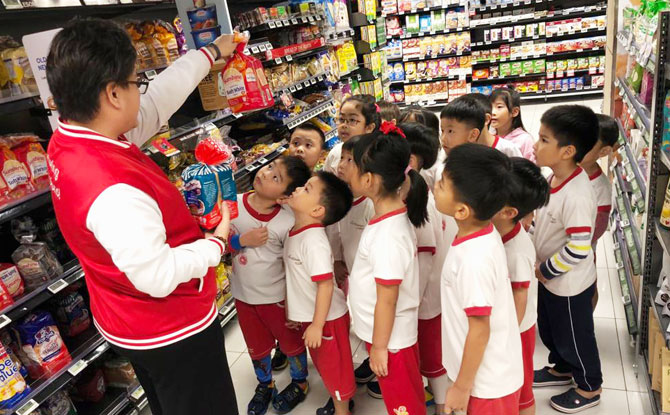 For example, when Champs are learning Numeracy Strategies, they only needed to visit the supermarket in the mall to learn about prices of common items. Older Champs at the kindergarten level even get to use money to purchase items at the supermarket or explore the nutritional value of different food items.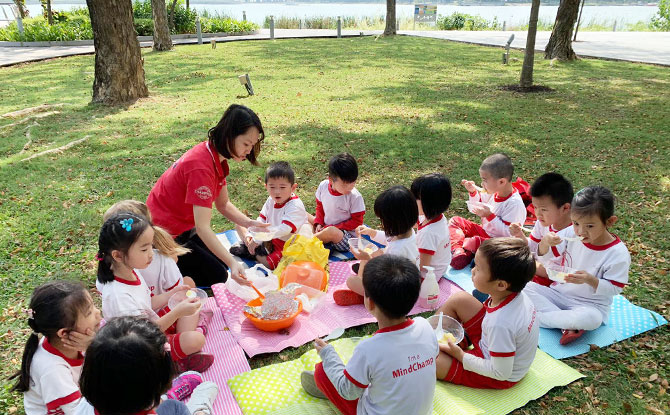 Such out-of-the-classroom activities deepen the Champs' enquiring view of the world around them.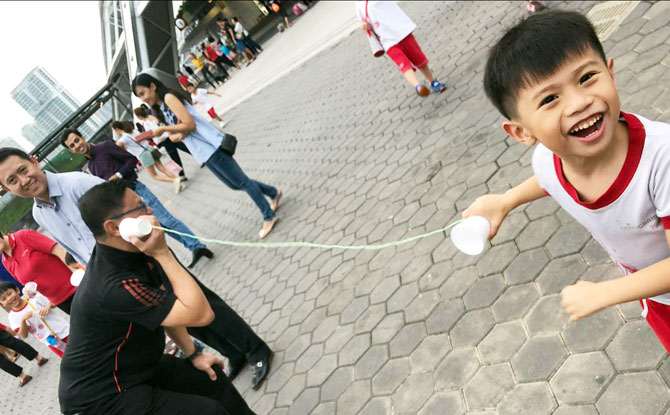 Another example Ms Lim cited was how Champs have benefited from events and activities taking place at the neighbouring Singapore Sports Hub. For example, when a Home Team event was held at the Sports Hub, Champs were more than excited to visit and participate in the activities there.
In fact, the Singapore Sports Hub is so close by that Champs get to visit the Splash-N-Surf rooftop playground for water play once a month – without even having to face any potential danger of having to cross a road. Unsurprisingly, this is an activity that Champs all look forward to very much.
Preschool in Kallang – A Location That is Great For Parents Too
MindChamps Leisure Park Kallang's location works well for parents too.
With ample parking at the mall, it is easy for parents to drop off their children in the mornings and pick them up in the evenings. For working parents looking for a preschool in Kallang, MindChamps Leisure Park Kallang's location at the CBD's fringe also allows them to conveniently head-in to work after dropping off their children.
Being located beside Stadium MRT also makes it convenient for parents who prefer to commute by public transport.
A Close-Knit Community
Class sizes at MindChamps PreSchool Leisure Park Kallang are deliberately kept small with teacher-to-student ratios between 1:6 to 1:12 to allow teachers to get know each individual Champ well.
Parents are actively involved in Centre events such as carnivals and festive celebrations. With the Kallang riverside nearby, the Centre often holds these activities outdoors to enjoy the scenic waterfront.
MindChamps Leisure Park Kallang offers plenty for those seeking a preschool in Kallang.
Sign Up and Enjoy Savings of Up to $2,607!
From 25 May to 13 July 2019 in conjunction with the Welcome Day, parents can book an appointment to visit the Centre, speak to teachers, enquire about its curriculum or view the facilities offered at MindChamps Leisure Park Kallang.
In addition, if you enrol your child at the Centre during this promotional period, you get to enjoy savings of up to $2,607* ($500 per month for five months and a free starter kit worth $107). Find out more here.
Book your visit by contacting the Centre at 6242 6902. Alternatively, you can book an appointment online here.
*Terms and conditions apply.
This feature is brought to you by MindChamps.