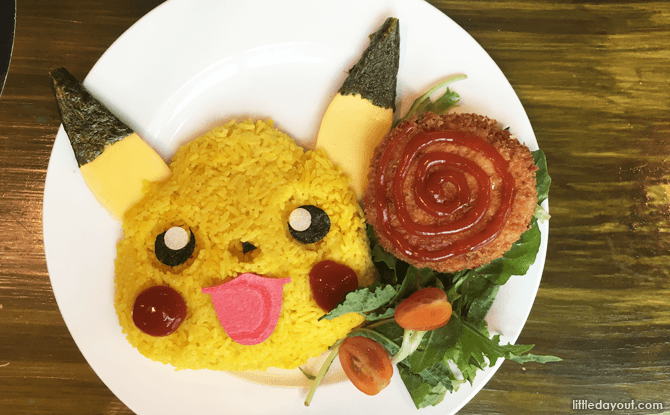 Riding the escalator up to the fourth floor at Bugis Junction, the Pokemon Cafe quickly comes into sight. This is the second rendition of the pop-up Pokemon Cafe and will stay "popped up" till 19 February 2017.
Managed by EwF, the Pokemon Cafe is sure to attract fans looking to take bite out of their favourite pocket monsters. With friendly staff dressed in Pikachu yellow, some even sporting lightning shaped tails, the décor leaves no doubt you have entered Pokemon territory.
On the Menu at the Pokemon Cafe
The menu is straightforward with four main course items to choose from.
The Pikachu Smiling Alola Region Curry Rice ($25.00) consists of Pikachu's face made out of turmeric rice and ears from tamago (egg omelet). It is accompanied by a shrimp patty and mug of Japanese Curry.
The I Love Pikachu Patty! ($20) is a chicken patty topped a layer of mash potatoes, neatly wrapped up in a crepe. Pikachu looks slightly anemic but perhaps that's why the dish also comes with a bottle of his favourite tomato ketchup.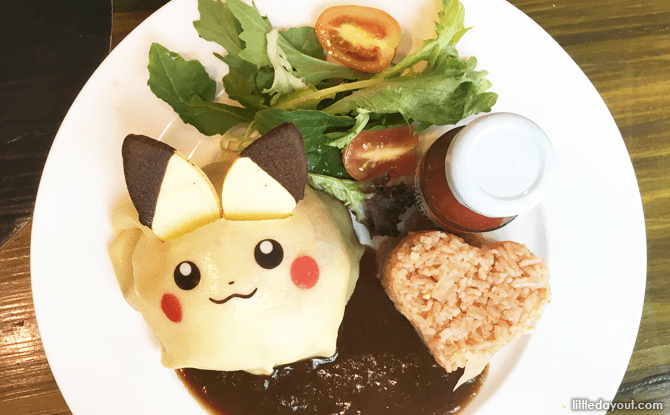 The Special Z-Move "Gigavolt Havock"!? ($18) is a tex-mexish dish of tortilla chips laced with chicken and bean chilli. Interestingly, it also includes a side of sorbet to "cool your tongue".
The last of the mains is the Alola Region's Fish 'n Fries ($15). This Pokemon café take on fish and chips is accompanied by Great Ball mayo and Poke Ball ketchup dipping sauces.
Among the food items, the Alolo Region's Fish 'n Fries tasted best to our adult palette but the Pikachu Smiling Alolo Region Curry Rice was most well-received by the kids – for obvious reasons.
Sweet Choices
There are also four dessert choices.
We tried the Alola Region Volcano Cake ($25). This is served "voila"-style with a huge Poke ball tray cover.
Dig into a chocolate-dipped cone surrounded by jelly "grassland". Break into the volcano to dig out the ice cream hidden inside. Also on the "island" is a "Poke Ball" made from white chocolate and custard.
Other sweets on the menu include Volttackle is Strong! ($15), which is a marshmallow praline cake dessert, Pikachu's Ice Cream Bun, Level Up with Rare Candy! ($18) and Pikachu's Jelly & Poke Ball Cream Puff ($18).
Drinks range from $8 for a Pokemon Sun and Pokemon Moon Latte to $12 for a lychee-flavoured Pokemon Café's Potion.
Take Me Home
The Pikachu Smiling Alola Region Curry Rice and Alola Region Volcano Cake each come with a Great Ball mug that you can bring home.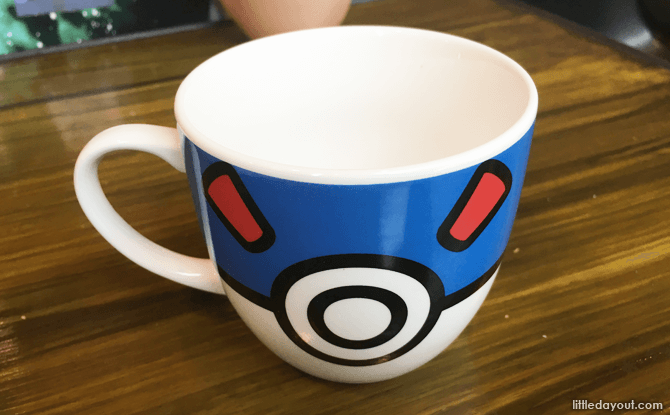 The obligatory Pokemon merchandise is also on sale at the café and there is also a booth where you can pose for a photo with a plush toy pokemon.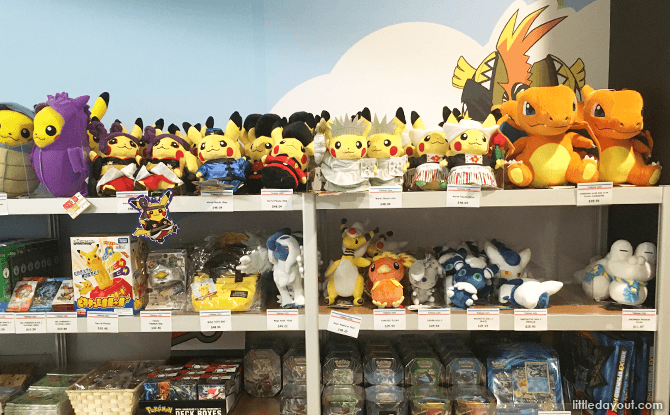 Our verdict? The food really isn't that great and it is pricey (probably a result of all the licensing fees they have to pay). But if you are a true Pokemon fan (or have a young Pokemon fan in the family), that's probably not the reason you are there anyway and does not detract from the whole Pikachu experience.
Pokemon Cafe
EWF Level Four, Bugis Junction
24 November 2016 to 19 February 2017
Opens 11 am, Last order at 9.30 pm