Superhero Me: Planet of Possibility is an art show with a difference.
While most exhibitions showcase the work of grown-up artists, Planet of Possibility has been put together by more than 80 children and youths of different abilities.
The exhibition aims to nurture a more inclusive Singapore through value-based art and allows kids, including those from the class of 2016 at AWWA Kindle Garden, Cerebral Palsy Alliance Singapore School, MINDS Lee Kong Chian Gardens School, Pathlight School Artist Development Programme, to showcase their creativity and talents.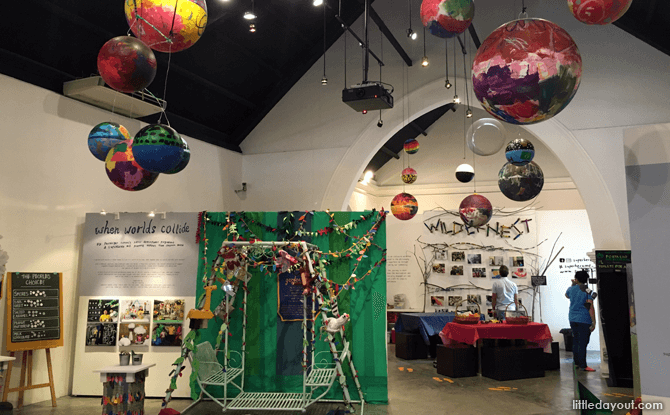 ---
-- Story continues below --
Artworks at the exhibition celebrate the energy, spirit and ability of kids who live with physical and developmental challenges.
We highlight some of their artwork that you will find at Planet of Possibility.
How Do We Get To the Moon is the schoolyard game of hopscotch reimagined. Preschoolers from AWWA Kindle Garden, Singapore's first inclusive preschool, were asked to paint a path to the moon and came up with creative ideas based on their preferred mode of transportation.
Galactic Warp is an installation by five students from the Cerebral Palsy Alliance Singapore School. Visitors can send a "molecule" down the wall and watch it create ripples in the "pool of reflections" below.
Cast your vote for your favourite cupcake at Croc Cake. This art installation is a collaboration between Grace Ong from Pathlight School and Teo Peng Fei from Alexandra Primary School. Each cupcake is individually decorated by Grace while Peng Fei's crocodiles look on hungrily!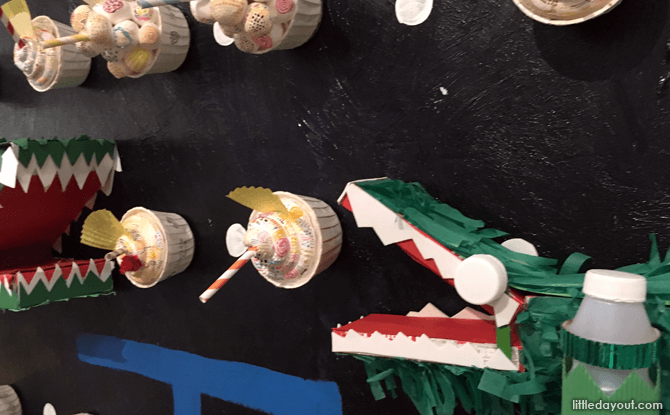 Clouds, by Nurul Amirah Bte Zain, a Pathlight School alumni, and Maryangelly Jayabahan from Gan Eng Seng Primary School, celebrates the power of positivity and how the right attitude can lift one above life's challenges.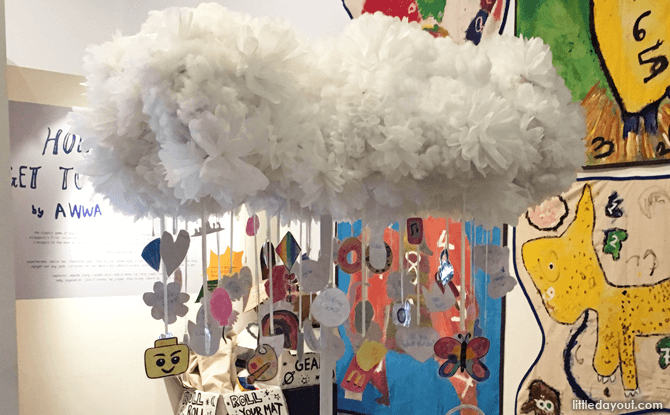 Visitors can participate in the experience through interactive elements found at each artwork.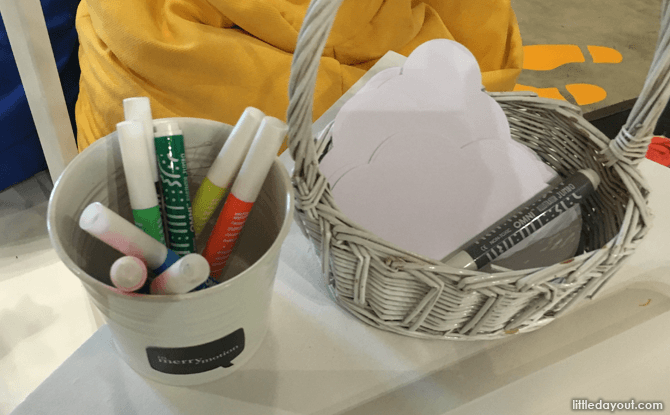 There is also a dress-up area where kids can transform themselves into super-heroes using costumes and props.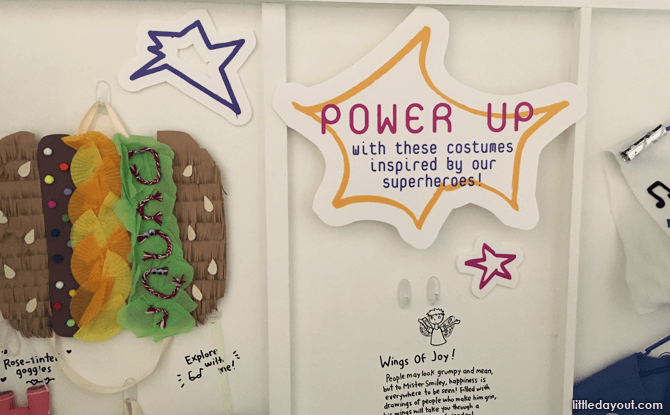 The exhibition concludes in an adjacent building at a brightly-lit room called the Fearless Forest. Here, kids are free to scribble a note for future visitors or just doodle away on the walls.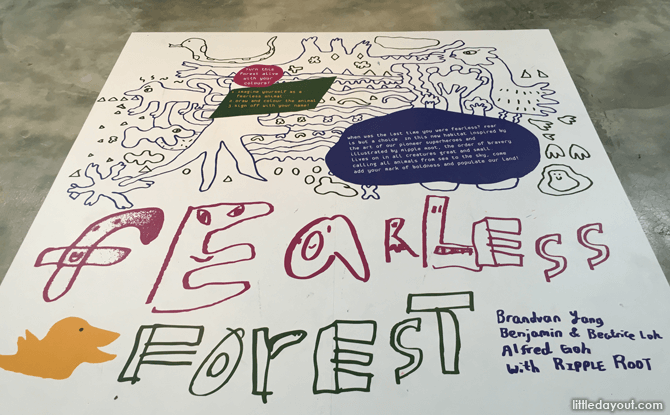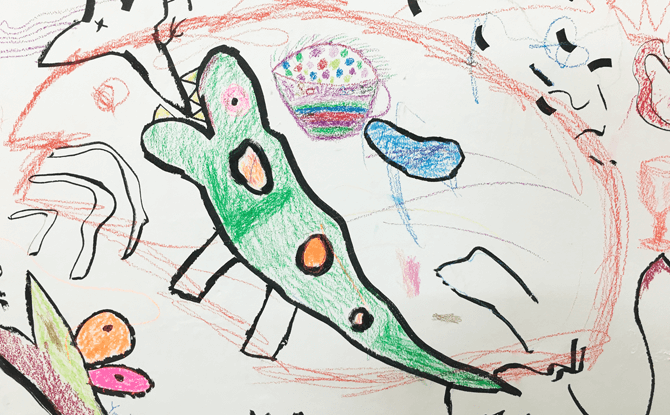 To supplement the exhibition, workshops, puppet shows and storytelling sessions will be held over the weekends.
Two notes found at the Fearless Forest best sum up the exhibition's message of inclusiveness.
The first reads, "To embrace each person as a unique individual."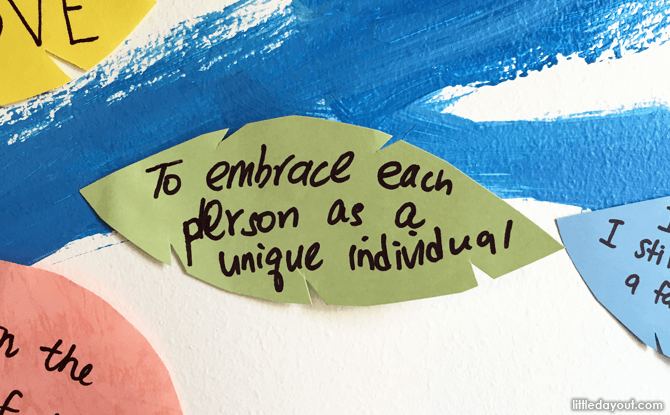 The second says, "Grown ups as the bridge of kindness between children of different abilities."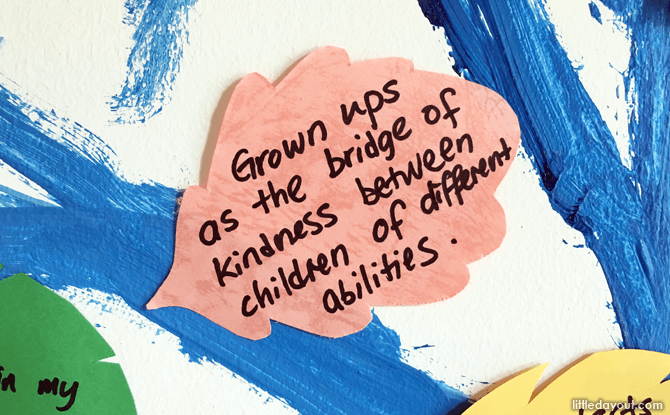 We agree.
Superhero Me The Special Edition: Planet of Possibility
Date: 18 June to 17 July 2016
Time: Tue to Sat: 12 pm to 7 pm; Sun: 12 pm to 4 pm; Closed on Mondays
Venue: Objectifs Centre for Photography & Film, 155 Middle Road, Singapore 188977
Powered by Lien Foundation, National Arts Council
Co-presented by Objectifs Centre for Photography & Film
Led by Logue, In Merry Motion & Ripple Root
www.superherome.sg