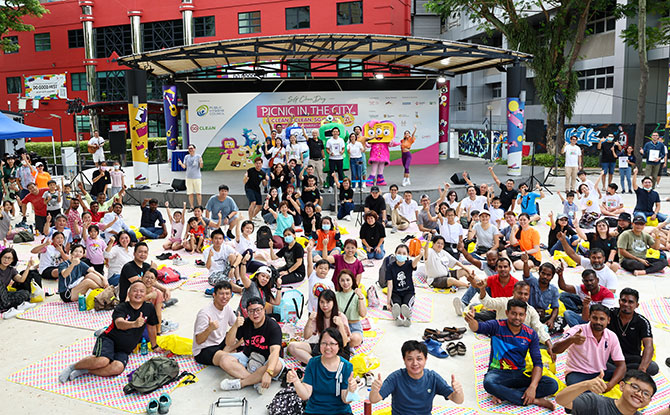 Close to 300 participants comprising members of the public, young and old, residents of Moulmein-Cairnhill, Stridy volunteers and migrant workers, came together for a litter-picking activity and scavenger litter-hunt along the Orchard shopping belt on Sunday, 30 October 2022 as part of the quarterly SG Clean Day.
---
Picnic in the City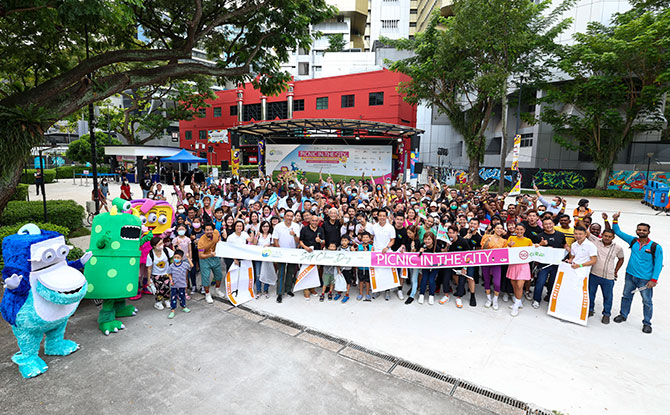 After the activity, participants were treated to some 'live' entertainment as they had a leisure Picnic in the City at Somerset Youth Park. They also received goodie bags with a limited edition PHC Supermons picnic mat, litter-picking tool, NEWater, packet drinks, bread snack, cereal pack, portable handheld fan, hand towel, mosquito patch, shopping mall vouchers, wet wipes and hand sanitiser. 
Picnic in the City was organised by the Public Hygiene Council (PHC) together with the Orchard Road Business Association (ORBA) and Singapore Tourism Board (STB). It rallied the major shopping malls and retailers on Orchard Road and in the heartlands  to cease sweeping at selected public spaces on Quarterly SG Clean Day, 30 October 2022 between 6 am and 12 midnight. This was aimed at bringing across the message of adopting good personal hygiene and public cleanliness habits.
---
-- Story continues below --
---
Take Collective Responsibility to Keep Singapore Clean
"This is the first time the PHC is organising an event to mark Quarterly SG Clean Day at Singapore's shopping belt – Orchard Road. We are very pleased to partner ORBA, STB, major shopping malls and the other retailers to bring this inaugural "Picnic in the City" to our iconic Orchard Road. The litter-picking activity along Orchard Road will also send a strong message to tourists and visitors that everyone can do their part to contribute and uphold Singapore's cleanliness and image as a clean city." said Mr Edward D'Silva, Chairman of the PHC. 
Guest-of-Honour at the event was Mr Alvin Tan, Minister of State for Culture, Community and Youth and Minister of State for Trade and Industry. He said, "Singapore is home, and home does not end at our doorsteps. Initiatives like the Quarterly SG Clean Day are important, as they rally Singaporeans to take collective responsibility to keep our country clean. I am glad that the PHC has recruited more partners like the major shopping malls along Orchard Road to join us today. Orchard Road is a hotspot for locals and one of our top tourist attractions, and I know we all want to keep it litter-free. Let's keep up our culture of good personal hygiene and social responsibility so Singapore remains one of the world's cleanest cities."