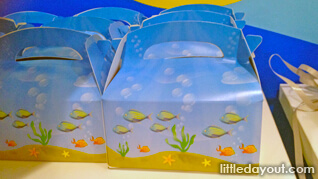 Children always look forward excitedly to receiving goodie bags at the end of a birthday party. Filed with sweets, noise-makers and toys, these little treasure bags are a great way to thank your guests for attending the party and are a memorable takeaway from the party.
What kind of goodies can you find to stuff into the bags? Here are some ideas:
Noise-makers
With everything tiny mouth-blown horns, whistles, clappers, tambourines and castanets, nothing says that a party is a "hoot" than these fun and loud noise-makers!
Party hats
There is no better time to look silly than at a birthday party. You can get party hats in all sorts of designs from cone-shaped, animal cut-outs and fully-shaped designs. Hats come in cardboard or foam version and can help you "top" off the party.
Sweets and Chocolates
Sugar-alert! Kids love their sweet treats and sweets are a staple of goodie bags. You can get the individually packed sweets for one-shot doses of sugar as little hearts, hamburgers or bears. Individually packed chocolate snacks are also a hit with party goers.
Stickers
Kids love stickers. A sheet of stickers is always a fun find in a goodie bag. Give them a sheet and they'll soon be peeling them off to stick on themselves and each other. When getting stickers, make sure to figure out how many boys and girls there will be at the party. You wouldn't want a girl to end up with a tractor sticker or a boy with a set of a pink ponies.
Water-based Tattoos
Parties are the perfect time for kids to celebrate by "dressing up" with water-based tattoos together with their friends. With some help from the adults, children can put on these tattoos which can easily come off after the party!
Stationery
A colourful pencil and eraser set are nice, practical gifts that kids can take home to enjoy. Little notebooks and bookmarks come in fun prints or even decorated with feathered tops, making these stationary sets nice little party favours.
Toys
Toys are always a crowd-pleaser and a staple of goodie bags. There are endless varieties to choose from. You can pick up a mini-slinky, a tiny puzzle, pretty little dolls and smiley bouncing balls. Most aren't designed to last for long, but are plenty of fun while they do.
Traditional Games
Here in Singapore, you can also choose to fill the bags with traditional childhood games such as chateks, five stones and kuteh kuteh. Inflatable paper balls and blowable rubber bubbles are always fun as well.